Melanie Lynskey Wouldn't Change A Thing About The Last Of Us' Script, Claiming It's 'Perfect'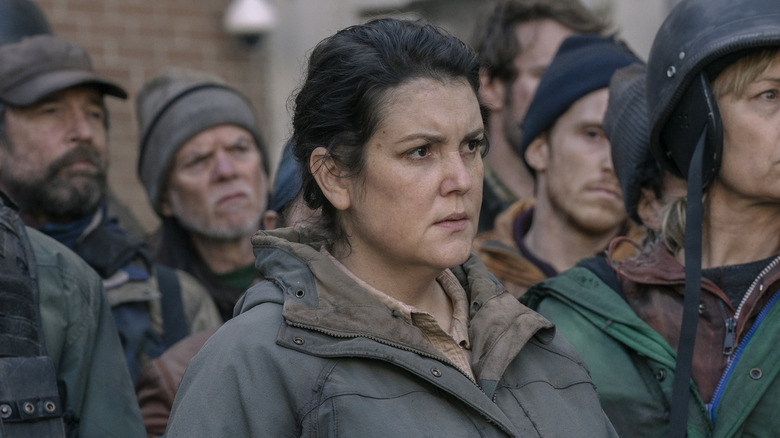 Liane Hentscher/HBO
Even with the incredible watch that "The Last of Us" has become as the series has progressed, some fans have debated the creative choices applied in its adaptation from loading screen to television. Co-creator of the HBO series and original creator of the game, Neil Druckmann, anticipated that some viewers wouldn't be happy with the deviations made in the show saying, "I've learned to expect backlash from sneezing" (via Variety). With that said, one person has stood firm in the writing of the scripts, even if it includes some changes from the game.
"Yellowjackets" star Melanie Lynskey chilled bones in the show's fourth episode, debuting as rebel leader Kathleen. Being one of the first major characters in the story that is unique to the show, she's already made her mark. As the leader of a group on the hunt for the (unconfirmed) killer of her brother, Henry (Lamar Johnson), Kathleen could prove a problem to Joel and Ellie (Pedro Pascal and Bella Ramsey) in this week's episode, which is airing earlier due to the Super Bowl. From what we've seen so far, though, Lynskey is relishing the moment, with her interrogation last week being a standout moment that she wouldn't change for anything.
Kathleen's doctor's appointment was 'perfect' in Lynskey's eyes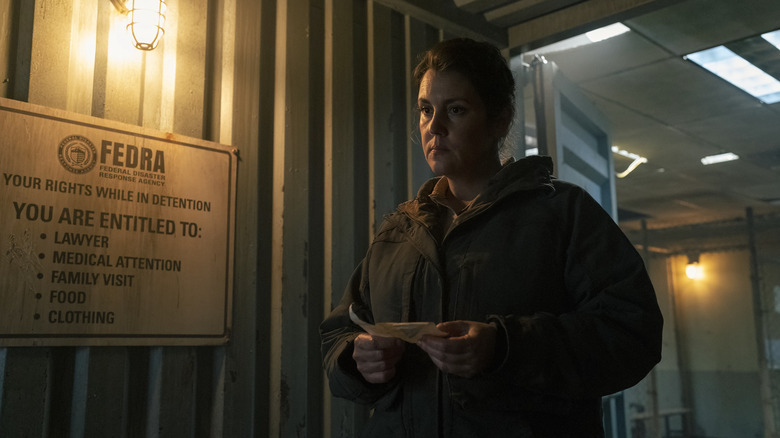 Liane Hentscher/HBO
Speaking to Variety about her introduction to the show, Melanie Lynskey revealed she was overjoyed with what she had to work with and that the pivotal scene is just one piece to a seemingly flawless puzzle. "It's such a well-written scene. The whole show is so well written! It's perfect," she explained, recalling her questioning with her family doctor that led to a dead end in more ways than one. As for the rest of her involvement in the show and its entirety, Lynskey sincerely has no notes. "There's nothing that you look at, and you're like, 'Oh, I feel like I should ask if I can pitch a change.'"
There's no confirmation of how long she'll be around in this world ravaged by the infection, but given the glimpse of Episode 5 at the tag of Episode 4, she'll undoubtedly be more wound up than we've seen her so far. Could she get in the way of Joel and Ellie's mission? Or is she set to have more bother with a Bloater that is guaranteed to be making an appearance? We'll have to tune in tonight to find out.