The Last Of Us Episode 5 Will Air Early To Avoid Competition With The Super Bowl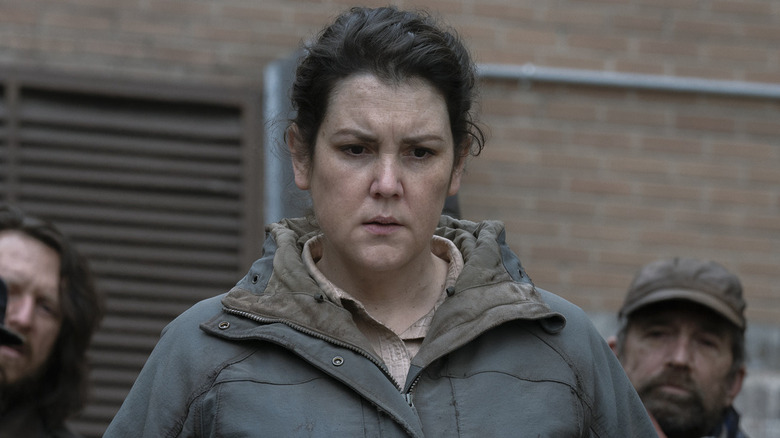 Liane Hentscher/HBO
At this point, it's safe to say that HBO has become the de-facto ruler of Sunday night scripted television. The network has rolled out a plethora of hit shows that dominate public discourse at the start of each week. Indeed, 9 pm EST has become the go-to time slot for HBO's flagship programs, with prolific series like "Euphoria," "White Lotus," and "House of the Dragon" all premiering in that exact time slot throughout this past year.
Now, HBO has created yet another dominant series to fill their primetime slot — "The Last of Us," a harrowing drama based on the acclaimed Playstation game of the same name. "The Last of Us" takes place in a world that has been ravaged by a fungal outbreak that turns humans into infected monsters and focuses on two survivors named Joel (Pedro Pascal) and Ellie (Bella Ramsey), who take an epic journey across a post-apocalyptic United States.
Taking over the coveted 9:00 time slot from "White Lotus," "The Last of Us" has exploded in popularity to become the next big thing on television — going so far as to set records for viewership growth between its first two episodes. As crucial as this primetime slot is for the success of "The Last of Us," fans ought to be excited to learn that this week's episode is actually premiering early in preparation for the upcoming Super Bowl.
Episode 5 will air at 9 pm EST this Friday
According to an exclusive preview clip posted to the official HBO Max YouTube account, Episode 5 of "The Last of Us" will premiere at 9:00 pm EST on Friday, February 10th. This short promo also clarifies that the episode will be available to stream on HBO Max at the same time. This move should come as no surprise to football fans, as most television sets will be tuning into Super Bowl LVII this Sunday night to watch the Kansas City Chiefs take on the Philadelphia Eagles (or, in some cases, just to watch the commercials).
With such a massive event dominating Sunday night, it makes perfect sense why HBO would choose to bump up "The Last of Us" to a less competitive primetime slot. That said, it's somewhat ironic that this short promo for Episode 5 takes place exclusively in the heart of Kansas City — just a few days before the Chiefs have a shot at becoming world champions. Although fans of "The Last of Us" ought to be thrilled that this highly-anticipated episode is getting an early release date, Chiefs fans may still have a hard time focusing on the episode given its setting and the upcoming championship Sunday night.