George's Grey's Anatomy Return In Season 17 Was Kept A Secret From A Majority Of The Cast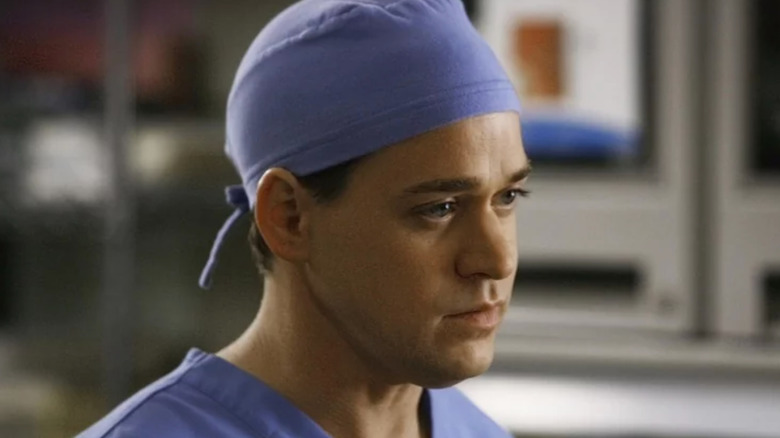 ABC
As is the case with many actors who leave "Grey's Anatomy," T.R. Knight's time on the show was as twisty and full of surprises as his character George O'Malley's. The actor made headlines in 2009 after leaving "Grey's" due to disagreements with the show's creator and showrunner, Shonda Rhimes. By that point, he had also faced homophobic bullying in the form of co-star Isaiah Washington, who left the show after Season 3. On screen, all of this culminated in his character, George O'Malley, aka 007, running off to join the army and then getting mutilated by a bus beyond all recognition.
But as it turns out, Knight's return to the show in 2020 was just as unexpected and shrouded in mystery as his exit. In an interview with Deadline that year, Knight and showrunner Krista Vernoff revealed that George's reappearance on the show was kept a secret from the majority of his former cast members.
Krista Vernoff and Ellen Pompeo were 'Scorpio secretive' about George's return
Season 17 was an unusual one for "Grey's Anatomy." Set during the COVID-19 pandemic, the season followed the show's protagonist, Meredith Grey, as she fell into a COVID-induced coma and encountered old friends and flames on a psychosis-induced dream beach. One of those old friends was George O'Malley, which meant that T.R. Knight could finally make a triumphant return to the show he'd once left behind. The ultimate goal was to give old characters like O'Malley one final hurrah before the show (potentially) ended for good.
But according to showrunner Krista Vernoff, no one else knew about his dramatic return until the show aired. "George was called Thatcher in the script," she said. "... Nobody saw any dailies." She added that she and Ellen Pompeo were "joyfully Scorpio secretive" about his reappearance on set. Knight then chimed in to say that out of his circle, only his husband knew.
Of course, all the secrecy paid off, and O'Malley's return was heralded with all the joy and surprise that his character warranted. "Grey's," on the other hand, continued past Season 17, thus rendering O'Malley's dramatic reappearance less dramatic. But never say never: There's always room for one final comeback.