The Iconic Movie Quote That Paul Rudd Always Hears In Public (Is Exactly What You Think It Is)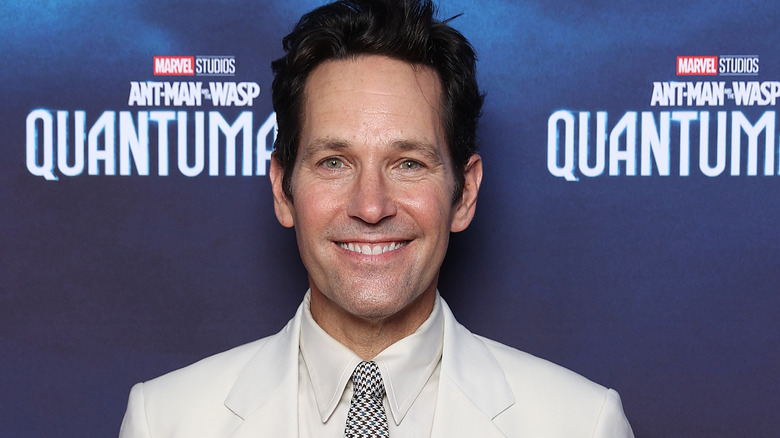 Brendon Thorne/Getty Images
For many Marvel Cinematic Universe fans, Paul Rudd is best known as Scott Lang, or Ant-Man, one of the funniest and most unlikely of the Avengers. But Rudd has had quite a few other notable roles during his three decades of acting, and many are still quote-worthy and remembered for or for their cultural relevance in history, or catchphrases. Rudd's first film role was as Josh in "Clueless," in which the then-26-year-old played Cher's (Alicia Silverstone) former stepbrother. Even almost 30 years later, fans still love to quote the film, with Silverstone telling People that "Sometimes they'll shout out catchphrases, like "As if!"
It's hard to pinpoint which of Rudd's characters is our favorite to quote. Pete, from "Knocked Up" and "This is 40," was pretty great with his lines "Snitches wind up in ditches!" and "I wish I liked anything as much as my kids like bubbles." And who can forget Brian Fantana of "Anchorman: The Legend of Ron Burgundy" and his cologne obsession: "It's called Sex Panther by Odeon. It's illegal in nine countries," and "60% of the time it works, every time." But out of all his films, there's one catchphrase more fans shout out to him than any other, and it's probably because it's from one of Rudd's best on-screen performances.
I Love You Man's slapping the bass scene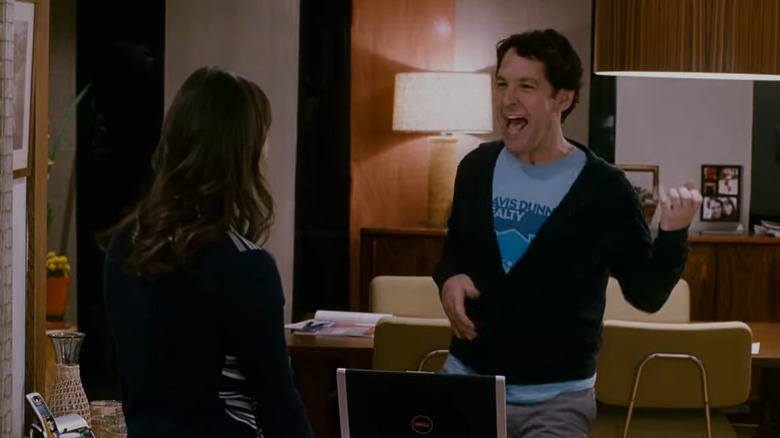 Paramount Pictures
In 2009 Paul Rudd starred in "I Love You, Man," a buddy comedy co-starring Jason Segel that felt more like a romantic comedy. In one of the more memorable scenes of the film, after Peter Klaven (Rudd) spends a day jamming out with Sydney Fife (Segel), he comes home and tells his fiance, Zooey Rice (Rashida Jones) that he was "slapping the bass big time." He tries to demonstrate to her how he was "slapping the bass" while repeating the phrase in an increasingly worse accent. "More than any other thing, yeah, 'I slapped the bass' is probably the line that, I'll just walk down the street and I'll hear somebody yell it from somewhere," he told GQ.
For Rudd, the role is one of his favorites from his career. "I loved playing that character," he recalled. "Awkward, insecure, just all that stuff is really fun to play. It probably comes a little too easy to me because I relate to it too much." Rudd admits that not everyone is so fond of the line. "I've met a few bass players in my life that want to strangle me, like, 'Dude, you ruined my life with that f***ing joke.'" For the rest of us, we still think it's a great catchphrase.