Paul Rudd Says Meeting Stan Lee Was One Of His Most Incredible MCU Experiences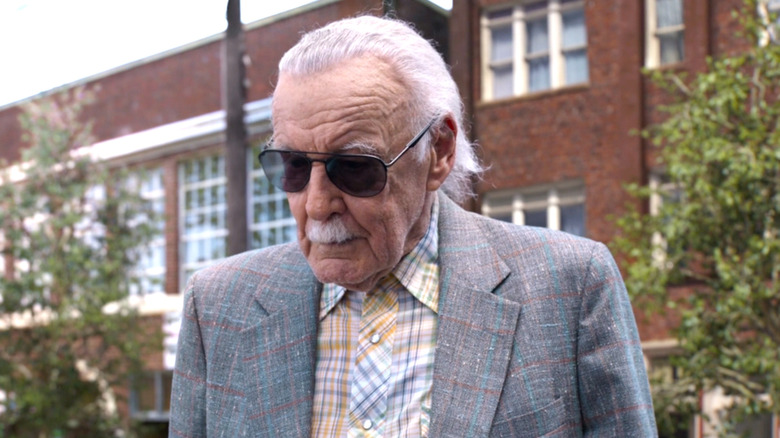 Disney/Marvel Studios
The upcoming "Ant-Man and the Wasp: Quantumania" will be the first "Ant-Man" movie released into a world without Stan Lee. The prolific comic book writer and publisher passed away in 2018, having spent his life creating and overseeing the development of some of history's most iconic comic book characters. Alongside collaborators like Jack Kirby and Steve Ditko, Lee was the progenitor of the Fantastic Four, Spider-Man, and many more household names. At the time of his death, Lee had lived to see his creations take the world by storm, first in the pages of comics, and finally as a global film phenomenon with the Marvel Cinematic Universe.
Until his death, Lee had a long-running tradition of making cameo appearances in MCU films, usually as an unsuspecting member of the public encountering a hero. One of his last appearances was in the film "Ant-Man and the Wasp," where Lee plays a man whose car is accidentally hit by a shrink ray.
Ahead of "Ant-Man and the Wasp: Quantumania," the follow-up to that film, Paul Rudd spoke about his experience meeting Stan Lee, calling his time with the comics book legend a particularly memorable MCU moment.
Rudd says Stan Lee was happy to see Ant-Man hit the big screen
Speaking to GQ, "Ant-Man and the Wasp: Quantumania" star Paul Rudd reflected on his experiences meeting Stan Lee, who he said was thrilled to finally see the character of Ant-Man portrayed on the big screen. "One of the most incredible experiences I've had working on the Marvel films is getting to meet Stan Lee," the actor said. "And one of the things that he told me was how happy he was that they were making 'Ant-Man' as a film."
According to Rudd, Lee believed that comics were unable to render the bug-themed character's shrinking powers with the scale necessary to convey them properly. "He felt, in the comics, it was very tough to really gauge the scale," Rudd said. "If you're drawing Ant-Man, you can't really draw other things at the proper scale, so audiences were going to finally see Ant-Man in the way he always envisioned Ant-Man."
While "Ant-Man and the Wasp: Quantumania" will be the first "Ant-Man" without Lee there to see it take shape, Rudd thinks the scale of the film continues the grand vision Lee held for the character. The movie buzzes into theaters on February 17.