Matthew McConaughey's Addition To Yellowstone Doesn't Have Everyone Screaming 'Alright, Alright, Alright'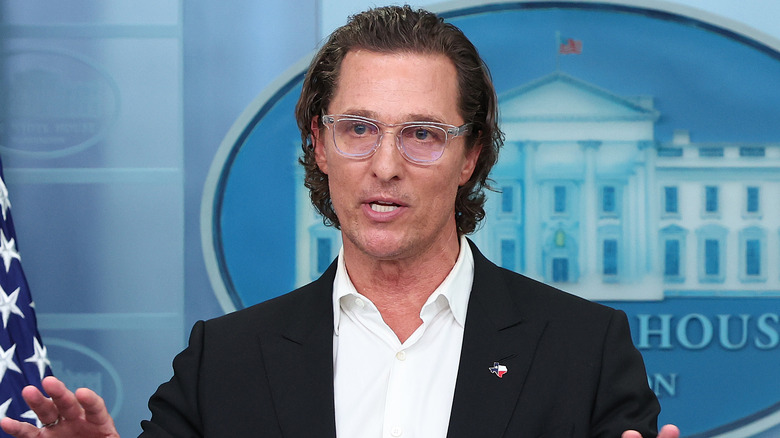 Win Mcnamee/Getty Images
"Yellowstone" fans were clutching their pearls this week following a February 6 report that claimed Taylor Sheridan's beloved show was being led out to pasture by Paramount+ over an alleged scheduling conflict with series star Kevin Costner (via Deadline). In order to try and make everyone feel better, Sheridan's team was going to bring in Hollywood heavyweight Matthew McConaughey to hopefully lead the streaming giant's "Yellowstone" universe, with people assuming he'd be a massive pickup for the franchise, regardless of the role or series he's put in (via Deadline). But apparently, not everyone is loving the reported idea. In fact, a lot of people want McConaughey to stay far, far away from the world of "Yellowstone," and there are a number of reasons why. 
We've already taken deep dives into why "Yellowstone" should actually end soon and do away with this McConaughey stuff altogether. But none of those things are even remotely close to some of the ridiculous reasons why social media users are turning on the "True Detective" actor. Instead, real-life politics and fan allegiances to Costner's John Dutton are ultimately to blame for fueling the public's hatred towards a "Yellowstone" McConaughey casting, which — according to Deadline — could come in a new series or future season, per sources. Paramount+, meanwhile, is denying everything.
"We have no news to report," the network said in a statement to Deadline. "Kevin Costner is a big part of Yellowstone and we hope that's the case for a long time to come. Thanks to the brilliant mind of Taylor Sheridan, we are always working on franchise expansions of this incredible world he has built. Matthew McConaughey is a phenomenal talent with whom we'd love to partner." Judging from what keeps getting said on social media, "Yellowstone" fans don't appear to feel the same way whatsoever.
'This will be the death of Yellowstone at my house'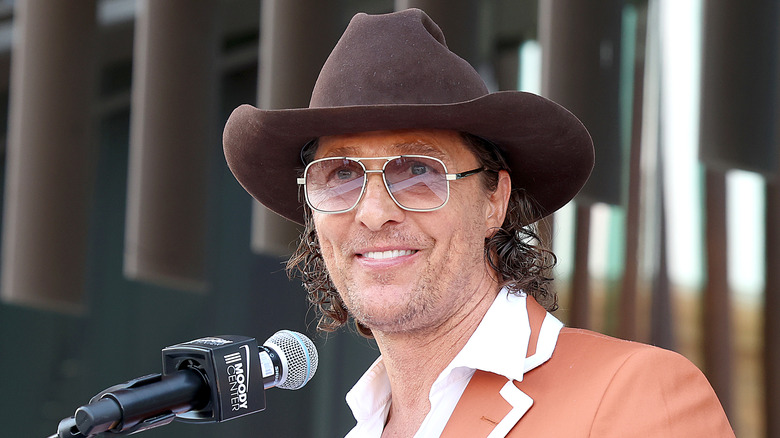 Gary Miller/Getty Images
On Twitter, loads of "Yellowstone" viewers have been bad-mouthing Matthew McConaughey and claiming his beliefs would be the reason they stop watching the modern Western drama series.
"McConaughey is anti-2A. No thanks," blasted one user, @b2bTballChamp. Meanwhile, another user replied: "What does that have to do with his acting?" Right-wing account @patriot_hammer, in a February 6 tweet, said: This will be the DEATH of 'Yellowstone' at my house. I won't be watching @McConaughey THE END." User @HeidiMaam declared: "If Matthew takes over, we're out."
For those wondering what the politically-motivated McConaughey hate stems from, the Academy Award-winning actor sparked outrage among conservatives and Second Amendment supporters in June 2022 when he came out in favor of stricter gun laws and legislation changes on a national level following the Robb Elementary School mass shooting in Uvalde, Texas (via PBS). However, it's not the only reason people don't want to see McConaughey be cast in a "Yellowstone" project or future season as the franchise's new lead. More simply, it's just the unconditional love that they have for Kevin Costner's John Dutton. 
"Kevin Costner leaving Yellowstone sounds like a bad dream," said Twitter user @mmorrin5, "and Matthew McConaughey playing John Dutton sounds like a joke." User @POWMBA tweeted, "Huge mistake!!! Huge. That is like replacing Clint Eastwood with Jude Law." Meanwhile, @NotDevinsMom tweeted, "Huge no to Matthew McConaughey replacing Kevin Costner on #Yellowstone. Huge no. As in, I'll immediately stop watching and never watch it again ever. Not even the repeats. Ever."