Jenna Ortega Didn't Return For You Season 4 Because She Was Filming Wednesday
Vlad Cioplea/Netflix
Jenna Ortega is in high demand nowadays. Between her delightful recent performances — not just in Netflix's "Wednesday" and 2022's "Scream," but also in Ti West's surprise slasher hit "X" — and her upcoming turn in "Scream 6," she has quickly become one of the most recognized young faces in Hollywood. Particularly in all genres scary and spooky.
That's not to say she wasn't recognized beforehand. Given that, even at the age of 20, she already has a resume of more than 40 credits, this should not be surprising. Disney Channel fans recognize her from "Stuck in the Middle," while "Jane the Virgin" fans surely recognize her as the young Jane. Even in horror, she was already something of a familiar face, having appeared both in "Insidious 2" and in Netflix's black comedy horror sequel "The Babysitter: Killer Queen."
She also occupies a very specific role for fans of the Netflix psychological thriller series "You." In Season 2, she appears in the central role of Ellie Alves, a young intern inadvertently caught up in Joe's (Penn Badley) web of obsession, deceit, lies, and repeated attempts to dodge his past. At the end of Season 2, Joe pays her off to leave Los Angeles. She is mentioned in Season 3 as one of the people Joe still stays in contact with.
Ellie proved to be a popular character, and even Ortega herself voiced interest to Teen Vogue about reprising the character. Alas, it was not to be.
Production for You conflicted with Wednesday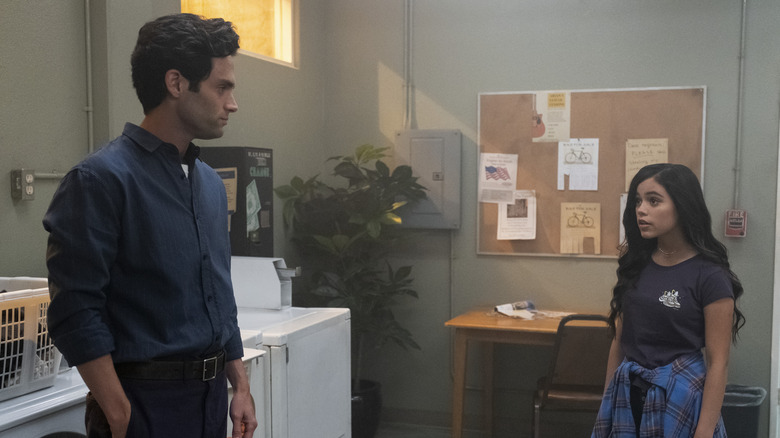 Netflix
Speaking with IndieWire, "You" showrunner Sera Gamble revealed that there had been plans to bring back Ellie in the show's fourth season. "We wanted to bring Ellie back and we heard, 'Oh, Jenna is doing some show,'" said Gamble. "Some show," of course, turned out to be "Wednesday," whose production schedule conflicted with that of "You" Season 4. That said, Gamble said the door is still very much open for Jenna Ortega to reprise her character. "We have ideas for Ellie if her schedule allows her to visit us again."
Ortega is hardly the only one among the many past cast members of "You" whose busy schedules have to be accommodated. John Stamos' Dr. Nicky is serving a long prison sentence, but his own return wouldn't be beyond the realm of possibility, provided, once again, that they can balance Stamos' own schedule. Even Penn Badgley has other projects to consider, having appeared in a handful of movies since "You" first premiered. As Gamble said, "These are some busy, in-demand actors."
Still, everyone loves a surprise return of a past character. In fact, given her newfound popularity in some of the biggest horror properties out there, it stands to reason that Ortega's return to the suspenseful world of "You" would be met with quite a bit of enthusiasm. Production better act fast, though — particularly if, per Badgley's prediction, Season 5 ends up being the last for "You."