Why Party Down Fans Won't See Lizzy Caplan In The Revival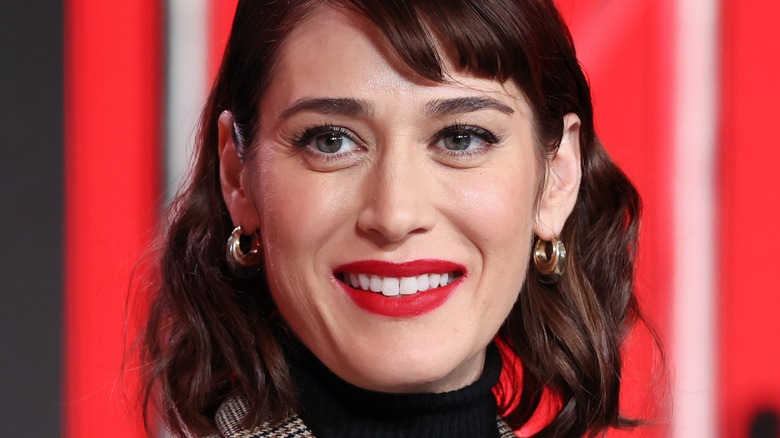 Randy Shropshire/Getty Images
Starz comedy series "Party Down" premiered in March of 2009 and became a hit among viewers and critics alike (via Rotten Tomatoes), largely on the strength of its ensemble cast. However, it ended a little over a year later, after just its second season, due to a confluence of factors that seemingly included the fact that one of its stars in Adam Scott left to be on "Parks & Recreation."
Now, more than a decade after the end of the show in its original incarnation, a six-episode "Party Down" revival is slated to premiere to Starz in February of 2023. A couple months out from its release, the network premiered a trailer for "Party Down" Season 3, showcasing its iconic cast in their signature white shirts and pink bowties for the first time since the second season's end.
Among the returning actors in this trailer are big names like Jane Lynch, Adam Scott, Megan Mullally, Ken Marino, and Martin Starr. Conspicuously absent is Lizzy Caplan, who serves an important role in the show's first two seasons, including as Adam Scott's character's partner. As it turns out, Caplan was not necessarily uninterested in reprising her "Party Down" role, but simply unavailable due to a scheduling conflict.
Lizzy Caplan couldn't fit the Party Down revival into her schedule
While the third season of "Party Down" may have secured the lion's share of the core ensemble that drove its first two seasons, Lizzy Caplan is seemingly the only major player not returning for the "Party Down" revival. A Hollywood Reporter piece about "Party Down" Season 3 reveals that the reason Caplan isn't a part of the project is that a couple of other shows she had already scheduled conflicted with its filming.
According to the article, the making of "Fleishman Is in Trouble," which premiered on Hulu near the end of 2022, overlapped directly with "Party Down." Furthermore, Caplan stars in the upcoming Paramount+ original TV series adaptation of the 1987 drama "Fatal Attraction," which further precluded her from appearing in the new "Party Down" season.
An exclusive preview of "Party Down" Season 3 that Entertainment Weekly published about a month out from its premiere reveals that none other than Jennifer Garner is effectively taking Caplan's place as Adam Scott's character's new love interest. Fans of the first two esteemed seasons of "Party Down," then, can find out how Garner fits into its established cast's dynamic when it premieres to Starz on February 24.