The Biggest Bombshells Dropped In Netflix's Pamela, A Love Story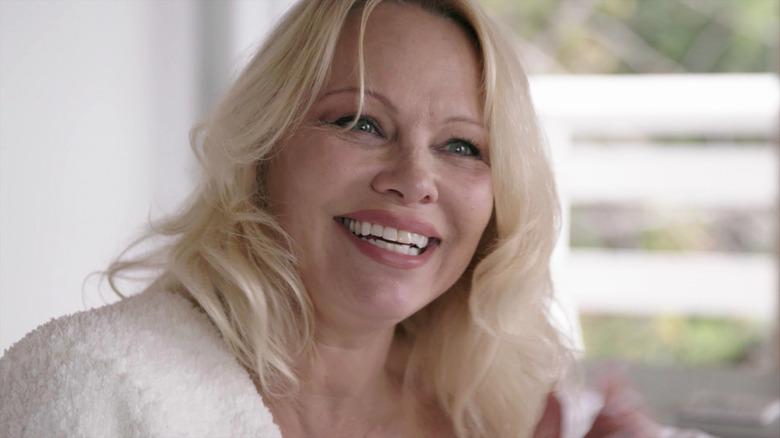 Netflix
The 1990s were a wild time, and briefly, the time of Pamela Anderson's life. She was one of the most beautiful and famous women in the world during the decade of acid-washed jeans, and "Saved By the Bell." A blonde bombshell with a bubbly personality, Anderson was best known for her roles on TV screens and between the pages of centerfold magazines. Be it "Baywatch," Playboy, or "Home Improvement" with Tim the Toolman Taylor, no one could stop this bonafide babe's rise to the top — until a very private tape of hers was made public against her will.
The scandal made Anderson even more of a pop culture punchline. A "blonde bimbo" who became a celebrity for showing off her body was now fighting the release of a private sex tape? The press (and bootleg-buying public) had a field day. Now, her new Netflix documentary provides an intimate look at Anderson, many years removed from the height of her fame, and this infamous turning point in her life and career.
Filmmaker Ryan White creates an intimate, sympathetic portrait of his subject, a woman who is a survivor and a seeker of love. The film is a subtle condemnation of an anti-consent, anti-woman establishment and is equally parts heartbreaking and funny. Anderson wants to take hold of her own narrative and does so by giving full access to her past, and her present interpretation of it. Read on to learn the biggest bombshells she drops in "Pamela, A Love Story."
She has always been a writer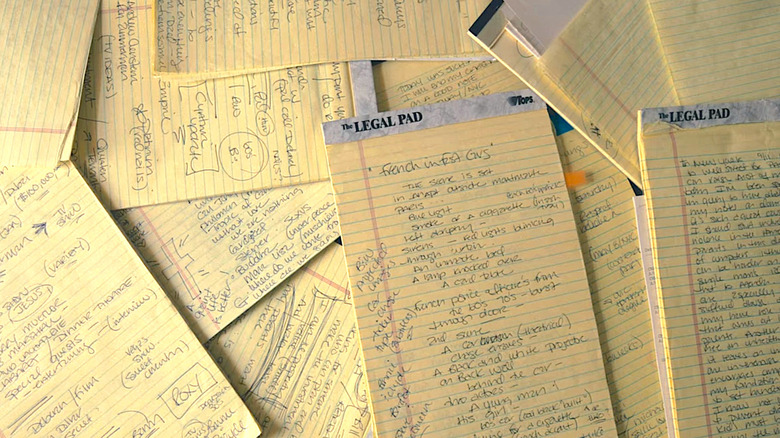 Netflix
"The world opens when I write," young Anderson describes in a diary entry from her younger years. Anderson, witty and frank about her past experiences, grants filmmakers full access to her diaries and journals, kept from childhood through adulthood. She has a powerful emotional reaction to these letters, and an actress reads many entries in voiceover in order for Anderson to avoid some of the pain reliving memories can bring.
Anderson reveals she has always been a writer and explains that her entries started as a way to possibly escape her loving but turbulent home life in Ladysmith, BC — and also to have a private, protected space after her own was violated for years by a trusted babysitter. The abuser swore Anderson to secrecy. Anderson admits she once tried to kill her abuser by stabbing her in the heart with a candy cane pen. When her abuser died in a car accident just a day after Anderson told her she wished her dead, Anderson says "I thought I killed her with my magical mind, and I couldn't tell anybody."
Though there's no one way someone is drawn to writing, it's hard not to think this early betrayal kicked Anderson's imagination into coping high gear. Regardless of what first spurred Anderson to put pen to paper, to date, Anderson has written multiple books, some fiction, and released a memoir, "Love, Pamela," in 2023.
Playboy helped empower her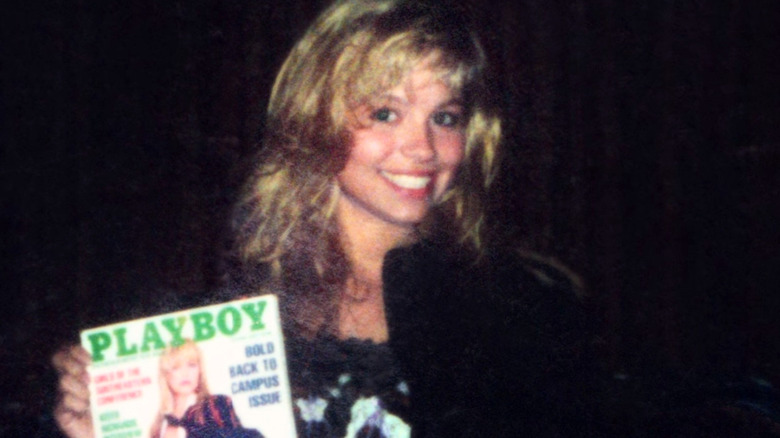 Netflix
Anderson credits posing for Playboy magazine in the '80s with providing a pathway out of the shame and self-consciousness her past abuse and assault created in her, and into a more powerful place. Anderson describes playing the "centerfold" character as something she is good at, as well as the first activity that allowed her to enjoy her own body.
She talks about feeling "paralyzed" with nerves before her photo shoot, regarding fellow visitors to the Playboy Mansion with longing and awe. How could she ever feel at ease here, or even remotely beautiful? But, Anderson recalls in a journal entry from her visit, "shy at first, but by the end of the week you had to stop me from running out the door naked." Present-day Anderson's eyes sparkle as she recalls her potent Playboy transformation. She particularly focuses on a shoot in a fountain and the sensation of drawing silk across her skin: "In that fountain, a wild woman was born!"
It's not every day you get the joyous POV of a centerfold model from the other side of the fantasy, which seems to be the point Anderson and the documentary wish to make: it is joyful when a woman chooses to expose herself for empowerment and expression. Anderson smiles at her memory, empowered, and says through her modeling, "I was gonna take the power of my sexuality back, and I think I did it in a really big way."
Talk show hosts tortured her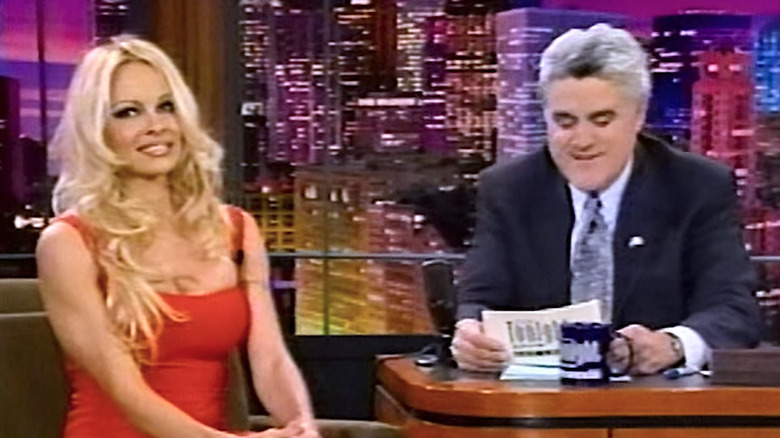 Netflix
Talk show hosts (especially David Letterman and Jay Leno) used Anderson as joke target practice for years. Hateful humor was de rigueur in the '90s pop cultural landscape, and so were wildly invasive questions. Much like Madonna in "Body of Evidence," Anderson was regularly grilled on late-night shows for info on her body parts and sexual tastes.
Even before her stolen sex tape was released, talk show hosts took her work as a Playboy model as permission to ask invasive questions. A favorite pre-sex-tape question was about whether or not her breasts were real or implants. Anderson is noticeably uncomfortable in archival footage with Leno, for example, and jokes (not so far off the mark) that he is torturing her. "I think it's kind of inappropriate to ask women those kinds of questions," Anderson insists in the documentary. "I think there has to be some line that people don't cross."
In some footage shown from an appearance on "Letterman," the host shocks Anderson by asking if her kids have seen pictures of her in Playboy. There is a commonplace contempt underneath this line of questioning — it's obviously objectifying, and, Anderson says in the doc, boring. "I don't see how it's so interesting," she says. "I always hoped something would come along where I would do something which would be more interesting to people than my body."
She turned down Baywatch 11 times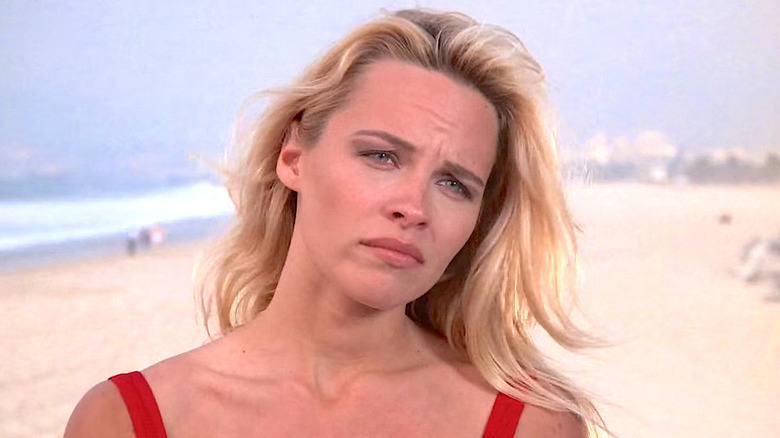 Netflix
Anderson wanted to be a serious actress and pursued her options while contributing to Playboy. She describes her centerfold employer as her de facto agent in the early days, and through them, she turned down the casting directors for "Baywatch" 11 times.
Anderson cringe-laughs at the memory in "Pamela, A Love Story," admitting that the Marina del Rey audition location "sounded exotic and too far away." Luckily, she finally connected with those beleaguered casting directors for her first major acting role as C.J. Parker on the classic lifeguard detective show, which later inspired the 2017 film starring Zac Efron and Dwayne Johnson.
Anderson smiles as she describes how C.J. is based on her, a hopeless romantic who falls in love all the time. Just like C.J., Anderson fell in love with some of her co-workers and generally admits she had a great time running around the beach and learning to act. She also fondly recalls that when a scene wasn't working, the director would shout, "More seagulls!" It's a move we plan on stealing for when life doesn't quite go our way.
Stallone supposedly offered her a Porsche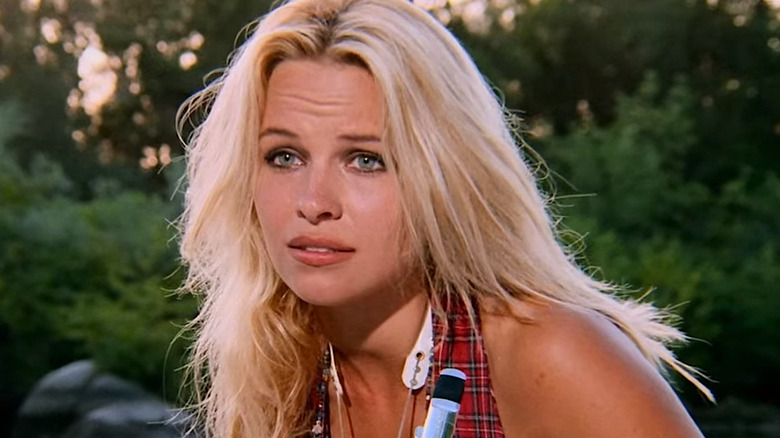 Netflix
Searching for true love is a major theme in Anderson's life and "Pamela, a Love Story." Even in her early "Baywatch" days, Anderson hoped to find her Prince Charming. She gave love a try with Mario Van Peebles, Scott Baio, and co-star Kelly Slater, who she describes as a "sweetheart," a "heartbreaker" and a free spirit, saying, "You couldn't get your hands around him. But you don't own anybody, nobody owns anybody."
This poignant moment of truth is almost immediately undercut when Anderson laughs and recalls a time when Sylvester Stallone offered her "a Porsche and a condo to be his number one girl." She declined if that meant there was a "number two" girl. According to Anderson, Stallone told her "You're in Hollywood now, that's the best offer you're gonna get!"
While Stallone has denied Anderson's claim (just like Tim Allen denies flashing her on the set of "Home Improvement"), there is no argument that Anderson then and now just wants to really be in real love — and nothing less. It's perhaps best Anderson never found true love with Baio for a few reasons, of course — she recounts in the documentary that his father was horrible to her and told his son not to let her drive his Mercedes because she was only worth a Hyundai.
Tommy Lee pursued her intensely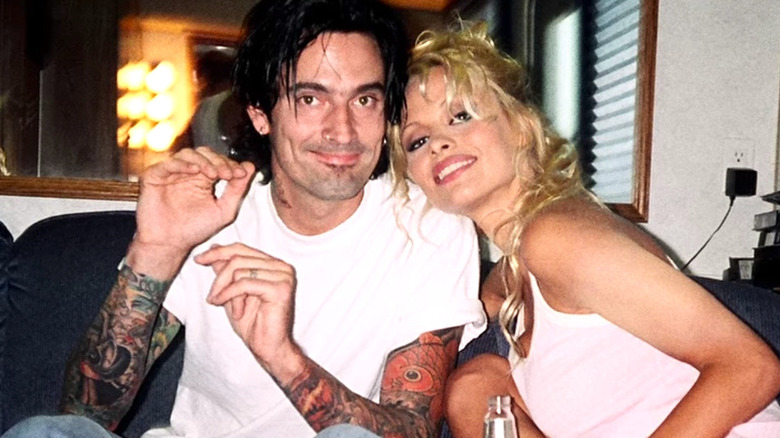 Netflix
It might be common-ish knowledge that Anderson and Mötley Crüe drummer Tommy Lee got married after a whirlwind 4-day romance in Cancun — also explored in Hulu's 2022 series, "Pam & Tommy" — but in "Pamela, a Love Story" a little more is revealed.
Anderson admits that she met Lee at a New Year's party, where she bought her group some shots. To thank her, he licked the side of her face (as is '90s celebrity club custom, natch) and then she licked her friend's face, and so on, until the next thing you know, Lee is calling Anderson for weeks, asking her out, and being turned down. When he found out she was scheduled for a photo shoot in Cancun, he let her know he would follow her there.
Anderson declined to meet up with Lee until her last night in Cancun, but when she did finally get together with him at a club called La Boom, the two became inseparable, and in Anderson's words, "invincible." After a handful of days, Tommy proposed with his friend's skull ring. They got married on the beach, with Anderson in a white bikini and Lee in board shorts. Anderson credits their "full-on, heart-to-heart, explosive kind of love" for the decision. Ever the romantic, Anderson insists, "We didn't know anything about each other. And it ended up being one of the wildest, most beautiful love affairs ever."
Their sex tape is them being goofballs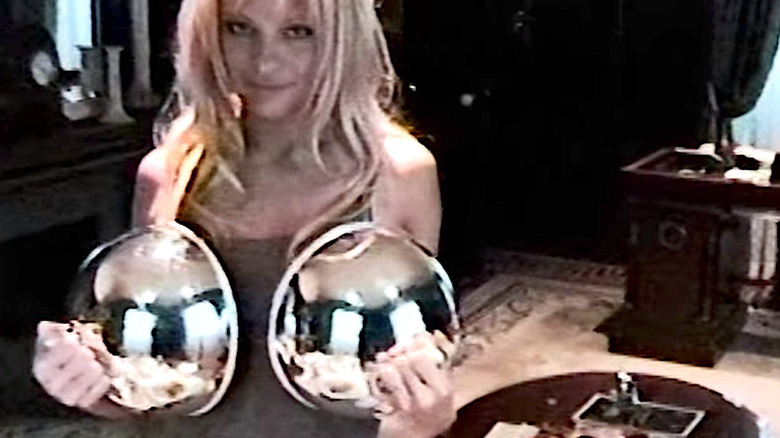 Netflix
Anderson drops a major bombshell about her infamous stolen sex tape in "Pamela, a Love Story" — and that is that it's mostly a "nudity" tape of her and Lee being "goofballs" on their honeymoon. The documentary is full of similar material of Anderson and Lee hanging out in hotel rooms, on the beach, and later, with their young family.
Anderson admits they "filmed everything back then," and that she was happy to capture the early moments of their romantic life together. She says the infamous sex tape is a home movie of the couple's honeymoon in Lake Mead, where they spent most of their time naked and joking around on a boat. They kept the tape in a safe along with other treasures and discovered the entire safe had been stolen after they had construction work done on their home.
Their son Brandon had just been born, and Anderson claims it was the happiest time of their lives — until the safe was stolen, and later, the tape was used against them. Anderson becomes visibly agitated as she lives through the memory of the safe and its contents, saying, "We had no idea there was something in there that could hurt us."
She turned down $5 million for her sex tape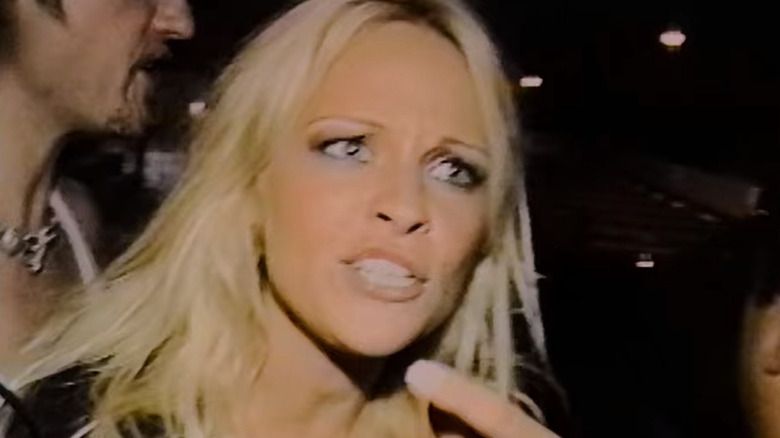 Netflix
After Anderson and Lee's safe was stolen, they received a VHS tape in the mail. While Lee watched it, Anderson reveals that she never did. Soon after they received the tape, Anderson got a letter from Penthouse's Bob Guccione, offering to buy the rights to the tape for $5 million in cash. Anderson refused and demanded her tape back. "It was not supposed to be for anybody else," she recalls in the documentary. Shortly after, the tape was mass-produced physically and one of the first "viral" videos, though it was early days for the internet and it's clear Anderson and Lee didn't fully grasp the impact of "breaking the internet."
Anderson describes eventually signing her rights away to Seth Warshavsky in a desperate attempt to get off the merry-go-round of exposure, according to Rolling Stone, Warshavsky wound up streaming his copy of the tape for hours on loop for paying subscribers. While Anderson is adamant that she has never watched the tape, never wants to watch the tape, and never made a cent from the tape, she and Lee did attempt to sue who they thought might be the initial thieves: Penthouse, Warshavsky, and his later distributor, Vivid Entertainment. Each lawsuit was rejected, barring Warshavsky, who fled to Bangkok and, according to Rolling Stone, later referred to his profiting off the stolen tape as "bad karma."
She was humiliated in court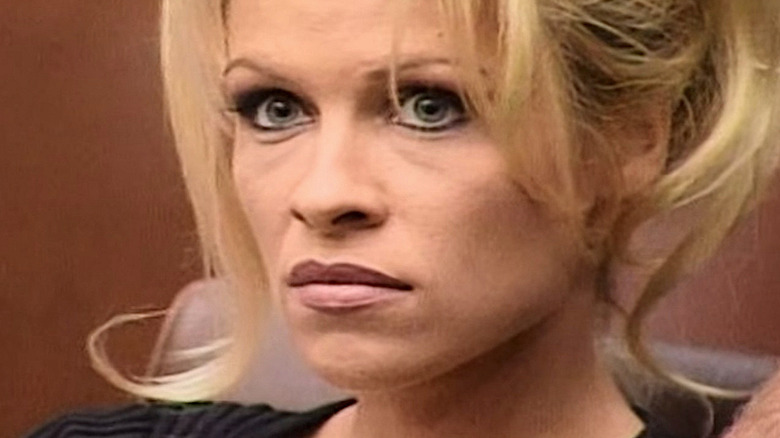 Netflix
While Anderson tried to sue those who would profit from her stolen sex tape with Lee, she admits that defense attorneys for Internet Entertainment Group plastered the courtroom with naked images of her and put her sex life on trial. Anderson says she felt completely humiliated, and that the "lawyers said, 'you're in Playboy. You have no right to privacy.'"
It is truly wild that a sex tape and other property were stolen from a private residence and sold, but no one involved in the theft or sale faced any legal accountability. Anderson, however, describes her depositions as so brutal, she feared she would miscarry her second child. She had suffered a miscarriage due to exhaustion before, and in order to avoid the same grim fate, signed away her video rights to IEG and dropped the case.
When it comes to a woman making decisions about her own body, choice and consent shouldn't be controversial subjects. Anderson insists, "It was my choice to be in the magazine. Playboy was empowering for me. But in this case [the tape], it felt like a rape." Anderson also identifies this moment as a turning point in her career, and "the degradation of any image I had." She feels the tape damaged any chance she had at a real career, so "I had to make a career out of the pieces left."
She is an accomplished activist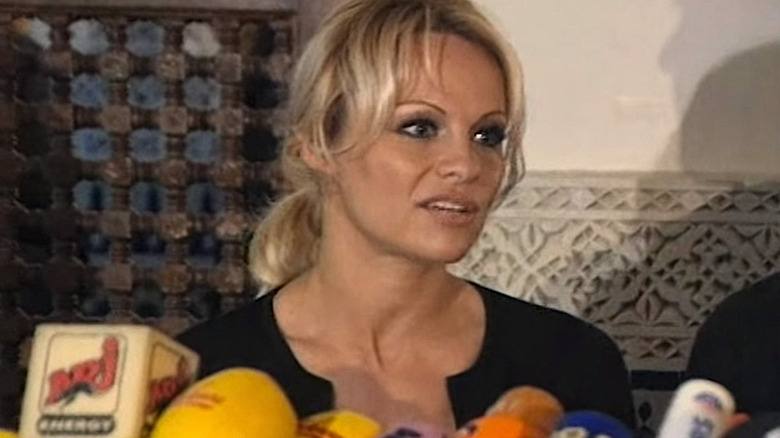 Netflix
Anderson bares her soul in "Pamela, a Love Story," and that includes her work beyond being talked to about her "boobs and boyfriends." Just like Anderson used the fantasy arena of Playboy photoshoots to reclaim her own sexual power, she talks about using the cartoonish nature of her celebrity and the fact that she is constantly underestimated to her advantage as an activist.
Pamela uses her fame to spotlight issues close to her heart, especially for animals, who she claims she "always trusted more than people, especially after the stolen tape." She's done multiple photo campaigns with PETA, but her political activism and controversial alliances in the name of progress don't stop there. This is mostly skated past by the documentary, which chooses more to focus on the fact that Anderson is not afraid to use her voice, rather than who she might ally herself with to get her voice truly heard. Her son Brandon confesses that his mom doesn't have a problem getting in trouble for her activism and alliances, but he's always saying, "don't do that!"
Her knight in shining armor could be jealous and violent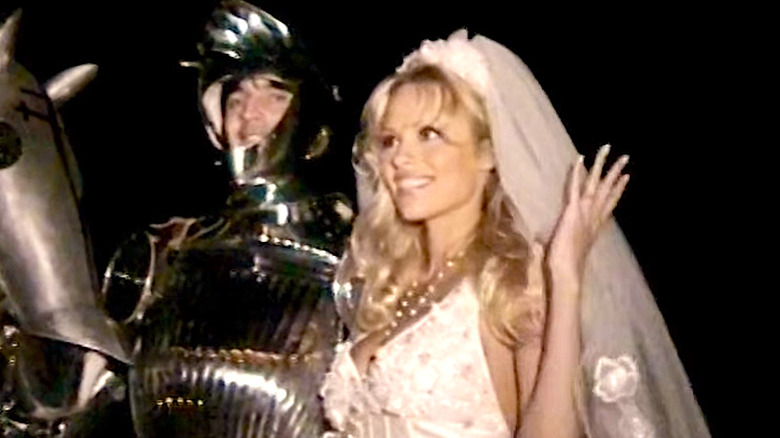 Netflix
While Anderson and Lee had an intense love affair spanning years, Anderson left the musician when he became violent to her after the birth of their two kids. She details some harrowing experiences and alludes to others in "Pamela, a Love Story." She arches an eyebrow and in heartbreaking deadpan admits, there were "some red flags." She details how Lee would disrupt the "Baywatch" set while she was filming, and he would watch her work. She initially thought this was cute, but then Lee trashed her trailer after becoming enraged that she shared a (scripted, on-screen) kiss with her co-star.
Anderson, with extreme compassion for her ex, admits he may have gone through "a bit of postpartum" after the birth of their second child. Lee became violent with her in a specific event in 1998, and Anderson says she "called 9-1-1, and left the receiver off" because she no longer recognized her husband. Lee was charged with abuse, and Anderson filed for divorce. She admits she ultimately had to bifurcate the divorce because Lee refused to sign the papers.
Hulu's Pam & Tommy opened old wounds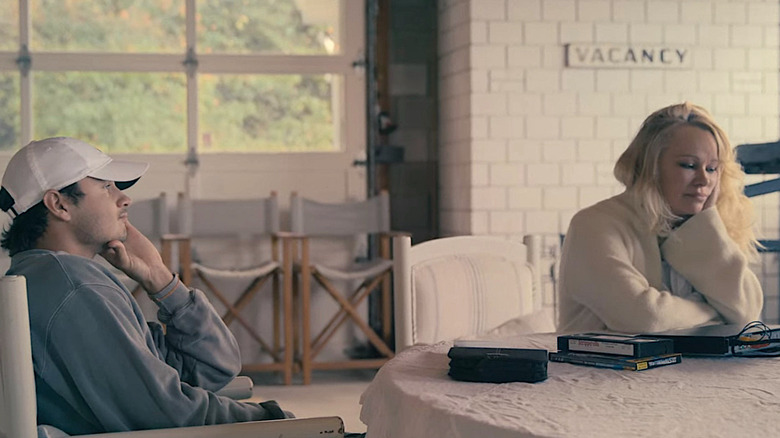 Netflix
The fallout from her stolen sex tape has been a knife in Anderson's back her entire adult life, and viewers of "Pamela, a Love Story" can see how Hulu's "Pam & Tommy" twists the knife further. Anderson is crystal clear about her feelings for the show in the documentary and many other outlets: it was made without her consent.
Anderson attributes the release of "Pam & Tommy" to triggering major stress for her, her ex-husband, and her kids. Her son Brandon describes being a kid and getting into fights whenever anyone brought up his mom, as well as deep feelings of anger and shame regarding the tape. When the Hulu series airs, he watches the first three episodes, clearly upset at the depiction. Anderson looks like she got hit with an invisible sucker punch after he calls her to describe what he's seen. She tells the filmmakers when the show airs, "It feels like when the tape is stolen ... like you're a thing owned by the world."
Broadway comes calling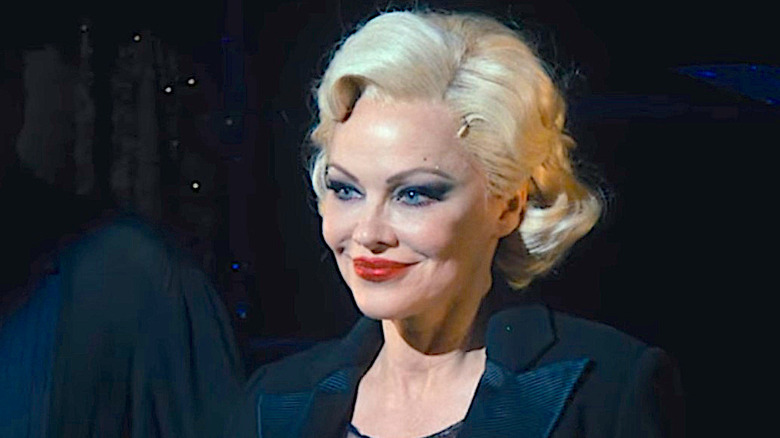 Netflix
Anderson admits to great heartache and joy throughout "Pamela, a Love Story." While she reveals to her sons that in many ways she's never gotten over their dad, or admits to herself that she needs a love story with herself instead of seeking it elsewhere, she is also clearly deeply bonded to her family, and invested in making moves. Anderson is in her 50s in the documentary, but just like all of the hardships she faced before, she won't let ageism stop her now — especially when Broadway sends for her.
Anderson is asked to star in a limited run of the hit musical "Chicago." While she is thrilled, Anderson is also a little terrified about learning intense choreography and singing. But when she finally takes the stage, she brings the house down — and there is clearly a lot of experience she can draw from to play Roxie Hart.
The film ends on a successful, hopeful note, and one can't help but recall a diary entry from Anderson's younger years, in which she vowed to herself, "this is my time to shine, not as a sex symbol, but as an actress." Sex symbol and stage star, stay tuned for what creative challenge Anderson accepts next.