Has The New DCU Canceled Out Steven Spielberg's Blackhawk Film?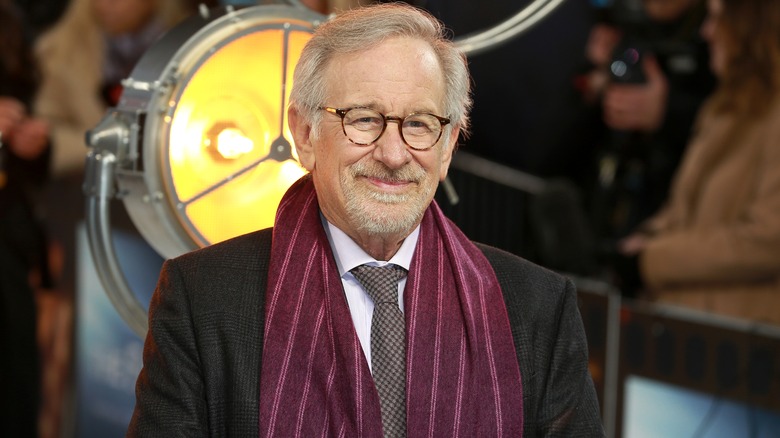 Fred Duval/Shutterstock
What was once Zack Snyder's territory riddled with inner-company politics has transitioned to a period of unity under the guide of James Gunn and Peter Safran. However, if Warner Bros. has proven one thing, it's that they are determined to have an on-screen cinematic universe one way or another.
With the hiring of Gunn and Safran as co-CEOs, Warner Bros. officially established DC Studios, taking after Marvel and Disney's approach of having a dedicated studio made up of filmmakers, producers, and writers to usher in a new era of on-screen connectivity. Gunn's slate announcement for part of DC's "Chapter 1: Gods and Monsters" revealed a promising future for the studio. Not only did he announce movies like "Superman: Legacy" and "The Brave and the Bold," and shows like "Lanterns" and "Booster Gold," but he commented on the studio's plans to continue the development of projects set outside the main cinematic continuity.
Any project developed outside the main DCU continuity, like Matt Reeves' "The Batman" and Todd Phillips' "Joker," will hold the title of "Elseworlds" stories, which DC comics have used for years for stories set in different universes. Unfortunately, not everything will continue under the Elseworlds moniker. The CW and HBO Max have all but ended every DC project on their platforms, but the real casualty in the Gunn-Safran takeover looks to be Steven Spielberg's "Blackhawk" movie.
Blackhawk seems dead in the water
DC Comics
In 2018, The Hollywood Reporter gave DC fans a ray of light in the darkest times, announcing that legendary director Steven Spielberg decided to jump into the world of superheroes, bringing DC's Blackhawk to live-action. He signed on as a producer, although many close to the project assumed he would be sitting in the director's chair when filming started. Longtime Spielberg collaborator David Koepp was writing the script for "Blackhawk," which would feature the titular hero and his squadron of fighter pilots taking on Nazis during World War II.
The pairing seemed like a match made in heaven, but the lack of updates makes it seem like the project isn't making it off the runway. In March 2022, Koepp gave the most recent update on "Blackhawk," saying they had an excellent finished script, but leadership complications at Warner Bros. put the project in question. "There were a lot of management changes at Warner Bros, so I think we've just been kind of waiting for that to settle down and for them to decide what they want to do with their DC Universe," he told Collider.
Since then, Gunn and Safran formed DC Studios and announced their first slate of projects. "Blackhawk" was nowhere to be found, surprisingly not even getting a mention from either co-CEO, even though a massive name like Spielberg's is attached to the project. Given how long it's been since a meaningful "Blackhawk" update, it's safe to say the movie won't be moving forward with DC Studios, joining Ava DuVernay as another high-profile director whose DC vision fans won't get to see.
What could have been with DC's Blackhawk?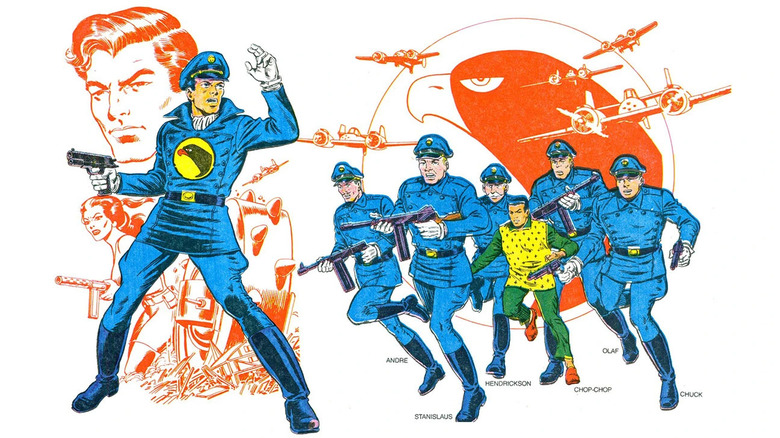 DC Comics
Blackhawk is an interesting hero for Spielberg to attach himself to for a live-action project. However, given the filmmaker's success with "Indiana Jones," he would be the best director to bring the project to life. First appearing in "Military Comics" #1 in 1941, Blackhawk, an American fighter pilot fighting against Nazis in Poland during World War II, was introduced by Will Eisner, Bob Powell, and Chuck Cuider. After a German commander killed his brother and sister, the Golden Age hero assembled a group of pilots, creating the aptly-named Blackhawk Squadron.
Like most comics at the time, "Blackhawk" started as a way to get more volunteers for the war effort, but its popularity continued after World War II. Through the '70s and '80s, the Blackhawks went through numerous rewrites, making them mercenaries and spies in an attempt to give them relevancy. Unfortunately, the waning popularity of wartime comics led them to obscurity in the '90s (via DC). The most recent version of the Blackhawks is now a paramilitary organization created by Hawkman and Hawkgirl to stop threats. Even now, DC barely utilizes the team in the comics.
Spielberg's interest in a movie adaptation dates back to the 1980s. "Blackhawk" author Mark Evanier told Quality Comics, "I believe what happened was that Steve Spielberg was interested in possibly doing something with Blackhawk, and somebody even mentioned Dan Aykroyd wanted to play the character. But I think that was just a pie in the sky. I don't think there was ever an offer made." Unfortunately, it seems that adaptation shares the same fate as his most recent attempt, with neither making it to the big screen.