Liz Torres Said Playing Miss Patty On Gilmore Girls Was Like A 'Second Skin'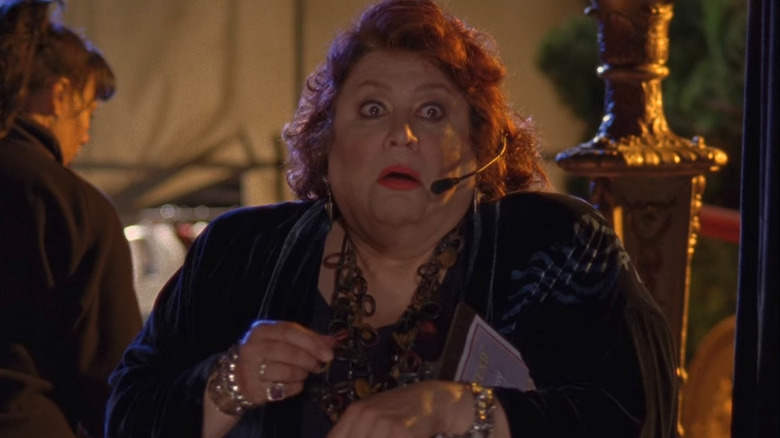 The CW
While "Gilmore Girls" devoted most of the narrative to its titular heroines, Lorelai (Lauren Graham) and Rory (Alexis Bledel) Gilmore, the recurring characters that were featured over the years were often just as enjoyable. As the mother-daughter duo dodged life's curveballs together, fans were introduced to the colorful residents of Stars Hollow, like Kirk (Sean Gunn), the local jack of all trades, Michel (Yanic Truesdale), the Independence Inn's short-tempered concierge, and town busybody Taylor Doose (Michael Winters).
Played by Liz Torres, Miss Patty was Stars Hollow's flirtatious dance instructor whose studio sat at the center of town. No matter what drama was unfolding, Miss Patty and her best friend Babette (Sally Struthers) were always ready to feed the gossip mill. Even though Torres mourned Miss Patty before being asked to join the cast of "Gilmore Girls: A Year in the Life," she was able to tap into the character's signature wit for the revival. The four-part series gave viewers a chance to catch up with all the characters we got to know during the show's original run, and it was clear that Miss Patty hasn't changed much since we last saw her. According to Torres, returning to play the character after almost a decade was effortless.
Portraying Miss Patty came naturally to Liz Torres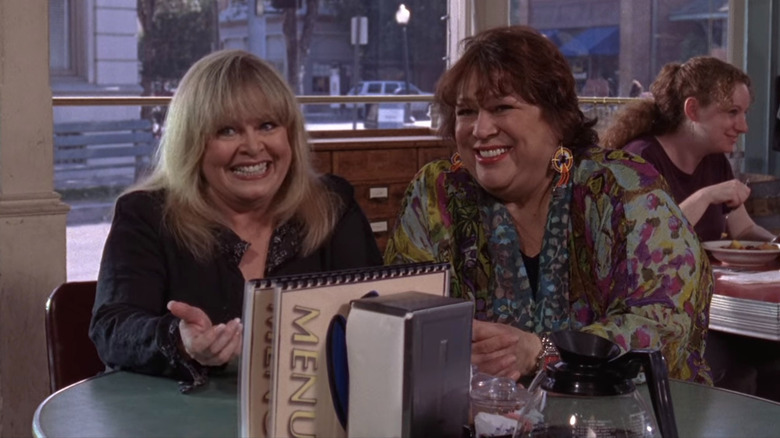 The CW
Stars Hollow is so idyllic that it's almost a shame that the town is fictional, though the people who live there are careful not to let Miss Patty get wind of their secrets. When Miss Patty teamed up with Babette, no one was safe from their scrutiny. With an arsenal of quippy one-liners and dubious tales of her days as a dancer, Miss Patty was a frequent source of comic relief. No matter who she was interacting with, Liz Torres infused humor into her lines with impeccable timing and delivery. In an interview with The TV Addict, Torres was asked if it was hard for her to get back into character for "Gilmore Girls: A Year in the Life," and her answer made a lot of sense. 
"Totally natural! It's a second skin for me; it doesn't feel like I'm acting. Sally (Struthers) does a character, and she puts a lot of energy into it, and I'm just Miss Patty; I felt like I should've given Miss Patty a little more color and let the words carry me," the actor told the outlet. "I thought that Miss Patty was a tough-talking, showbiz broad, so I just really tried to sell the words." 
Since she put so much of herself into the character, it adds up that playing Miss Patty felt easy for Torres. During the show's original and revival, that familiarity came through in her performance.