This Is Where Gilmore Girls Was Actually Filmed
There's a reason "Gilmore Girls" got a four-episode revival on Netflix years after its original run concluded in 2007: it's seriously good television. Amy Sherman-Palladino's writing is a masterclass in character development and rapid-fire pop culture references. One of the best parts of "Gilmore Girls" was the show's firm grasp of setting and tone, which hugely informed the character's personalities. "Gilmore Girls" rather famously takes place in picturesque Stars Hollow, a fictional town in Connecticut that boasts a tight-knit, if eccentric, community. The most relatable moments on "Gilmore Girls" featured adored mother-daughter duo Lorelai (Lauren Graham) and Rory Gilmore (Alexis Bledel), but the residents of Stars Hollow and the town itself really brought the show to life.
"Gilmore Girls" was so charming that the locations in Stars Hollow like Luke's Diner and the Dragonfly Inn seem real and inviting. The worst thing about living in Stars Hollow is the denizen's fondness for weird festivals, which isn't exactly a deterrent for tourists! However welcoming Stars Hollow seems, this quaint hamlet was created with some sleight of hand. Movie magic was utilized to make the Stars Hollow set seem like a real New England town, making it almost impossible to tell that "Gilmore Girls" wasn't even shot on the East Coast! In fact, the series was filmed on the opposite end of the country.
Gilmore Girls was filmed at Warner Bros. Studios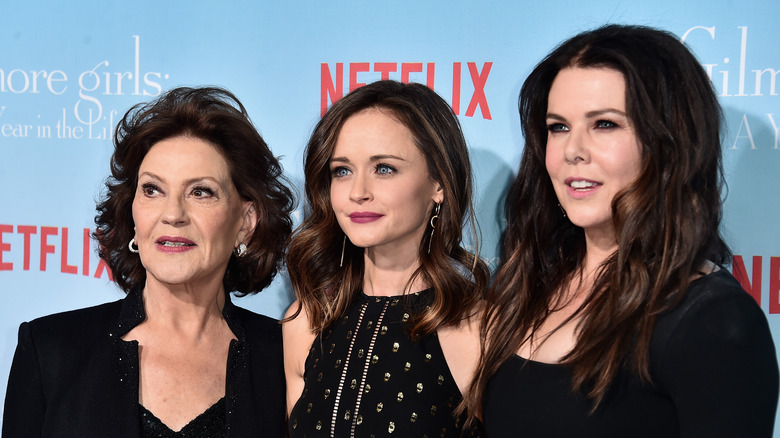 Alberto E. Rodriguez/Getty Images
While the pilot episode was shot in Unionville, Ontario, the remainder of "Gilmore Girls" was filmed at Warner Bros. Studios in Burbank, California. Stars Hollow was basically just one big soundstage. The town square, Luke's Diner, the Independence Inn, Doose's Market, and Emily and Richard Gilmore's house were all sets. The creators of "Gilmore Girls" used several locations in California to stand-in for well-known East Coast spots. The Greystone Park and Mansion in Beverly Hills was used to represent the highbrow Chilton Academy. Rory's visit to Harvard was actually filmed at UCLA, and her jaunt to Yale was shot at Pomona College.
Although Stars Hollow is fictional, it's based on a real town. "Gilmore Girls" creator Amy Sherman Palladino was inspired to write the series after visiting Washington, Connecticut. The inn that Lorelai works at is modeled after a very real establishment called Washington's Mayflower Grace Inn and South Royalton, Vermont represents Stars Hollow in the show's opening credits (via The Cinemaholic). Despite being filmed on a huge studio lot in California, "Gilmore Girls" does its level best to pay homage to its small town roots.
Even though Stars Hollow isn't a real town in Connecticut, you can visit all your favorite "Gilmore Girls" locations on the Warner Bros. studio tour (via Visit Burbank).