Brendan Fraser Auditioned To Play Superman In A J.J. Abrams Project (& So Did Paul Walker)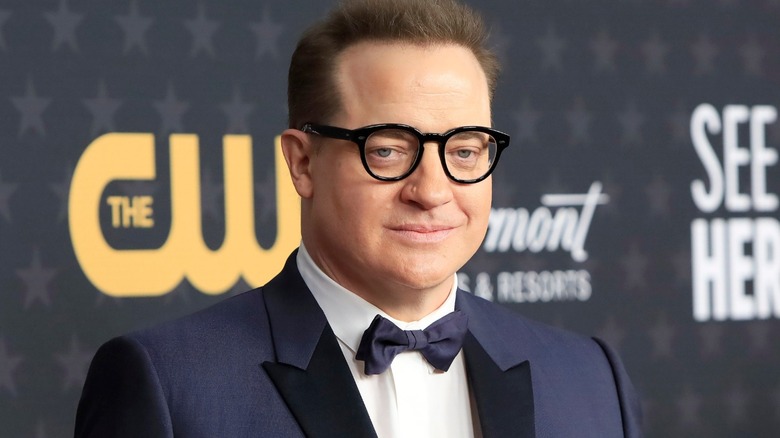 Joe Seer/Shutterstock
The Brendan Fraser renaissance of 2022 has spilled over into the new year, with "The Whale" star earning award show acclaim and accolades for his performance in the Darren Aronofsky flick — including an Oscar nomination for Best Actor in late January. Fraser's film career has reached unprecedented heights over the past few months on account of his powerful portrayal of Charlie, a morbidly obese English teacher who is attempting to reconnect with his daughter (Sadie Sink). Considered to be his acting opus, Fraser has come a long way from his days of swinging through trees and taking out mummies. However, there was one film from the "Airheads" frontman's past that could've defined his Hollywood career way earlier — but it never got made.
Spearheaded by J.J. Abrams, "Superman: Flyby" was supposed to be a renewed take on the classic DC Comics character, with intricate and updated explanations for things, like giving a young Clark Kent glasses that are made of lead to help him control his vision abilities, or having his dad Jor-EL visit Earth years prior to the DC hero's arrival to make sure the planet was fit to live on (via Den of Geek). It was reportedly set to be the first film in a trilogy and would have saw Kal-El fulling a "prophecy" as the heir of Krypton, per Den of Geek. According to Fraser, Warner Bros. wanted a young actor to play the iconic role, and they brought in numerous rising stars to audition. 
Fraser says he and 'six or seven guys' auditioned for Abrams' defunct 2002 Superman: Flyby movie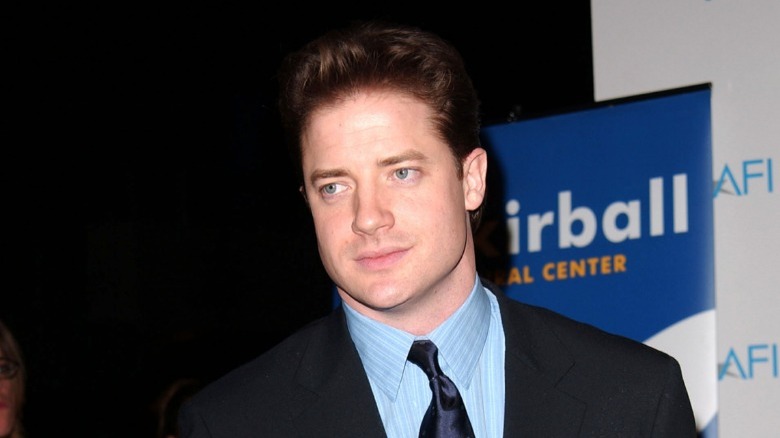 Robert Mora/Getty Images
Speaking to Howard Stern in a new interview, Fraser recalled how he and half a dozen others did screen tests for J.J. Abrams' "Superman: Flyby" movie in 2002. According to previous reports, the list included Hollywood young guns like a then 20-year-old Henry Cavill, "Supernatural" star Jared Padalecki, Ashton Kutcher, "Roswell" actor Jason Behr, and as Fraser revealed during his sit-down with Stern, the late "The Fast and Furious" frontman Paul Walker. 
"Everyone in town was reading for Superman," Fraser remembered. "They were testing six or seven guys," he said, noting how Walker auditioned before him. "They were like, you know, the usual suspects." For Fraser, just being able to have a chance to possibly play such an iconic and career-defining role like Superman was gratifying, but also scary. "You know, of course, it's a life-changing amazing opportunity, but I had to reconcile with, 'Okay, say you do get the job to be the Man of Steel. It's going to be chipped on your gravestone. Are you okay with that?'" Fraser explained to Stern. "There was a sort of Faustian bargain that went into feeling [that], and I think inherently I didn't want to be known for only one thing, because I prided myself on diversity my whole professional life. And I'm not a one-trick pony." 
While Fraser, who didn't get cast as Superman, was fighting with himself over playing the part, the project actually wound up becoming a missed career boost, in his mind, when looking back on everything. "I felt disappointed that there was an amazing opportunity and it didn't come to fruition," Fraser told Stern. But Fraser got another big chance at notoriety in the end, as he is one of the favorites to take home the gold at the Oscars on March 12 — if he can beat out this season's awards juggernaut Austin Butler.