Wakanda Forever's Marketing Secretly Revealed The New Black Panther In A Clever Way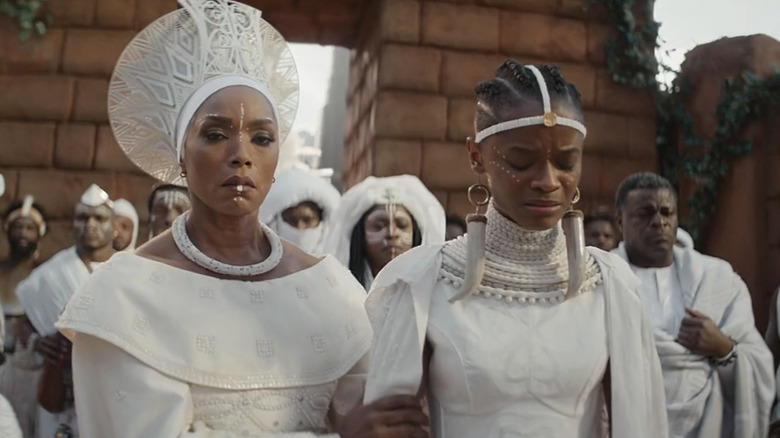 Walt Disney Studios Motion Pictures
One of the biggest questions going into "Black Panther: Wakanda Forever" was who would step into the Black Panther position left vacant after Chadwick Boseman's passing in 2020, per New York Times. 
As T'Challa/Black Panther, Boseman felt like a lot of the heart for 2018's "Black Panther," and his absence in the sequel is addressed right off the bat, with characters mourning the loss of Wakanda's king. In King T'Challa's absence, Wakanda finds itself at risk, and the underwater king Namor (Tenoch Huerta), a character with far more murky morals than T'Challa. Adding to the challenge of making a "Black Panther" without Boseman is the fact that the actor also impressed audiences as the character in "Captain America: Civil War," "Avengers: Infinity War," and "Avengers: Endgame." In other words, in just a few short years, people were more than used to seeing only one person play Black Panther. 
The one to take on the mantle of Black Panther turned out to be Shuri (Letitia Wright). This was hinted at in a fairly obvious way in marketing materials, according to director Ryan Coogler. The filmmaker said if viewers noticed one rule about the franchise, then they would have known exactly who would be the new Black Panther before ever seeing the sequel. 
Only Black Panther wears black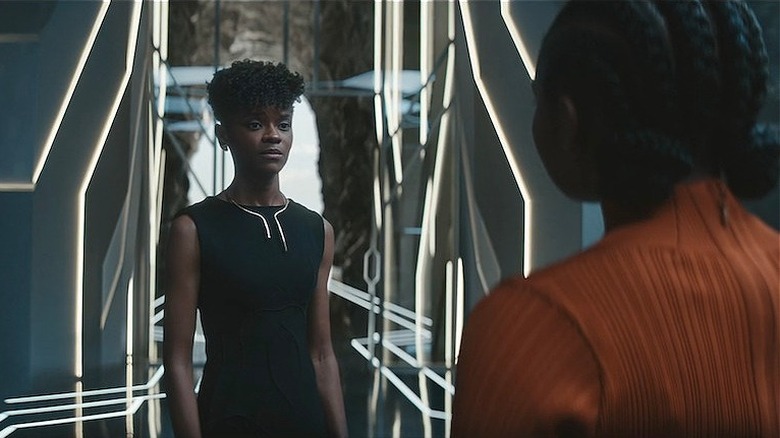 Walt Disney Studios Motion Pictures
According to Ryan Coogler, seeing people debate the identity of the next Black Panther was a little silly since he'd hinted so heavily at Shuri in the trailers. 
"It's funny because in these films, we don't really let anybody wear black except for the Black Panther. It's kind of like Wakandan rules in many ways. So it was funny like watching the... (laughs) Watching the trailers come out and people saying, 'Who's gonna be the Black Panther?' And that image of Shuri walking in all black with the necklace was always in those trailers," Coogler said in commentary for "Black Panther: Wakanda Forever," as noted by The Direct. The director added that once a character becomes the Black Panther, they begin to wear black, even when they are not in the costume. 
According to actress Letitia Wright, the plan was always for her to become Black Panther, but before Chadwick Boseman's death, the plan was to have multiple Black Panthers in the Marvel Cinematic Universe. 
"I knew the responsibility, I knew the weight of it, but it was just bittersweet, something I struggled with a lot. But [I'm] extremely proud of myself, had great support," the actress told the Empire Movie podcast.