Why Charles Goodnight From 1883 Looks So Familiar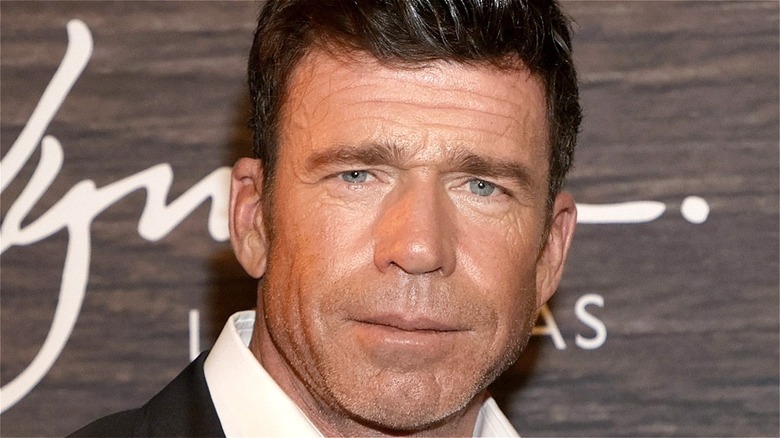 Ethan Miller/Getty
Even people only vaguely aware of shows like "Yellowstone" and "1883" probably know the name Taylor Sheridan has something to do with the massively successful franchise at the heart of the Paramount Network. "Yellowstone," the first series created by Sheridan has proven to be an enduring hit, spawning multiple spinoffs, including: "1883," the series that tells the story of the first Duttons in Montana; "6666," an upcoming series set at the real-life Four Sixes ranch in Texas; and 1932, another coming series about the Duttons' time during the Great Depression (via Variety).
Outside of "Yellowstone," Sheridan is also the creator of "Mayor of Kingstown," a Paramount+ series starring Jeremy Renner, and a slew of other upcoming originals, including, but almost certainly not limited to: "Tulsa King," starring Sylvester Stallone; "Lioness," starring Zoe Saldana; "Land Man," starring Billy Bob Thornton; and "Bass Reeves," starring David Oyelowo (via YouTube). While Sheridan is arguably best known for his behind-the-scenes work on these series, his career in Hollywood goes back much further beyond the 2018 premiere of "Yellowstone." 
Before Sheridan made a name for himself as a writer, he primarily worked as an actor. In fact, you may recognize Sheridan from his many roles in front of the camera too. In more recent years, Sheridan has focused on writing, but he's also made a handful of appearances on his own projects, including a brief role in 2016's "Hell or High Water" and an appearance on "1883" as Charles Goodnight, a real-life historical figure. 
Here's a quick recap of a handful of other places you may have seen Sheridan on the small screen before. 
He played Deputy Chief David Hale on Sons of Anarchy
Before he led the "Yellowstone" franchise, Sheridan appeared as Deputy Chief David Hale on a total of 21 episodes of FX's hit series "Sons of Anarchy" (via IMDb). While Sheridan didn't quite make it into the pilot episode, he was an integral part of the beginning of the series, appearing in all, but four episodes of the first two seasons. Throughout the first season, Hale operates as one of the last honest officers in Charming. With a hatred for SAMCRO's criminal enterprise, Hale initially pursues the group in a fashion decidedly different from that of his fellow law enforcement officers, most of whom have become somewhat accepting of the biker gang's actions. 
In Season 2, however, Hale begins to see the wisdom in working with the group and opts to form an alliance of sorts with Jax Teller (Charlie Hunnam). Sadly, their teamwork is relatively short-lived. In the Season 3 premiere, Hale is killed in a drive-by shooting at a funeral. 
In the years since his exit from the acclaimed FX series, Sheridan has spoken rather bluntly about his decision to leave the show (via CinemaBlend). In a wide-ranging interview with Deadline in 2021, Sheridan admitted that he was troubled with a number of things on "Sons of Anarchy," including his pay. However, even more troubling to Sheridan was the way that he was viewed as a lower-level team member on the production. 
"It wasn't so much over money," Sheridan said. "It was so much more that that's how the business saw me."
Notably, Sheridan's departure motivated him to pick up writing again, a task which led him to the next series on this list.
He plays Travis Wheatley on Yellowstone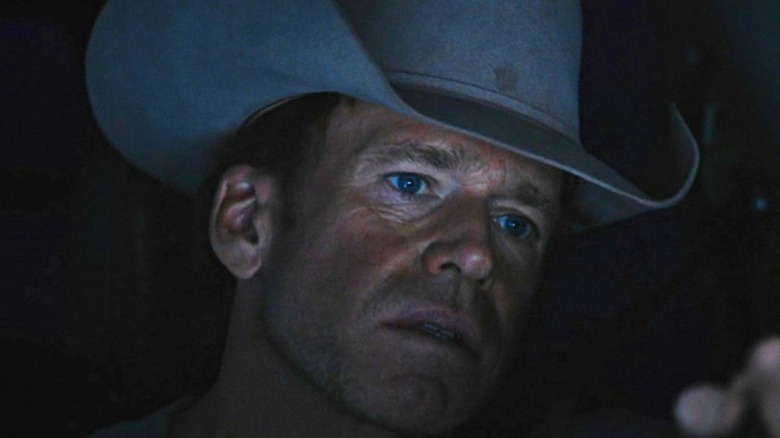 Paramount Network/Peacock
Sheridan isn't exactly shy about including himself as an on-screen presence in the series that he leads. Sheridan made his first appearance on "Yellowstone" in Season 1, Episode 5 ("Coming Home") as Travis Wheatley, a role which he has reprised a number of times since. A horse trader by vocation, Travis is a through-and-through cowboy, known for his no-nonsense attitude and his expert abilities on horseback. 
While Sheridan only appeared in a single episode of Season 1, he returned as Travis for two more episodes in Season 2, utilizing each appearance to show off his expertise in the world of horse training. For some reason, Sheridan opted to sit out Season 3 (though, of course, he maintained an active role behind the scenes), but later made up for his lack of screen time in that season by appearing in five different episodes of Season 4. As a part of a favor to John Dutton (Kevin Costner), Travis gives Jimmy Hurdstrom (Jefferson White) a ride to the "6666" ranch in Texas, the cowboy's home state. 
We think it's safe to say that Travis will probably find another reason to visit Montana in "Yellowstone" Season 5 too. And, while not much is known about the "6666" spinoff yet, it also seems like a safe bet that any "Yellowstone" series is bound to feature Sheridan in some role.