11 Actors We'd Love To See Play Booster Gold In DC's HBO Max Series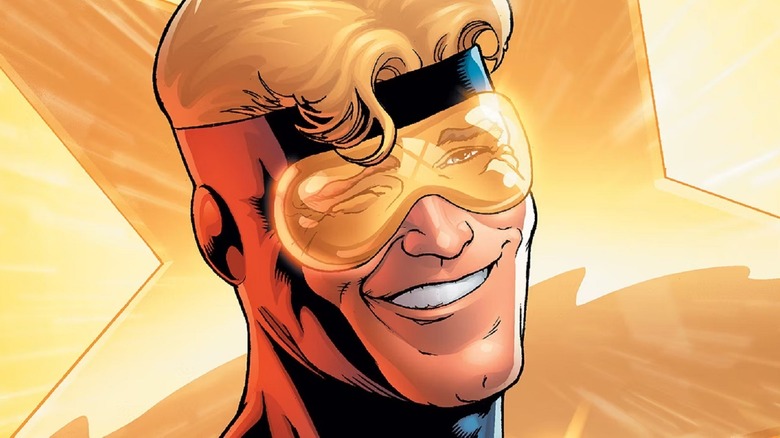 DC comics
When James Gunn announced his slate of film and TV productions for the first chapter of his DC universe (subtitled "Gods and Monsters") in January 2023, there were a few surprises. One of the most anticipated projects is an HBO Max series based on the cult comic favorite Booster Gold.
The story of Booster Gold is unique in the world of superheroes. Instead of a heroic figure who emerges from tragedy, Michael Jon Carter is a disgraced college football player from the 25th century, expelled for fixing games. After learning about the adventures of present-day heroes, he steals technology that provides him with flight, superhuman strength, and a force field, and then travels back to our time, where he uses his knowledge of present-day events to quickly become a widely recognized superhero, making money through sponsorship deals. Despite his initial selfish reasons, he soon learns that there's value in risking his life to save others, starting a path that takes him from time-traveling fraud to true hero.
The character has already been portrayed by Eric Martsolf in "Smallville," and a variation of Booster Gold named Mike was played by Donald Faison in "Legends of Tomorrow." However, a show revolving around the character will allow viewers to explore his true complexity. The role of Booster Gold requires range, physical skill, and charisma. It is both a challenging and attractive part for actors who have yet to be given their own superhero franchise. Here are the actors we think should be on the shortlist to portray Booster Gold.
Bill Skarsgård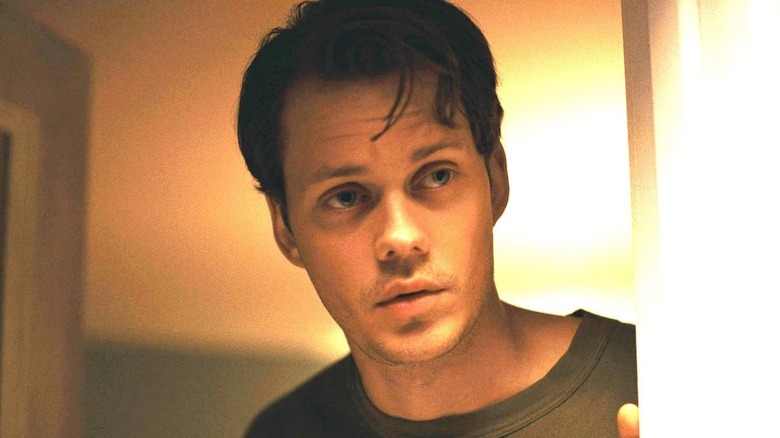 20th Century Studios
Swedish actor Bill Skarsgård first came to the attention of international audiences playing Matthew in the YA sci-fi film "Allegiant," based on the "Divergent" series of books. However, it was his critically acclaimed portrayal of the killer clown Pennywise in the "It" movies that launched him to stardom, an achievement worthy of much praise considering he had to follow Tim Curry's iconic performance in the '90s miniseries. After playing a small role in "Deadpool 2" and voicing the antagonist of "The Eternals," Skarsgård went back to playing darker characters. He took the role of a famous criminal in the series "Clark," and he terrified audiences in the 2022 horror hit "Barbarian."
With such a varied filmography, Skarsgård might not seem like the most obvious choice to play a tragicomic superhero. However, the Swede's ability to play extremely different roles fits perfectly with a character that has to act like everything is under control even when his elaborate façade is starting to show cracks and his past is coming back to haunt him. The role would also prevent Skarsgård from being typecast as a horror actor, something that would no doubt appeal to him. There's no denying that he has the acting chops, and we think he'd make a great Booster Gold.
Jon Hamm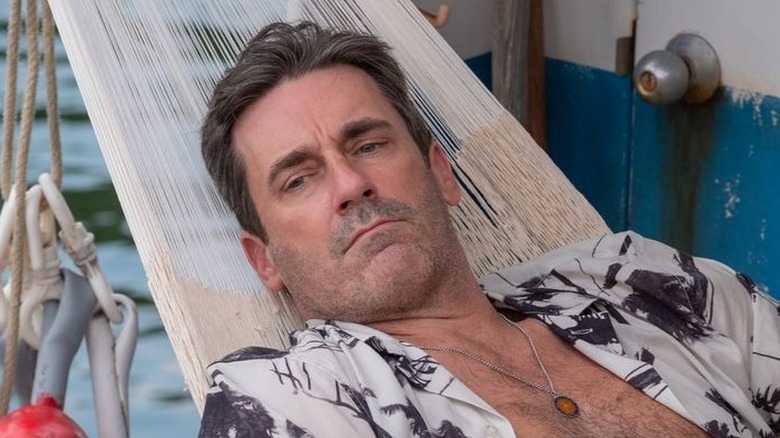 Miramax
Jon Hamm was still a relative unknown when he was cast as advertising exec Don Draper in the hit series "Mad Men." The role of the marketing genius who becomes a success in the corporate world earned the actor numerous awards (including an Emmy) and widespread praise. His cold but engaging performance convinced director Kevin Smith that he would be a perfect Bruce Wayne in a future Batman film ("Give Draper the cape and light up the Bat Signal," he said in an Instagram post), but Hamm's career took a different direction.
After "Mad Men," Hamm appeared in secondary roles in successful small screen comedies such as "The Last Man on Earth" and "Unbreakable Kimmy Schmidt." He also plied his trade in big films like "Lucy in the Sky" and "Top Gun: Maverick." However, it was his leading role in the relatively unknown detective comedy flick "Confess, Fletch" that brought back the attention of critics: The Au Review called him "hilariously deadpan" and hailed his "terrific performance." This ability to portray flawed characters with hidden pasts as well as people who shouldn't be taken too seriously is why James Gunn should be taking a serious look at Jon Hamm for Booster Gold. He has more superhero experience than you might realize, too: He voiced Tony Stark in Marvel's "MODOK" in 2021.
William Jackson Harper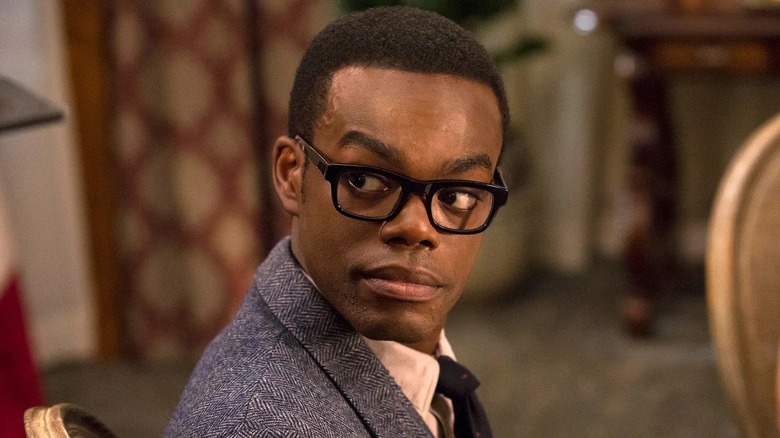 NBC
A multi-talented actor, William Jackson Harper has voiced video game characters, narrated a podcast, and voiced animated characters over the course of his career to date. He is also known for his work in the theater, having appeared in Broadway and Off-Broadway productions such as "All the Way" and "Modern Terrorism." His most famous role was probably as Chidi in "The Good Place," a comedy series about four individuals who die and are sent to a parody of heaven as part of an experimental punishment.
In "The Good Place," Harper plays a philosophy teacher whose paralyzing indecisiveness ends up bringing him a series of problems even after death. Chidi is confident, dresses elegantly, and has an enviable physique, which makes his insecurities all the more baffling. This versatility led to thousands of fans liking a post that suggested he could take on the role of Superman one day. "That would be dope," Harper said when Jimmy Kimmel asked him about the fancasting. "That would be the best thing that could happen to me, to be able to play Superman." Could another DC hero be in the actor's future? With his comedy chops and clear acting talent, Harper could make a great Booster Gold.
Dan Stevens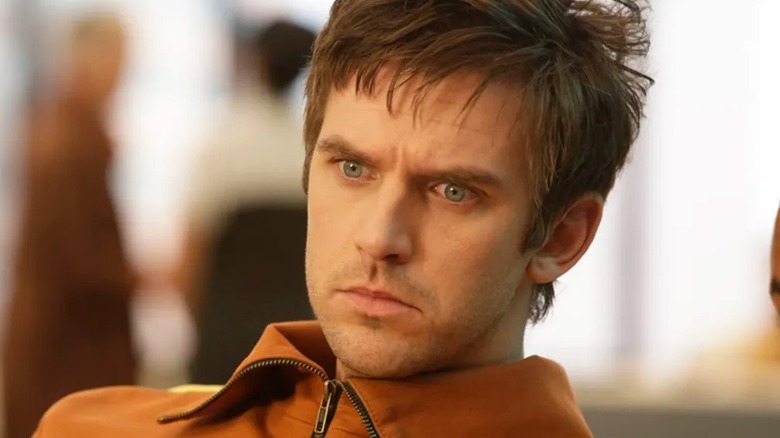 FX
Between 2010 and 2015, a British period drama enthralled both domestic and international audiences. Set in early 20th century England, "Downton Abbey" follows the aristocratic family who live in the titular building and the staff who keep it running. The relatable topics across different levels of society, as well as the use of historical events such as World War I, made the show a tremendous success. The early seasons are largely concerned with Matthew Crawley, a lawyer who becomes the heir to the title Earl of Grantham. Crawley is played by Dan Stevens, who — fearing he would be "typecast" as a period drama actor, he told The Australian (via the Daily Mail) — left the show after Season 3.
Stevens' departure (and the tragic way in which writers ensured there was no hope for his character to return) devastated viewers, but the actor's instincts paid off. He went on to star in the critically acclaimed movie "The Guest" and portrayed the titular creature in Disney's live-action remake of "Beauty and the Beast" opposite Emma Watson's Belle. He's best known to superhero fans for playing David Haller (the mutant son of Charles Xavier) in the Marvel show "Legion." The FX series came to an end in 2019, and it's about time that Stevens got back into the superhero genre. He has the looks, and he has the ability — he was nominated for numerous awards for his gripping turn in "The Guest."
Boyd Holbrook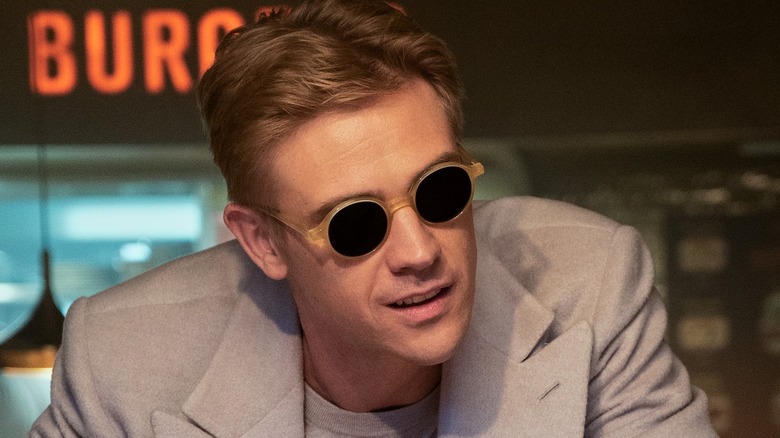 Netflix
Boyd Holbrook has had what Variety describes as an "eclectic career." He was discovered as a carpenter and hired to become a model, but he's also a sculptor who has managed to present his work in an art gallery in New York. It's probably this combination of hard work and artistic affinity that has allowed Holbrook to bring both an impressive physicality and an intimidating yet appealing presence to his roles. This might not have been evident in his first major part as a DEA agent in the popular series "Narcos," but his style of acting became more refined in later works.
Holbrook is known to superhero fans for playing Pierce in the critically acclaimed 2017 film "Logan." The relentless mutant hunter becomes a threat to Wolverine, providing Hugh Jackman with plenty of foil in what was supposed to be his final turn as the X-Men favorite (the Australian is set to reprise the role in "Deadpool 3"). Holbrook went on to prove just how talented he is while portraying The Corinthian in the hit Netflix series "The Sandman," balancing sex appeal with elegance in a brilliant way. "Holbrook's incarnation is suave, flirtatious, and well-dressed, with a hint of his actor's Southern drawl," raved Entertainment Weekly. He brought a dark humor to his take on the supernatural serial killer, which makes us even more interested to see how he would portray an insecure but powerful superhero in Booster Gold.
Donald Glover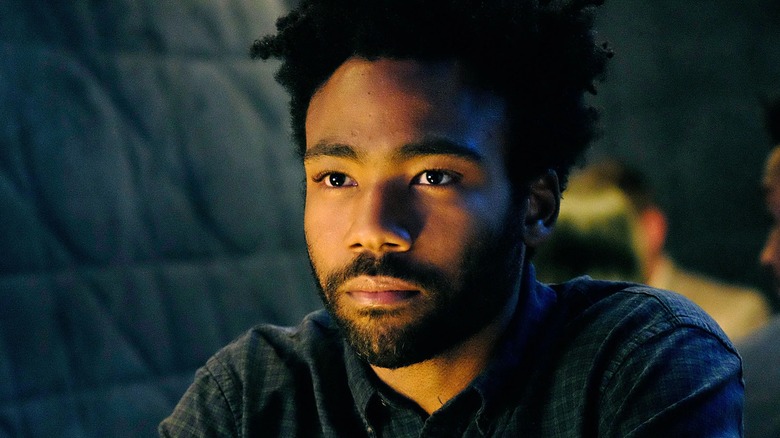 20th Television
Donald Glover started his career writing for the beloved comedy series "30 Rock," but opted to leave his position so he could pursue a career on camera. Today he's best known for his role as Troy Barnes in the hit show "Community," his different music productions, and creating, writing, and starring in the Emmy award-winning TV series Atlanta, in which he plays a man helping his cousin become a successful rapper.
During his career, Glover has crossed paths with the superhero genre on a number of occasions, although he has yet to get a main role in a DC or Marvel production. He was the subject of a campaign to make him the star of the next Spider-Man film during pre-production of "The Amazing Spider-Man," with Stan Lee among the people suggesting he should get a shot at auditioning, but Sony execs never contacted him. He ended up voicing Miles Morales' Spider-Man in the "Ultimate Spider-Man" animated series and playing a small cameo role in "Spider-Man: Homecoming" as Miles Morales' uncle, but he's still waiting for that big lead superhero role.
With a proven talent for both comedy and drama, we would love to see Glover take the role of Booster Gold in the first chapter of James Gunn's DC Universe. If chosen, execs should consider allowing him to write and direct on the series. With his background and talents, Glover could create a unique and engaging take on the character.
Daniel Radcliffe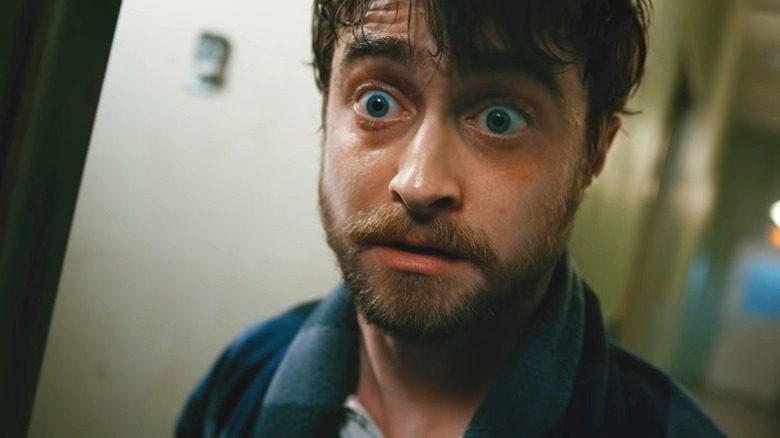 Saban Films
Having fronted the "Harry Potter" films from a young age, Daniel Radcliffe knows a thing or two about big franchises. After leaving the role of the boy wizard behind, he established himself as a versatile actor with a variety of roles in projects designed to distance himself from Hogwarts. Radcliffe was cast as a man who wakes up with guns attached to his hands in "Guns Akimbo." He played a corpse used as a multi-purpose tool in "Swiss Army Man." He portrayed a guy with supernatural abilities granted by a pair of horns that randomly grew from his head in "Horns." Crazy and unexpected doesn't quite cover how wild Radcliffe's roles tend to be in the post-Potter era, but he isn't afraid to have a little fun, either.
The Brit recently portrayed villainous billionaire Abigail Fairfax in the action comedy "The Lost City," and he flexed his comedy muscles in "Unbreakable Kimmy Schmidt," portraying the titular character's dashing fiancé Prince Frederick. He has the dramatic experience and the comedic timing to pull off Booster Gold, and he has the star power to attract viewers to the series. The attention brought by a superhero role definitely won't intimidate Radcliffe, who has been used to fame since he was a child, and his appreciation of unusual and quirky roles puts him high on our list of potential Booster Gold actors.
Logan Lerman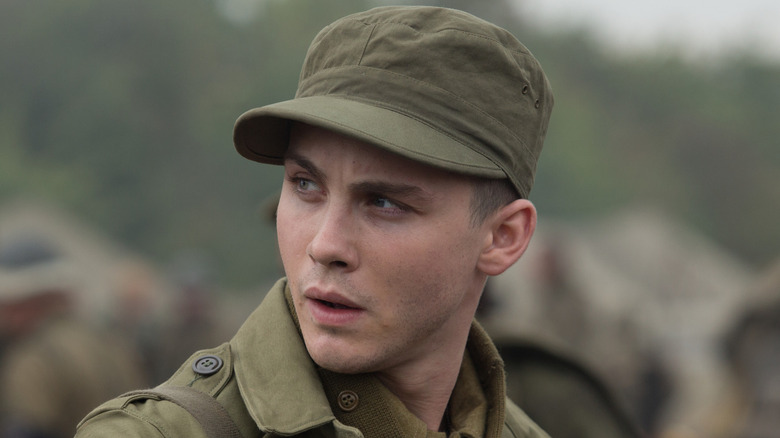 Sony Pictures
Like Daniel Radcliffe, Logan Lerman became a star portraying the lead character in a film adaptation of a fantasy book series. While the "Percy Jackson" movies weren't anywhere near as big as the "Harry Potter" ones, Lerman still went on to establish himself in Hollywood. He appeared alongside Radcliffe's former Hogwarts schoolmate Emma Watson in Stephen Chbosky's "The Perks of Being a Wallflower" and he turned in a tour-de-force performance in the Brad Pitt-led "Fury," playing the youngest member of a World War II tank crew.
When taking on a superhero role, actors are expected to adopt a strict diet and workout routine in order to get into the required shape. Lerman has shown that he isn't afraid to throw himself into a role, as he did prior to "Fury." Speaking to Vanity Fair, he revealed that director David Ayer put him and his castmates through the wringer as they prepper for the intense war film. "He had us sparring and fighting every day — all of us getting together at five AM and working on techniques, and then just getting into a ring to fight each other," the actor revealed. "It was part of our whole violent psychological training for going to war."
He's dedicated, handsome, and young enough to play a character for years to come. Lerman has yet to come into his own as a grown-up leading man, and the upcoming Booster Gold series could be an ideal way to do just that.
Harry Styles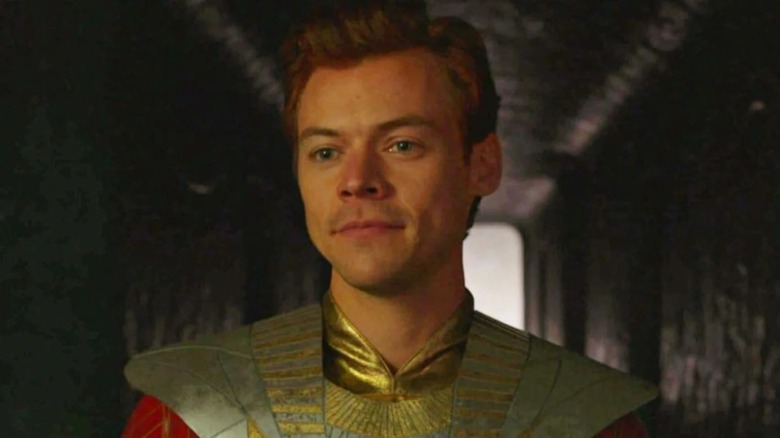 Marvel Studios
Harry Styles shot to fame as a member of One Direction, one of the most successful boy bands of all time. He left the group in 2016 and embarked on a solo career that has seen him earn multiple Grammys. He's had mixed fortunes in his acting career so far, but he's no stranger to the superhero genre — the Brit debuted as Marvel's Eros in the post-credits scene of 2021's "Eternals." According to Marvel Studios producer Nate Moore, Styles will reprise the character at some point in the near future. "We didn't cast Harry for a tag," Moore told Deadline's "Crew Call" podcast, confirming that there are "more stories to be told with that character" as the MCU progresses.
Should Styles wish to kick-start a DC run at the same time, then Booster Gold could be perfect for him. While he's still relatively green in leading man terms, the big wigs at Marvel trusted him enough to let him play Eros after "Eternals" director Chloé Zhao suggested him for the role. "I kept tabs on Harry since 'Dunkirk,' I thought he was very interesting," Zhao told Deadline. He's set for a big future in Hollywood, and with James Gunn outlining a decade-long plan for the DC Universe, Styles could be a great addition.
Adam Scott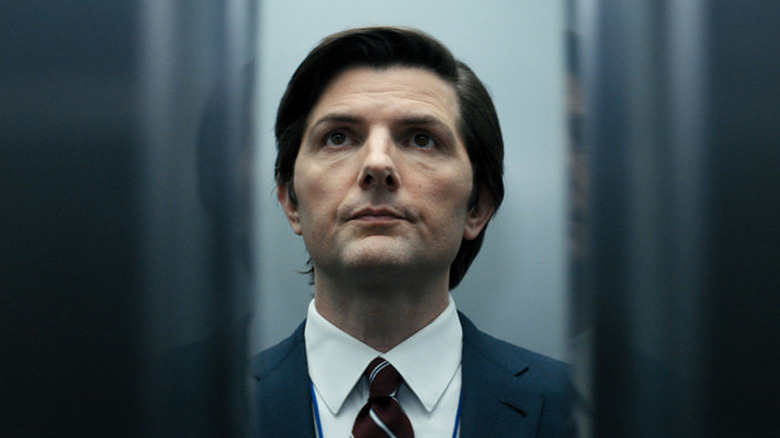 Apple TV+
Early in his career, Adam Scott made a habit of playing small roles in big movies, like "Star Trek: First Contact," "The Aviator," and "Stepbrothers." He would follow a similar trajectory in TV, appearing in popular comedies like "Boy Meets World," "Party of Five," and "Six Feet Under." His natural ability with deadpan comedy and playing office workers earned him a role in a mockumentary series called "Parks and Recreation" in 2010, which was in its second season and starting to gain a considerable following. The role of Ben Wyatt, a politician-turned-auditor, quickly became a fan favorite, which led to Scott becoming a regular part of the cast until the show's end in 2015.
Scott continued to feature in smaller roles in popular comedies like "The Good Place" in the years that followed. However, in 2022, the California native was finally recognized for his acting ability, turning in an outstanding performance as Mark in the acclaimed workplace sci-fi series "Severance." The Mary Sue was just one of the many outlets that raved about his work on the show, saying, "Adam Scott is one of the best actors out there, not just in his television roles but in everything he does." The premise of "Severance" revolves around people splitting their workplace self from their home one, creating "innies" who never leave the office and "outties" who never go to work. Scott's ability to convincingly portray both a downtrodden man and a happy-go-lucky guy make him an ideal candidate for Booster Gold.
Alan Tudyk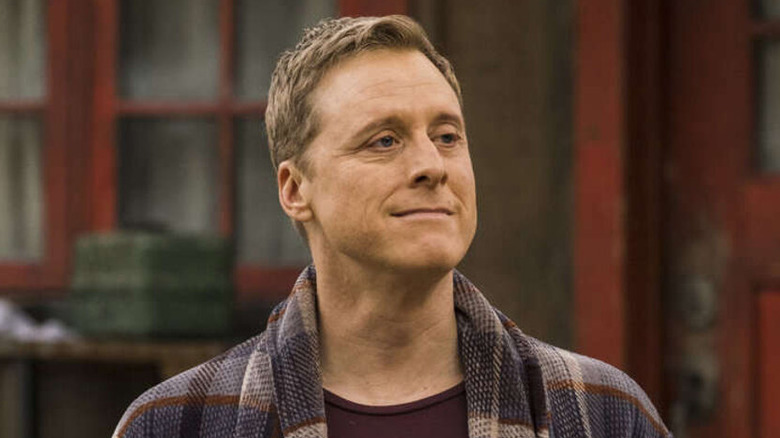 Syfy
One of the most versatile actors currently working in Hollywood, Alan Tudyk has been a fan favorite across film and TV for years. He gained a strong following portraying Hoban "Wash" Washburne in Joss Whedon's cult series "Firefly." However, he's also famous for his role in comedies like "Dodgeball: A True Underdog Story" and "Tucker and Dale vs. Evil." In addition, he's recognized as a prolific voice actor, playing animated characters in "Wreck-It Ralph," "Frozen," and "Zootopia," as well as the android K-2S0 in "Rogue One: A Star Wars Story."
The parts that best demonstrate Tudyk's range are a serial killer in "Dollhouse" and, more recently, an extraterrestrial with an interest in solving crimes in Syfy's "Resident Alien." "Alan Tudyk is an artisan of non-humans," IndieWire said in a review of the latter show. "Sign him up to play a droid or an anthropomorphized boat or the cartoonish embodiment of chaos and the man will deliver." Could he add a time-hopping superhero to that list? Tudyk has voiced numerous comic book characters, including the Joker, Green Arrow, and even Superman, so taking on the role of the arrogant and powerful but clumsy Booster Gold wouldn't be such a challenge given his extraordinary background.