How Donald Glover Tricked FX Into Making Atlanta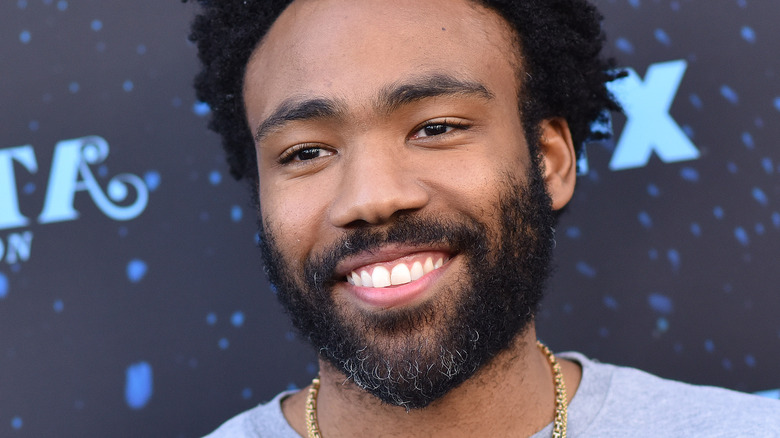 DFree/Shutterstock
"Atlanta" blazed a one-of-a-kind trail for itself on FX over the course of its four seasons. Created by and starring Donald Glover, the series is known for shifting its storytelling gears from week to week and never being afraid to get weird with its relatable cast of characters. 
Using the hip-hop scene of the titular city as its jumping-off point, "Atlanta" charts the rise of Alfred "Paper Boi" Miles (Brian Tyree Henry) and how his success shakes up the lives of his friends Earn (Glover), Van (Zazie Beets), and Darius (Lakeith Stanfield). With its unique approach as a comedy-drama series and the big creative swings that the show often takes (via The Ringer), it's kind of wild that FX greenlit the series at all. However, fans might not realize that Glover himself anticipated this and approached the pitch to the network in a very sneaky way with this exact fear in mind.
Donald Glover tricked FX into making the series his way
Donald Glover sat down with The New Yorker to talk about the genesis of "Atlanta" and what the project meant to him back in 2018. Amazingly, the actor and musician revealed that FX wanted a much safer show from him and that he tricked them into thinking that was exactly the show he was making when he pitched the series to them.
"I knew what FX wanted from me," Glover explained. "They were thinking it'd be me and Craig Robinson horse-tailing around, and it'll be kind of like 'Community,' and it'll be on for a long time. I was Trojan-horsing FX," the actor revealed. "If I told them what I really wanted to do, it wouldn't have gotten made." While this might sound like a pretty bold strategy, Glover is known for pushing creative boundaries, so FX honestly should have expected something like this.
Stephen Glover, who worked with Donald on the show, confirmed his brother's take. "Donald promised, 'Earn and Al work together to make it in the rough music industry. Al got famous for shooting someone and now he's trying to deal with fame, and I'll have a new song for him every week. Darius will be the funny one, and the gang's going to be all together,'" Stephen recalled Donald telling him. "That was the Trojan horse." Well, the proof is in the pudding, and with viewers and critics praising all four seasons of "Atlanta" (via Rotten Tomatoes), it would seem that Glover's gamble paid off.