Jon Hamm Had A Hilarious Reaction To Being Offered A Role In Top Gun: Maverick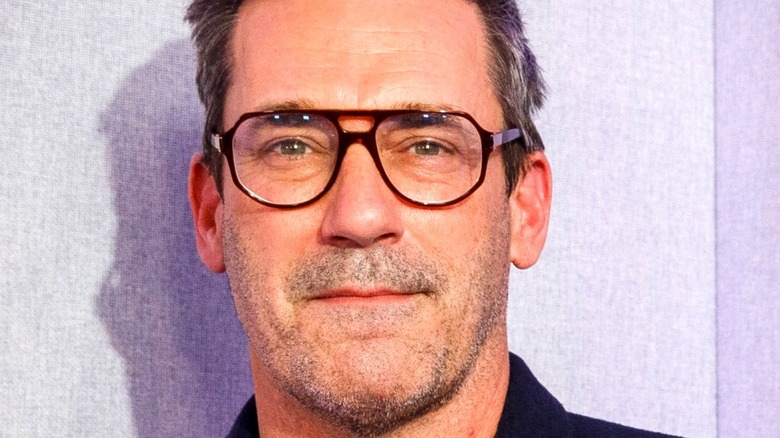 Tristan Fewings/Getty
Suave actor Jon Hamm is more closely linked with his angsty depiction of Don Draper for seven seasons of AMC's "Mad Men" than the pulse-pounding action of big-screen action sequences, like the ones you might see in, say, a Tom Cruise blockbuster. But pulse-pounding action is just what Hamm is set to deliver to audiences; he portrays Beau "Cyclone" Simpson in the upcoming Paramount Pictures feature "Top Gun: Maverick," a sequel to 1986's "Top Gun." Cyclone is both the superior officer over and the antagonist for eternal rebel and pilot Pete "Maverick" Mitchell (Tom Cruise). As teased in the latest "Top Gun: Maverick" trailer, the twosome clash over Mitchell's teaching methods for the TOP GUN training program, which involves educating a new group of elite pilots for the Air Force. Mav must train this team of newbie pilots for an important mission, upon which much is riding where their careers and the safety of the nation are concerned. Cyclone is something of an impediment to Maverick's plans for the group and his dream of proving that a guy like him is still worth his weight and gold in the 2020s.
Hamm's resumé has included everything from horror to broad comedy to inspiring Disney films in recent years, per his IMDb profile, so it's perhaps not surprising that he's joined the cast of a large-scale action film. But you might be wondering how he reacted when he was offered a role in the film. Fret not — we finally know.
Hamm was stoked to be in a Top Gun film
During a May 2022 interview with Uproxx, Jon Hamm recalled his immediately enthusiastic reaction to receiving the offer to play Cyclone in "Top Gun: Maverick." The actor told the outlet, "I got a call. I remember I was in my car and the phone rang. And I picked it up, hands-free of course. They said, 'They're looking at you for this 'Top Gun' sequel.' And I was like, 'What? Hell yes.' They said, 'We haven't seen a script.' I said, 'Tell them yes.'"
Hamm also admitted that he didn't care what his salary for the production would be, nor did he know how big his role might be — he just wanted to be in the "Top Gun" sequel no matter the size of the part or the deeds his character might be required to do. Soon enough, he found himself on the deck of the U.S.S. Teddy Roosevelt, a commissioned military ship with active nuclear missiles aboard (via U.S. Navy).
Hamm's excitement for appearing in the "Top Gun" sequel is simple to explain. As a teenager, he watched the movie and fell in love with it. "I was probably 15, at the dead center of the target demographic. I remember seeing the trailer and thinking, 'Yes. That looks awesome.' And it was," he told Men's Journal in 2021. The actor seems to be very proud of the piece, telling St. Louis' KSDK just how incredible "Top Gun: Maverick" will be, with stunning sequences and an emotionally-impactful story at its core. 
Fans will have to wait until June 27 to see Hamm, Tom Cruise, and their co-stars in "Top Gun: Maverick," but judging from the film's extremely positive critical reception, it'll be a wait well worth their while.