How Paul Rudd Behaved On The Set Of Ghostbusters: Afterlife, According To Carrie Coon
Sony Pictures
With "Ghostbusters: Afterlife," director Jason Reitman took on the challenge of (soft) rebooting a franchise that, for many years, had felt directionless. After the 2016 female-led reboot "Ghostbusters: Answer the Call" got mixed reviews and faltered at the box office, fans weren't sure if there was still life left in "Ghostbusters." To be fair to "Answer the Call," many fans were overly critical of it because it attempted to remake an '80s classic while trying to be something new and fresh. But with the taste of its failure fresh in mind, "Afterlife" faced a huge uphill struggle.
Unlike "Answer the Call," "Afterlife" was directly connected to the original 1984 film and its 1989 sequel, with everyone from Bill Murray to Sigourney Weaver returning to reprise their roles. (Some were only in the post-credits scenes, while others were recreated with a mix of prosthetics and computer magic.) Alongside, "Afterlife" featured a brand new cast of main characters to carry the franchise's legacy into the future. The new cast included Mckenna Grace ("Gifted"), Finn Wolfhard ("Stranger Things"), Carrie Coon ("The Leftovers"), and Paul Rudd ("Ant-Man").
Rudd's schoolteacher Gary Grooberson was sort of the supporting character that held "Afterlife" together. As an actor with comedic chops, he made the film feel light and fun in all the right moments. And it seems like Rudd did the same thing behind the scenes, too, according to Coon.
'Just as delightful and funny as you can imagine'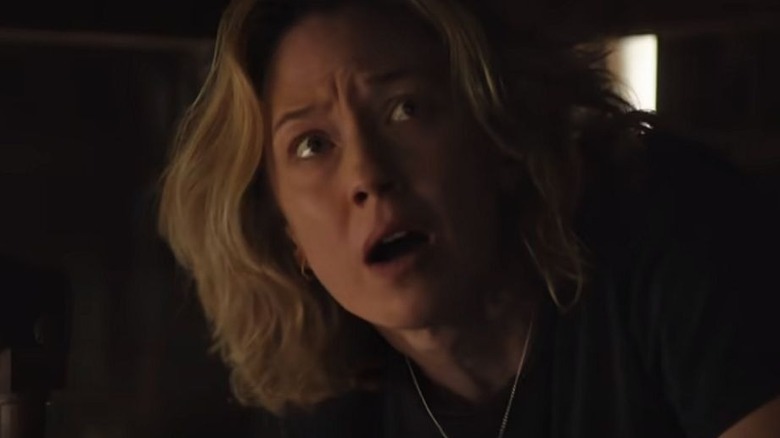 Sony Pictures
In an interview with Nightmarish Conjurings leading up to the release of "Ghostbusters: Afterlife," Carrie Coon — who plays Egon Spengler's daughter and a struggling single mother of two, Callie — was asked what it was like to work with Paul Rudd. Their characters begin dating after the Spenglers arrive in Summerville, Oklahoma, meaning Coon and Rudd spent a lot of time on set together.
Coon had nothing but praises for Rudd. "The kids all know who Paul Rudd is and I've been watching him since before I had a career," she said, noting she's a long-term fan. "He's just as delightful and funny and fun as you can imagine." Any fan of Rudd's can imagine that he's just as funny off-screen as he is when the cameras are rolling. For "The Leftovers" star, it was great to have someone who could be "spontaneous."
"He really made all of those scenes much easier to play in," Coon added. "And ['Afterlife' director] Jason [Reitman] was certainly open to us playing around with the dialogue. Jason's a specific filmmaker, but he's totally open to collaboration and he wants the best version of a story he can tell. So Paul was really brought in because he could bring that kind of spontaneous [Judd] Apatow sensibility, and he delivers every time. He's just a delightful human being."
The two are set to reunite in the "Afterlife" sequel — which moves from Oklahoma to New York City, as a post-credits scene revealed — slated to release on December 20 in cinemas (per Deadline).