Julia Louis-Dreyfus' Toughest SNL Critique Came From Her Father
Julia Louis-Dreyfus has consistently bucked the expectations of others since the beginning of her career. Dropping out of college to pursue a career in comedy acting may seem like a good choice in retrospect, given that Louis-Dreyfus became one of the biggest stars in sitcom history, starred in several more lauded shows, and is now rounding up a team of superpowered beings in her role as Countess Valentina Allegra de Fontaine in the Marvel Cinematic Universe. But when she left Northwestern University in 1982 at 21 years old to join the cast of "Saturday Night Live," the future was anything but certain. Plenty of "SNL" stars have faded into obscurity after leaving the stages of 30 Rockefeller.
But Louis-Dreyfus was clearly of a higher caliber. After impressing higher-ups at NBC with a performance alongside her comedy theater troupe, Louis-Dreyfus left the windy streets of Chicago behind and headed East, where she played alongside Eddie Murphy, Jim Belushi, and other comedy legends for three seasons of "SNL" (via Chicago Tribune). Her time on "SNL" may have been short-lived, but she took her star-making role as Elaine Benes on "Seinfeld," having met showrunner Larry David while at NBC. The rest is history.
Perhaps the one person Louis-Dreyfus failed to impress with her initial success was her father, French-American billionaire Gerard Louis-Dreyfus. A lawyer, heir to a multigenerational agricultural and energy firm, art collector, and eventually chairman of the Poetry Society of America (via People), the elder Louis-Dreyfus was, by his daughter's estimation, not an easy man to please. Though her love for him was undeniable, Julia Louis-Dreyfus opened up about her dad's bruising comments after an "SNL" performance.
Julia Louis-Dreyfus' dad critiqued her for being too broad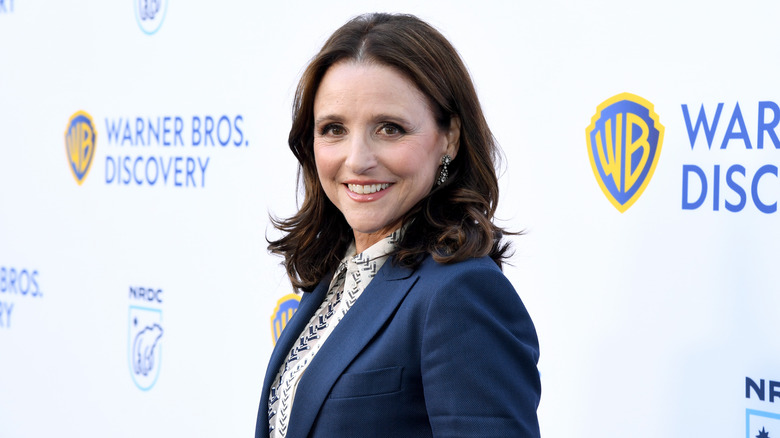 Jon Kopaloff/Getty Images
Julia Louis-Dreyfus confessed to the hurt she still carries 40 years after her father called to insult her performance on "Saturday Night Live" in a recent Variety profile. According to the actor, the call came during her first season on the late-night variety show. Still new to show business and stardom, the comments cut all the deeper. "I remember him saying something really negative to me," the "Black Panther: Wakanda Forever" actor said. "He didn't handle it properly, and he wasn't gentle. His complaint was that I was too big, too broad. I was devastated by that."
Her father's cutting comments may have stung her all the more when coupled with the doubts Louis-Dreyfus still harbored regarding her own capabilities in those early years of her career. She noted, "I had no understanding about performing in this new medium," and during the interview refused to pinpoint which sketch her father had disdained enough to phone her up and vent his opinion over. But if she agreed with her father's assessment deep down, she wasn't willing to let him know it. Asked whether she ever told him, Louis-Dreyfus replied, "No, he was such a narcissist, I didn't even consider that."
Regardless of her father's tactless stage notes, Louis-Dreyfus was undeterred in her trajectory through Hollywood, soon taking her iconic role on "Seinfeld." Following the massive success and cultural impact of the "show about nothing," Louis-Dreyfus took various roles before her award-winning turn as politician Selina Meyer in HBO's biting political satire "Veep." And while she certainly didn't go down as one of the all-time cast members of "SNL," she did make a triumphant return to Studio 8H when she hosted in 2006.