Marvel Star Julia Louis-Dreyfus Hints That Thunderbolts Will Show A New Side To Val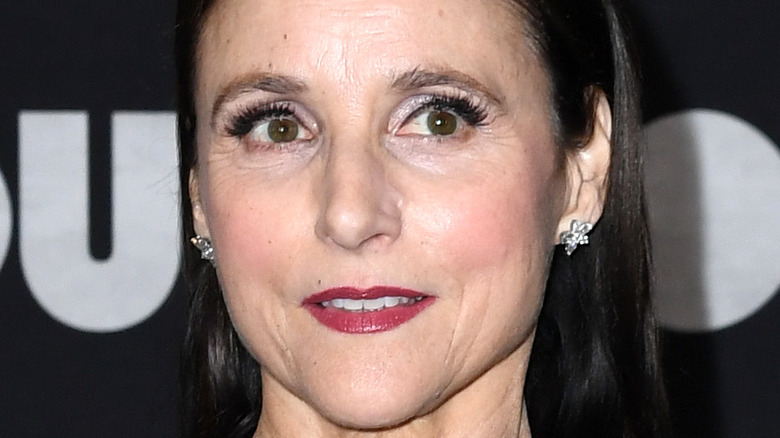 Jc Olivera/Getty Images
There's no question that Julia Louis-Dreyfus remains to this day one of the most iconic actors of her generation. The former "Saturday Night Live" star became a household name following her role as Elaine Benes in "Seinfeld," and in more recent years, she's earned an absolutely ludicrous number of awards as the lead of HBO's "Veep" (via IMDb).
In 2021, Louis-Dreyfus brought her substantial talents to the Marvel Cinematic Universe as Valentina Allegra de Fontaine, known more commonly as "Val." Val is the current director of the Central Intelligence Agency, and from her first appearance on "The Falcon and the Winter Soldier," she's been one of the most mysterious antiheroes in the entire MCU.
Although Val's motivations remain a secret, we've seen her manipulate a variety of heroes throughout the MCU, including pitting Yelena Belova (Florence Pugh) against Clint Barton (Jeremy Renner) in "Hawkeye" and working against the Wakandans in "Black Panther: Wakanda Forever." Now, Val is set to appear as the leader of the titular supervillain team in the upcoming movie "Thunderbolts," which Julia Louis-Dreyfus hopes will show audiences a brand-new side to her character.
Louis-Dreyfus wants to see Val get into the action
Although there's no indication thus far of how involved Valentina Allegra de Fontaine might be in the plot of "Thunderbolts," Julia Louis-Dreyfus herself has made it clear that she wants to see the CIA director actually participate in the fighting (via Variety). "I pitched it; I told them I really want to fight," she said. "I haven't seen the script yet — we'll see if that happens. Ugh. I guess I'd better get in shape." Louis-Dreyfus also asserted her excitement for the role in an interview with Collider, saying, "It's going to be absolutely wild."
Up to this point, we've really only seen Val as an instigator of various plots and schemes to manipulate Earth's mightiest heroes, and it would certainly be very interesting to see what she can bring to the team if she does end up in the field. After all, we know that Val probably isn't a villain, and perhaps bringing her into the fighting could be a real chance to show audiences a more heroic side to her character — at least until her true intentions are finally revealed.