Dave Bautista Has The Best Kind Of Praise For Austin Butler In Dune: Part Two
All eyes are currently set on Denis Villeneuve's upcoming sequel to "Dune: Part One." The Warner Bros. sci-fi epic proved to be a welcome boon in 2021, raking in just shy of $400 million worldwide (via The Numbers) during a particularly troubling time at the global box office. The film ultimately went on to receive 10 Oscar nominations, bringing home six awards, including Best Original Score and Cinematography.
The highly-anticipated "Part Two" is set to be the bigger, better, and more star-studded answer to the first. Brand-new additions to the world of Arrakis include "Midsommar" star Florence Pugh, James Bond alum Léa Seydoux, veteran actor Christopher Walken, and "Elvis" headliner Austin Butler, among others. Details on the specifics regarding the sequel are slim, though it has been confirmed that it will cover the second half of Frank Herbert's sci-fi novel.
Ahead of the film's release, Rabban Harkonnen actor Dave Bautista has opened up about one of the sequel's pivotal villains, Feyd-Rautha. Bautista's Rabban and the soon-to-be-introduced Feyd-Rautha are expected to share the screen together as both are brothers, cut from the same wicked cloth. While it remains to be seen just how Villeneuve tackles the vile "Dune" newcomer, Bautista is confident that Feyd-Rautha, played by Austin Butler, will blow audiences away with his demeanor.
Dave Bautista calls Austin Butler both sweet and terrifying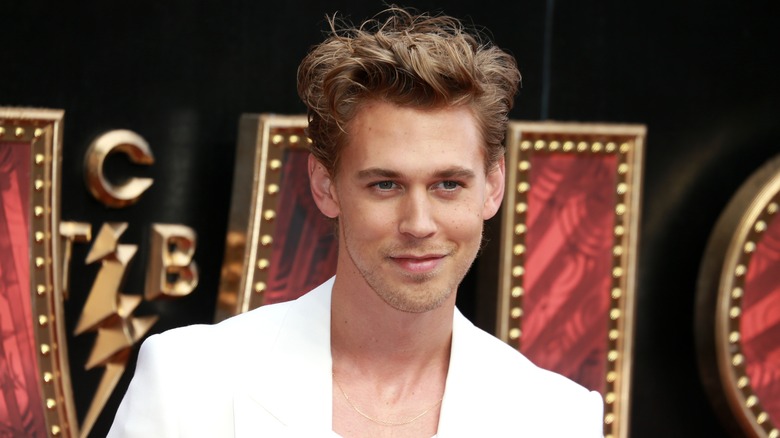 Fred Duval/Shutterstock
While speaking with USA Today to discuss his recently-released horror flick "Knock at the Cabin," the conversation shifted to Dave Bautista's upcoming appearance in "Dune: Part Two." Bautista says that he's eager for audiences to witness Rabban Harkonnen's brutality in the sequel, describing his nefarious character as "a nightmare." Bautista also hinted that the second part in the "Dune" franchise will peel back the layers on the Harkonnen member, though "none of them are good."
Bautista was widely praised for his role as the cruel Glossu Rabban Harkonnen, the nephew of the even crueler Baron Vladimir Harkonnen (Stellan Skarsgård). While "Dune: Part Two" will certainly show more of Rabban as he fulfills his uncle's pleas, Bautista has hopes that the sequel will be particularly kind to "Dune" newcomer Austin Butler. The actor joins Bautista as Feyd-Rauthn, brother to Rabban and heir to Vladimir. The "Guardians of the Galaxy" actor continued by teasing Butler's performance, saying, "I don't know who this guy was, but it's not Austin Butler." "It's not Elvis," Bautista said, hinting at the controversy surrounding Butler's enduring voice as the King of Rock & Roll. "His voice is different, his look is different. Everything about his demeanor is terrifying," Bautista said.
Despite Butler's upcoming take on Feyd-Rauthn terrifying Bautista, the "Blade Runner 2049" actor has nothing but nice things to say about the Oscar-nominated actor, describing Butler as "just the sweetest guy you'll ever meet."