Austin Butler Recalls Moment In Elvis' Bedroom After Filming That He Will 'Treasure Forever'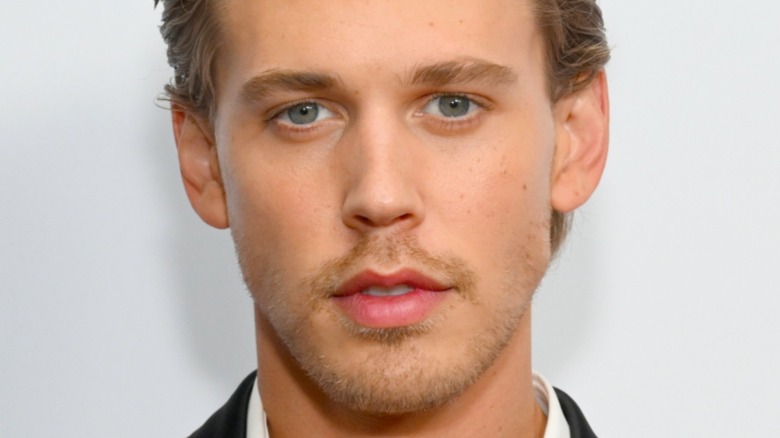 Michael Kovac/Getty Images
Several months after its release, Austin Butler is still riding the Baz Luhrmann "Elvis" wave across the Hollywood stratosphere — with him and the film scoring recent Academy Award nominations for Best Actor and Best Picture (per IMDb). As Butler begins to make his Oscar media rounds, "Elvis" fans have been learning more and more about what went into his critically-acclaimed performance and what he got out of it, both literally and emotionally.
"I kept the black leather [jacket] from [the] '68 [Comeback Special]," Butler revealed to Jimmy Fallon on "The Tonight Show" this week. "It's in a box right now, but I need to, like, put it on a mannequin or something," Butler said. According to the "Once Upon a Time in Hollywood" star, it wasn't just a jacket he got to keep from the "Elvis" set.
"Baz gave me the back of the 'Unchained Melody' jumpsuit ... the medallion on the back of that," Butler told Fallon. "So I have that framed at home."
Out of everything Butler made away with, though, the one thing about playing Elvis Presley that stuck with him the most came during a moment inside The King's bedroom at Graceland after a very personal and special screening of the film.
Butler got to spend time inside of Elvis' bedroom with Lisa Marie and see his slippers
Speaking to Jimmy Fallon during his "Tonight Show" appearance, Austin Butler recalled a tender moment that he got to share with Lisa Marie Presley inside Elvis' bedroom at Graceland, which resonated with him in ways that are difficult to describe. Butler said he even got to see The King's slippers.
"His bedroom is a place that most people never get to see," Butler told Fallon, noting how he was taken up to Elvis' bedroom by Lisa Marie after a special screening of "Elvis" last year. "She said, you know, 'I want to show you something.' And she took me up there, and it was, you know, moments like that. We just sat in his bedroom, and up there, he's not Elvis. He was just dad, you know? And so, to hear those stories, I truly will treasure that forever."
According to Butler, he and Lisa Marie — who passed away on January 12, 2023 — first met at the "Elvis" screening and became close instantly. "I've never had an experience where I met somebody and felt an immediate depth of relationship to them," Butler said. "She was a person who didn't really have anything to prove and wouldn't open up to everybody, and she just opened up to me, and we got so close so fast," he explained. Butler — who is set to star in Jeff Nichols' next film, "The Bikeriders" — told Fallon that receiving his recent Oscar nom after Lisa Marie's death was a "bittersweet" feeling.
"It's just devastating," he said. "So much great stuff is happening."