Austin Butler Doesn't Hear It, But He Does Have An Explanation For His Enduring Elvis Voice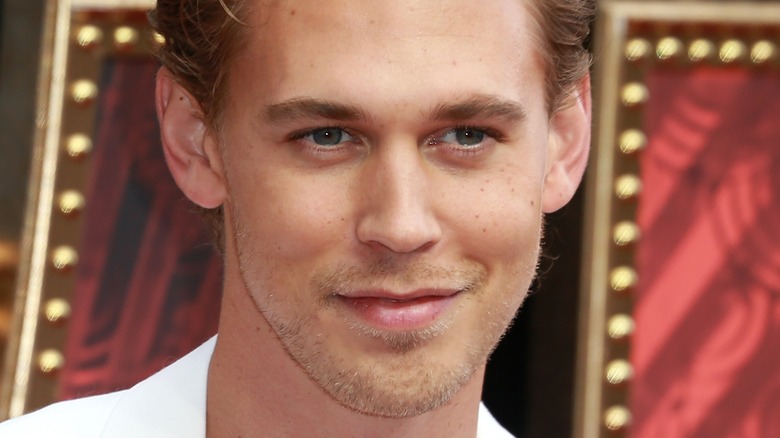 Fred Duval/Shutterstock
The Golden Globes returned to air live on January 10th (after a controversial hiatus) to celebrate their 80th anniversary of the all-encompassing entertainment award ceremony. The Hollywood Foreign Press Association honors the best of the season with everyone's favorite stars in attendance. This year, The Golden Globes awarded well-deserved television and film nominees like the side-splitting gem "Abbott Elementary," legendary "Black Panther: Wakanda Forever" actress Angela Bassett, and the dazzling star Austin Butler for his show-stopping performance as Elvis Presley. 
Butler's faithful portrayal of Elvis skyrocketed the success of Baz Luhrmann's biopic with a near perfect audience score on Rotten Tomatoes. This launched the film to an impressive global box office take of $287 million (via Box Office Mojo) among the summer's competitive slate. With one award already under his glistening belt, it's safe to say he now has an even better chance of securing the Oscar in March.
When Butler came onstage to receive his award for "Elvis," his voice sounded astonishingly similar to the beloved musician. He speaks in a similar accent with a rich baritone and slight twang that's reminiscent of his film portrayal. As it turns out, the actor has some surprising thoughts about that resemblance.
Butler says he and Elvis will always be connected
Speaking with People, Butler broke down the interesting parallels between himself and Elvis, and offered some explanation as to why they sound similar. He even detailed the meaningful relationship he shares with the Presley family which culminated in his authentic representation of the iconic star. 
Backstage at the bustling award show, Butler told reporters he doesn't hear Elvis in his own voice. However, he didn't shoot down the possibility that the performance has stayed with him, given how long he spent playing Elvis. "I often liken it to when somebody lives in another country for a long time. I had three years where that was my only focus, so I'm sure there's pieces of him in my DNA and I will always be linked to him." Butler has been open about his special connection with Elvis that led him to the part. The acclaimed actor also expressed his gratitude and thanked the Presley family for their blessings and encouragement. 
People notes that Butler previously addressed the vocal similarity on his "Saturday Night Live" debut in December 2022. He claimed that while most believe his voice deepened after playing Elvis, he doesn't believe that's the case. Butler then cheekily showed a video clip with his pitch brought up hysterically as a joke. This spirited example shows he's aware and proud of his connection to the global superstar.
It's not the first time Butler's been in disbelief over his voice
All one has to do is comb through social media to find a plethora of comments from fans mentioning how different Austin Butler's voice is since "Elvis." And in fact, his interview with People wasn't the first time the actor referenced it. 
In a more humorous context, Butler drew attention to his voice when he hosted "Saturday Night Live." During his opening monologue, he spoke about how people have been talking about his alleged new voice. He then said that his voice has always sounded this way, and as the punchline to the joke, he transitions to an interview clip of him from 10 years ago where his voice has been pitched up so that he sounds like a chipmunk. 
Will Austin Butler's voice ever go back to the way it was? Only time will tell, but one thing is for certain. It sure would be funny if an Elvis-talking guy randomly showed up in "Dune: Part Two."