We Still Know Nothing About Taika Waititi's Star Wars Film (And That's Probably A Good Thing)
DFree/Shutterstock
In June 2022, Taika Waititi revealed that the highly-anticipated "Star Wars" movie he's been working on would be something we've never seen before. Fast-forward to February 2023, and it sounds like something we may just never see — period.
Information and updates surrounding the Waititi project have remained under wraps for years now as if they were the Empire's precious Death Star plans. Asked about the long-planned "Star Wars" flick during an October 2022 interview with IndieWire, screenwriter Krysty Wilson-Cairns reportedly pulled a Princess Leia and refused to utter a word about the mysterious production, which has been the status quo at Disney so far. In fact, Waititi himself has even cast doubt on the movie's status — telling reporters in mid-2022 that he didn't even know if the film would actually get made or what its subject matter would be.
"I'm still trying to figure out what the story is," Waititi told The Wrap in late June 2022. Speaking to The New York Times around the same time, the "Thor: Love and Thunder" director said, "I'm trying to write the 'Star Wars' idea at the moment. I've got to see how that goes, because once I submit it, that might determine when it gets made or if it gets made, even." Sadly, in 2023, there still haven't been any updates from Disney or Lucasfilm about Waititi's "Star Wars" project. But maybe that's a good thing?
Fans are 'not hoping' for a Taika Waititi Star Wars movie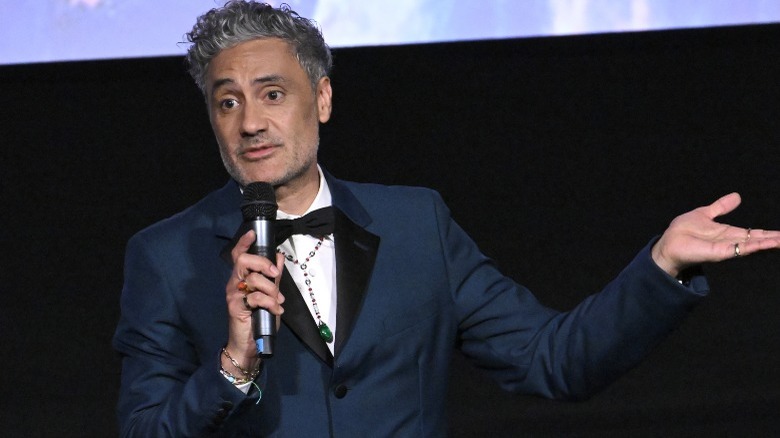 Gareth Cattermole/Getty Images
While the anticipation for Taika Waititi's "Star Wars" film has been rising for some, there's also a large contingent of fans who honestly couldn't care less about the project, with some even calling the lack of updates and info surrounding it a good sign. 
"I am not hoping for a Taika Waititi Star Wars movie," said Twitter user @WarsTheme in late January 2023. "Thor L&T was hot garbage at best," blasted @QuakeStormG3. "Hopefully that costs him his Star Wars movie," they added. User @skittishprey, in October 2022, wrote, "What kind of magic can I perform to ensure that the 2025 untitled star wars film isn't directed by Taika Waititi?" Over on YouTube, "Taika Waititi's STAR WARS project will not be happening, and good riddance!" proclaimed Midnight's Edge Live Archives in a video title. 
According to screenwriter Krysty Wilson-Cairns, there just hasn't been much to reveal about Waititi's plans in recent months. And even if there was, she and other folks involved with the production have been sworn to studio secrecy. "I cannot tell you anything, I'm so sorry," Wilson-Cairns told IndieWire. "I don't know much," she added. "I'm working away in a bunch of projects and I find out what I find out, and I believe if I tell anyone, they'll come to my house and kill me, and maybe my dog as well, which, I love my dog. He's got to live!"
Originally announced as a 2023 release, insiders believe Waititi's untitled "Star Wars" film will now be hitting theaters sometime in 2025, likely around Christmas time. It's been pegged as an awesome new look at George Lucas' space-trotting franchise, with it supposedly slated to introduce new characters and settings (via Total Film).