Indiana Jones And The Dial Of Destiny's Second Trailer Promises A Stellar Swan Song For Harrison Ford's Indy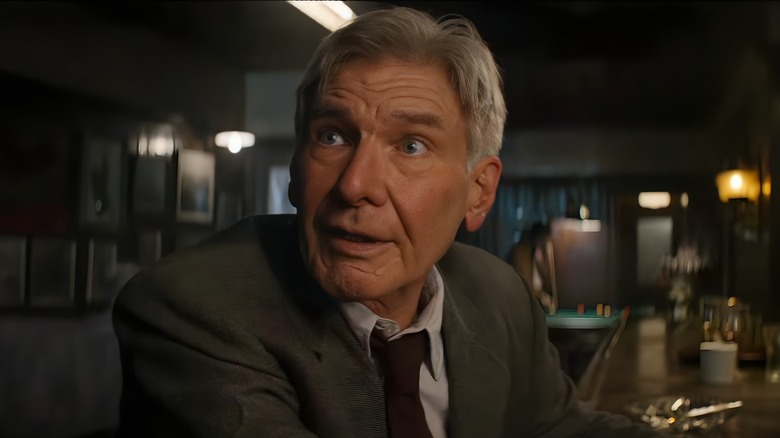 Lucasfilm/Disney
Over a decade after his last outing at the cinema — 2008's "Indiana Jones and the Kingdom of the Crystal Skull," which has taken quite a beating from fans over the years — Dr. Henry Jones Jr. is on his way back to the big screen. Courtesy of director James Mangold of "Logan" and "Cop Land" fame, "Indiana Jones and the Dial of Destiny" will see Harrison Ford don the fedora one last time in a high stakes, high adventure story. So, what do we know about this long-awaited sequel so far?
Ford aside, we know that the cast is pretty loaded. In addition to John Rhys-Davies' return as Sallah, it has come to light that the likes of Phoebe Waller-Bridge, Mads Mikkelsen, and Antonio Banderas have joined the franchise as Helena Shaw, Jürgen Voller, and Renaldo, respectively. De-aging will also play a key role in the feature, either due to the inclusion of flashbacks or, potentially, time travel elements. Of course, all of this was put on full display in the first "Dial of Destiny" trailer, which serves as something of a showcase of Indy's greatest hits.
To build more hype for "Indiana Jones and the Dial of Destiny," Lucasfilm dropped a second trailer (at Star Wars Celebration, no less) — one that Indy fans have every reason to be excited about.
The new Dial of Destiny trailer keeps the anticipation high
Movie fans have been treated to a fresh look at "Indiana Jones and the Dial of Destiny." While it didn't spoil too much about the full movie and follows a similar trail as the previous teaser, it does have a lot to offer those curious about the fifth Indy adventure. It appears that Indy is either finished or has largely toned down his treasure-hunting exploits in favor of embracing his work as a university professor. That all changes when he meets Helena Shaw, his goddaughter, who needs his help on a quest of her own.
At the time of this writing, it's unknown what exactly the "Dial of Destiny" is referring to, but it stands to reason it's a powerful artifact. Not only does Shaw have some vested interest in it, but so does Voller: a Nazi who got off easy following World War II and has since joined NASA. It seems that he could be using its space exploration program as a cover to enact his shadowy, nefarious, and possibly time travel-related plan. Then again, we've only seen a small portion of the film through these trailers, so there could be more to the story here than we've been led to believe.
At long last, "Indiana Jones and the Dial of Destiny" arrives in theaters on June 30.