Fans Are Doing Double Takes At Harrison Ford's De-Aging In The Indiana Jones And The Dial Of Destiny Trailer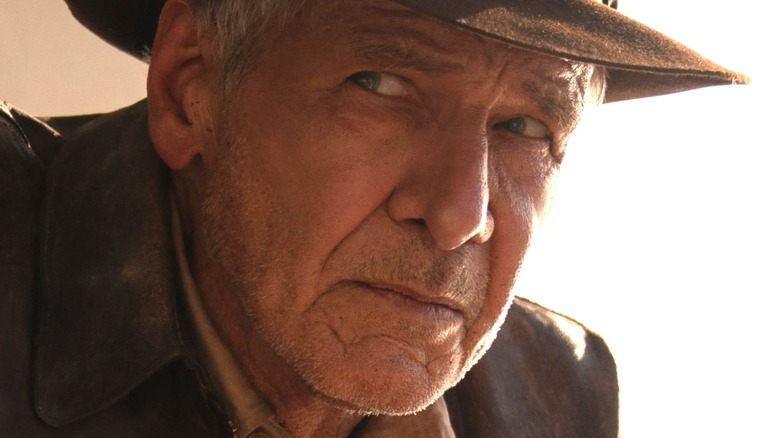 Disney/Lucasfilm
Disney and Lucasfilm have finally unveiled the long-awaited trailer for "Indiana Jones 5" — now subtitled "Indiana Jones and the Dial of Destiny." This small initial showcase carries an impressive amount of emotional weight and narrative reverence, leaning into the film's bittersweet promise of a final send-off for one of cinema's most iconic heroes. While viewers found plenty to go over in terms of references to previous entries such as "Raiders of the Lost Ark," some fans on Twitter were quick to focus on the first look at the movie's de-aging technology.
It was previously confirmed that one of the new film's major flashback scenes would de-age Harrison Ford, but now that fans have actually seen the footage, they can't stop talking about it. Normally, it's an ominous sign when viewers have strong opinions about anything CGI-related (just look at how "She-Hulk: Attorney at Law" had fans criticizing the effects, for instance). In this case, however, the response seems to be surprisingly positive.
Indiana Jones escapes the uncanny valley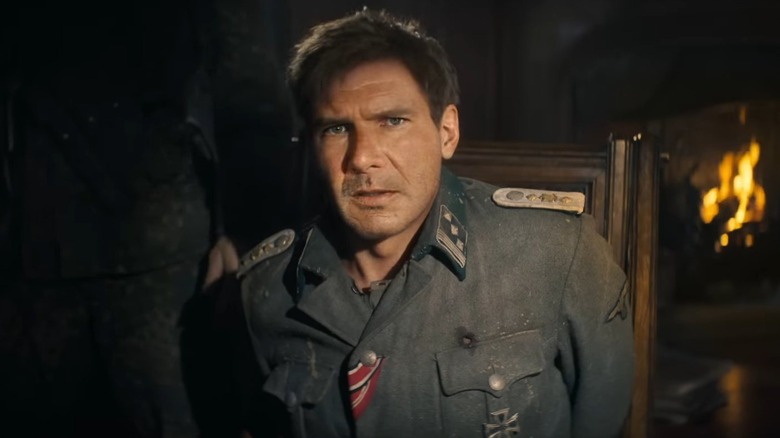 Disney/Lucasfilm
After catching a glimpse of Harrison Ford's return to Indiana Jones in the trailer for "Indiana Jones and the Dial of Destiny," fans took to Twitter to marvel at how well the de-aged shots of the actor look. "The de-aging technology has come a long way," wrote @SkylerShuler, "Indy appears to have done it the best." @thecalettian tweeted, "They freaking mastered that de-aging technology, didn't they? I truly hope this lives up to the expectations, not that you can do wrong with [director James Mangold] on board." In an interview with Empire, Ford praised the film's de-aging technology as "spooky" in how well it recreates his youthful visage. @AnAntLife confirmed, "Harrison Ford wasn't kidding when he said Indy 5 has the best de-aging tech."
Even the more apprehensive and reserved voices had to hand it to the trailer's showcase of a young Indy. "I was skeptical," wrote @DanielElliman, "but this looks so good and the de-aging technology is getting better and better." @SeanCasGamer stated bluntly, "Not really very excited for this movie, but the de-aging tech they've used is pretty amazing at first glance." De-aged Ford can be seen in this still, shared by @frombwtocolor, who also wrote, "Wow, the de-aging on Harrison Ford in this shot from the new #IndianaJones trailer is absolutely spectacular."
Disney's de-aging tech has come a long way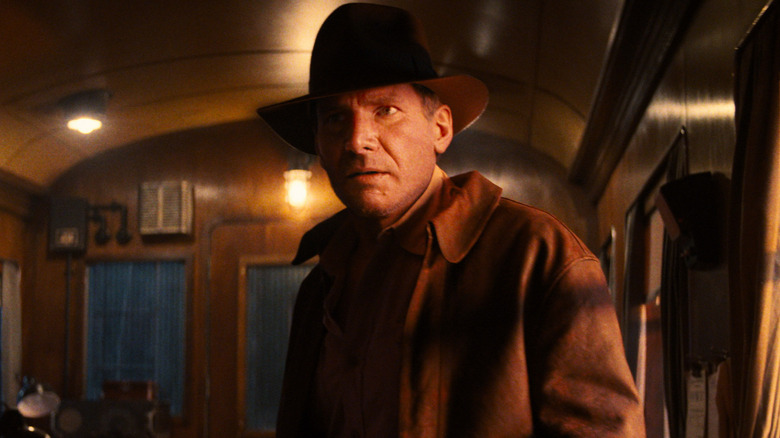 Disney/Lucasfilm
The de-aged Harrison Ford in "Indiana Jones and the Dial of Destiny" may seem impressive to fans, but it's not the first time Disney has used technology to bring actors back to their younger years. Recent entries in the Marvel Cinematic Universe, including "Captain Marvel" and "Black Widow," have used the technology to film period piece segments. Meanwhile, a youthful version of Mark Hamill's Luke Skywalker has appeared in "The Mandalorian" and "Star Wars: The Rise of Skywalker," among other projects. Some fans have even pointed towards those efforts as outclassing what the latest "Indiana Jones" flick has accomplished. "It's not Samuel L. Jackson kind of de-aging in Captain Marvel but it's still impressive," @TheCorrinthians tweeted.
Regardless of where viewers feel that de-aged Indy stacks up against similar efforts, the technology itself is clearly advancing. Per Empire, the new film takes advantage of state-of-the-art Industrial Light & Magic software, which can take archival footage and accurately render a more youthful version of a subject's face. Such a technique is a far cry from instances like Luke in "The Book of Boba Fett," which had Hamill's face digitally superimposed on a body double (via Comic Book Resource). "My hope is that, although it will be talked about in terms of technology, you just watch it and go, 'Oh my God, they just found footage. This was a thing they shot 40 years ago,'" Lucasfilm President Kathleen Kennedy said.