The Nun First-Look Image Teases Terrifying Spinoff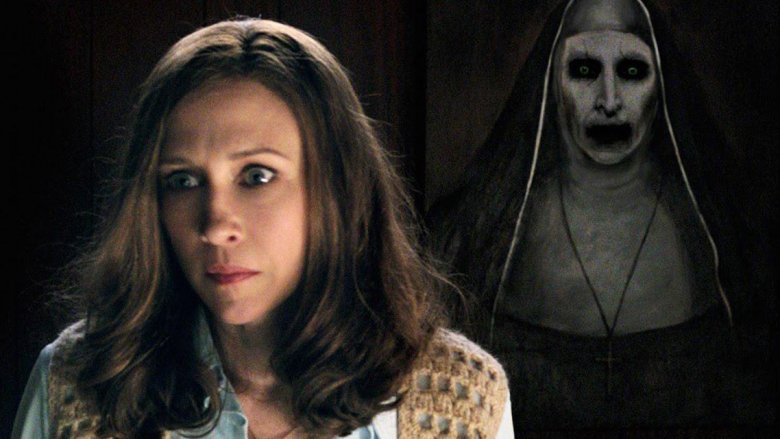 The forthcoming Conjuring spinoff The Nun is quickly approaching, gearing up for release this September, and ahead of its debut, we have a first-look image of the film. 
Courtesy of Entertainment Weekly, the teaser snap reintroduces horror fans to Valak, the demonic entity first seen in 2016's The Conjuring 2, when it relentlessly terrorized Lorraine Warren (Vera Farmiga) with visions of her husband Ed (Patrick Wilson) dying a gruesome death. The sequel flick suggested that Valak was a sort of genderless ancient being that chose to assume the physical form of a nun in order to more keenly torment Lorraine, a devout Catholic, but the just-released photo for The Nun proves that Valak has taken up the abbess guise before.  
So who's the person behind the creepy costume? That's actress Bonnie Aarons. Though Valak is typically referred to using male pronouns in ancient occult lore, it's evident that the form it occupies is meant to be female. Either way, audiences are sure to be absolutely terrified by Valak. 
This time around, however, Valak won't appear as the Nun to haunt a suburban couple. Instead, the demon will stalk a Romanian monastery. The Nun takes place in 1952 and centers on a priest named Father Burke, played by Demián Bichir, who is sent by the Vatican to the Cârța Monastery in Romania to investigate the strange suicidal death of one of the abbey's nuns. Joining Father Burke on his mission is the novitiate Sister Irene, played by Taissa Farmiga, the younger sister of The Conjuring star Vera Farmiga, who is on the threshold of her final vows. Together, they "uncover the order's unholy secret and risk their lives — and their souls — to confront a malevolent force in the form of a demonic nun as the abbey becomes a battleground between the living and the damned."
Rounding out the cast are Charlotte Hope as Sister Victoria, Ingrid Bisu as Sister Oana, Jonas Bloquet as Frenchie, Jonny Coyne as Gregoro, Mark Steger as The Duke, Sandra Teles as Sister Ruth, Manuela Ciucur as Sister Christian, Ani Sava as Sister Jessica, Jared Morgan as Marquis, and August Maturo as Daniel. 
Directed by Corin Hardy, The Nun will stir up scares on September 7.