Outer Banks Season 3 Trailer Has Fans Buzzing Over A Possible JJ And Kiara Romance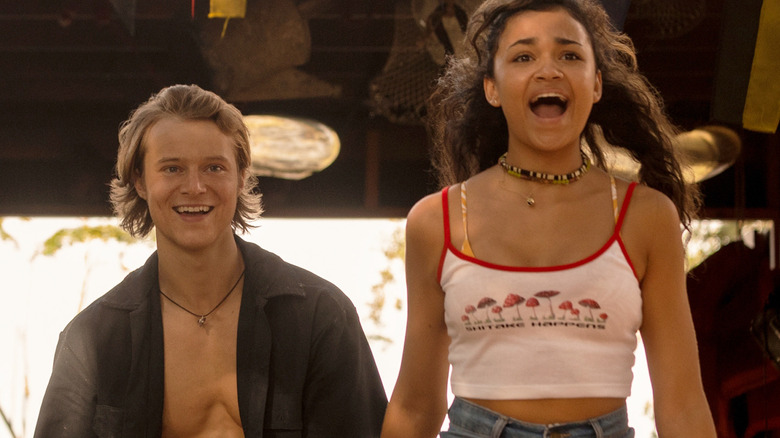 Jackson Lee Davis/Netflix
"Outer Banks" is a Netflix original drama named after the Outer Banks region of North Carolina, which serves as its principal location. The series revolves around teenagers Sarah (Madelyn Cline), John B (Chase Stokes), Pope (Jonathan Daviss), Kiara (Madison Bailey), and JJ (Rudy Pankow). Collectively, they refer to themselves as Pogues, indicating that the majority of them are locals to the region. This moniker separates them from the wealthier Kooks, who only live in the Outer Banks part-time. Throughout "Outer Banks," the Pogues are attempting to solve the disappearance of John B's father and unearth a treasure to which he's somehow linked.
Netflix subscribers, it turns out, enjoy the series to the extent that "Outer Banks" Season 3 is on its way, saving it from the post-second season cancellation that has prematurely ended Netflix shows in the past (via Wired). Fans got their first look at this next season when Netflix dropped an "Outer Banks" Season 3 teaser in September of 2022, despite its release being about six months out. With its premiere now imminent, Netflix then shared a lengthier trailer for Season 3 on February 2. While this latest footage contains plenty of hints as to the content of the upcoming "Outer Banks" season, one storyline fans online have singled out as particularly noteworthy is a possible romance between Kiara and JJ.
Plenty of fans have been waiting for Kiara and JJ's romance to become official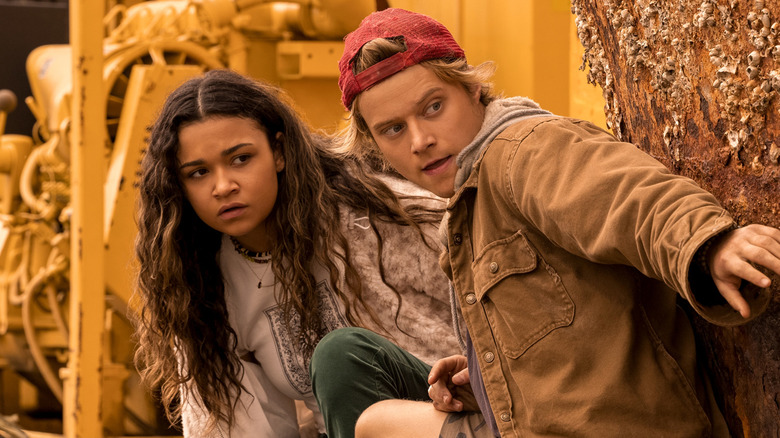 Jackson Lee Davis/Netflix
After Netflix dropped a full-length "Outer Banks" Season 3 trailer on February 2, a number of fans online shared their delight at its suggestion of an explicit romance between Pogues Kiara and JJ. Twitter user @lydiaa_24, for example, shared a brief video clip from the trailer in which the two characters lean in toward one another with the caption, "THEY'RE GONNA KISS FINALLY CRYING."
Meanwhile, a number of "Outer Banks" fans are describing this upcoming storyline as a realization of a ship they refer to as Jiara. User @giselleb1234, for instance, posted four screenshots from the trailer of Kiara and JJ together with the caption, "Oh Jiara is happening this season I can feel it." Similarly, user @ansiadivita shared the same video clip of the near-kiss and described it as a victory for proponents of the Jiara pairing.
On Reddit too, in the immediate wake of the trailer's premiere, user Rebeca-A started a thread dedicated to the fact that this long-awaited Jiara romance is seemingly coming to fruition. Fans invested in this and the numerous other ongoing storylines set up by the end of "Outer Banks" Season 2 can find out exactly what's next for the Pogues when "Outer Banks" Season 3 premieres to Netflix on February 23.