Dave Bautista On Proving His Worth As An Actor Through Knock At The Cabin - Exclusive Interview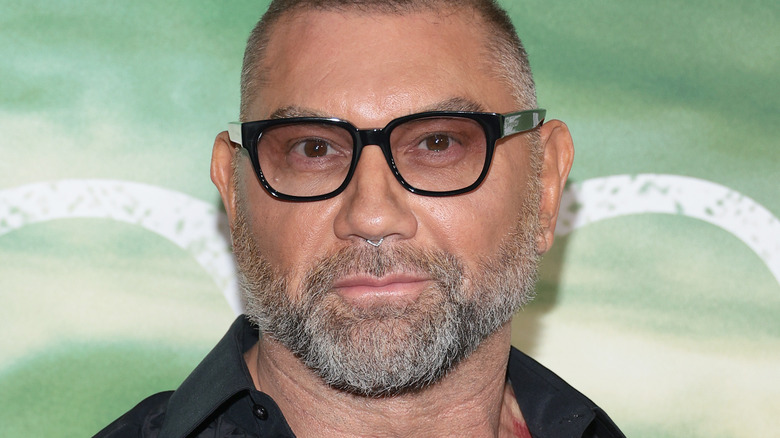 Dimitrios Kambouris/Getty Images
In writer-director M. Night Shyamalan's new thriller "Knock at the Cabin," Andrew (Ben Aldridge) and Eric (Jonathan Groff) have their vacation at a secluded Pennsylvania cabin disrupted by the arrival of four individuals. The two men and two women all carry handmade weapons but insist that they mean no harm to the couple or their eight-year-old daughter Wen (Kristen Cui). Instead, they reveal that the family of three must make a dreadful decision, upon which the fate of the world hangs in the balance.
The leader of the group, Leonard, is played by Dave Bautista, the former professional wrestler and WWE champion who left behind his previous successful career to become an actor. Although Bautista struggled at first, his breakthrough came in 2014's "Guardians of the Galaxy," in which director James Gunn cast him as Drax the Destroyer. Bautista has played Drax six more times for Marvel, including his final appearance in the role in the upcoming "Guardians of the Galaxy Vol. 3," while also starring in the James Bond entry "Spectre," Zack Snyder's "Army of the Dead," Denis Villeneuve's "Dune," and Rian Johnson's "Glass Onion."
Yet Leonard is easily Bautista's most complex part yet. Leonard is massive and imposing, yet also calm, rational-sounding, and even kind, making the horrific scenario even more unsettling. Mostly through dialogue and just his physical presence, Bautista effectively channels the torment of a man who fervently believes in what he is doing yet is just as unnerved and anguished by it.
"Leonard was described as being bigger than life, menacing, terrifying-looking, but having such a gentle soul," says Bautista in Looper's exclusive interview. "That was a challenge for me because I knew that this would be layers and layers of emotions and I would get a chance to stretch myself as a performer."
This was the role Dave Bautista was waiting for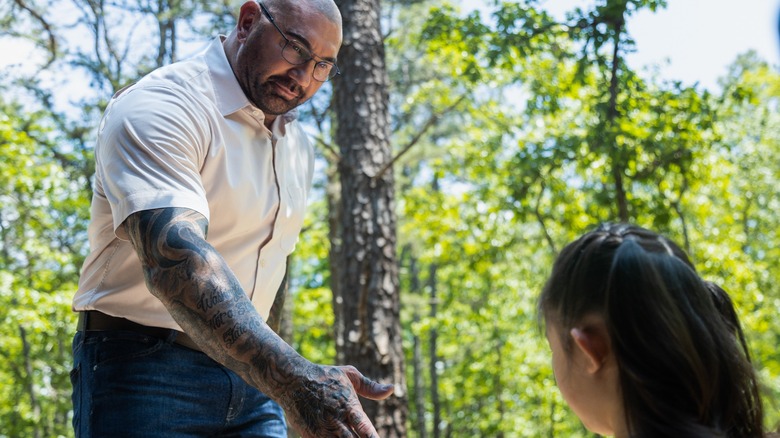 Universal Pictures
You've stated that you were looking for a chance to stretch yourself as an actor when this came along. What made this movie that opportunity for you, and what spoke to you about the story?
I've been looking for this opportunity all along. It was always a challenge for me to get pure acting roles. When this came along, it was so much of what I've been searching for, not only to have this huge role with tons of dialogue and a lot of layers of emotion, but also have a director, a monster director like M. Night Shyamalan. Not only that, to have it shot on one camera, on film, it was like everything at once. It was almost overwhelming at times. It was one of those things where I felt like it was the challenge I've been asking for, and now it's time to put up or shut up.
This will give me an opportunity to prove my worth as an actor, but also, it'll make me a better performer because I don't have the luxury of mistakes, where you typically have when you're shooting on digital with multiple cameras. I've got a whole room full of castmates who are also relying on me hitting my dialogue, nailing my dialogue, because we're shooting on one camera with film, with one shot. If they nail their dialogue, they crush it, and put all this emotion and energy into their performances, then the camera turns to me, and I blow it, then their performances are completely wiped out and we've got to start all over again. It's a massive amount of responsibility and weight on my shoulders for this one.
It was everything I wished for, hoped for, and asked for over the years. Here was my opportunity to be on the spot, and I feel good about it, man. Because if nothing else, I proved my point, which was that I never set out to be a movie star. I wanted to be a respected actor, and this is that statement times 10. If nothing else, people can never say that I didn't get outside of my box and challenge myself, because I proved my point in this one.
Why Bautista loved the role of Leonard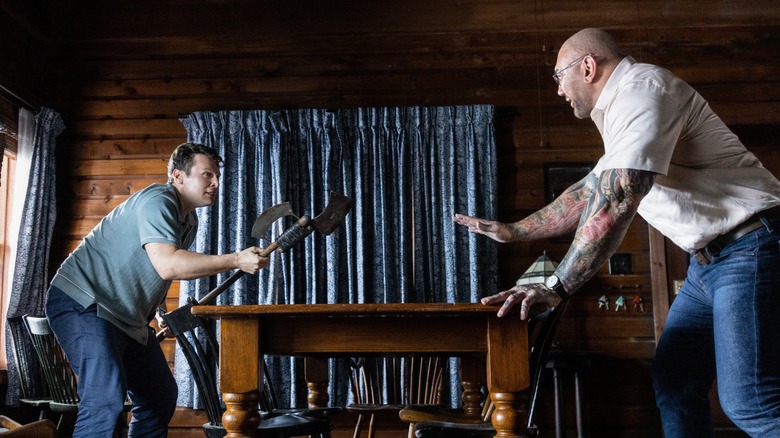 Universal Pictures
What struck you about Leonard and about this terrifying situation that these seven people find themselves in?
When I read it for the first time, I was blown away because ... Leonard was described as being bigger than life, menacing, terrifying looking, but having such a gentle soul. That was a challenge for me because I knew that this would be layers and layers of emotions and I would get a chance to stretch myself as a performer. That's what it was.
It was that this guy was ... To look at him, he would look like he just broke out of prison, but he was the most gentle, kind person you'd ever want to meet. That was the contradiction between the way he looked and the way he felt emotionally. I loved that he was such a tortured soul. This gives me a lot of opportunity to stretch myself as an actor. Roles like this don't come my way. A role like this has never come my way.
For guys like myself, they don't come often, because people don't often look outside the box and they typically see what's on the exterior, not what's in your heart, and how you feel as an artist. Night, he did. He looked outside the box and saw me as a performer, as an artist, and said, "You're tailor-made for this role." 
This is something I learned after a few different conversations. When we first spoke, I had no idea what this role was. I had no idea what the film was, what it was about. Everything was out of context. He wanted to get to know me as a human being. After that, he said to me, he said, "You are Leonard. You are Leonard. You just need to play yourself."
How M. Night Shyamalan brought out the best in Bautista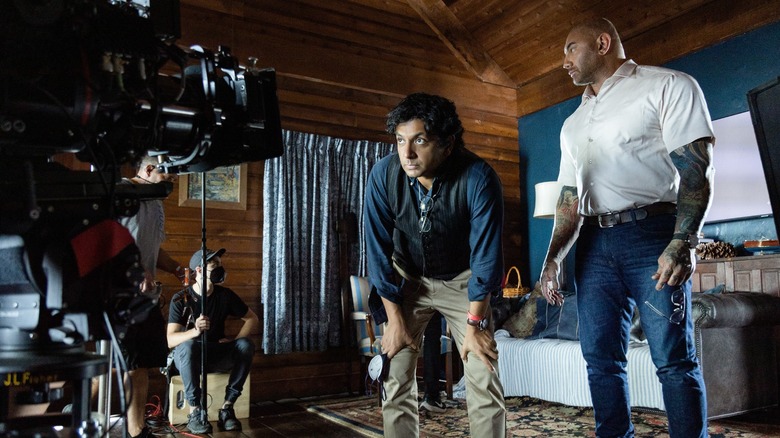 Universal Pictures
What is it like to work with Night? You've had some great directors so far. What does Night also share with directors like James Gunn or Denis Villeneuve or Sam Mendes, in your view?
They're all also very different in the way they direct. Night was a completely new experience for me because, for one, I'd never been fortunate enough to work with any of those directors as a lead, so I'd never spent as much time with them. I had never had as much one-on-one interaction with them. What I loved about Night was, everything was a conversation and direction, and nothing was just a particular point, or nothing was a simple direction. Everything was very philosophical and conversational.
It was a love-hate thing. It made it difficult for me at the time. Processing it, it was hard, it was challenging. At the same time, I felt, "This is the way I find out how good I am. This is the way I find out what my worth is." He struggled with me to deal with emotions on the inside, but express them differently on the outside. My wheels were turning constantly and I had to completely rely on him to let me know whether I was giving him the performance that he wanted. When he said he got it and he was moving on, I trusted that he got it. I didn't know what was going to be put onto film until after he put it together.
I've only seen the film one time [at press time], and I over-critiqued myself. Getting positive feedback, for me, is still odd. When I watch it, I still cringe — which I typically do, but it's such a different performance for me. Right now, I'm still a little bit uncomfortable with what I did as a performance. I'm trusting ... When you say you loved it, that means the world to me, because that validates everything. When Night says he is happy with it, I trust him and it validates it for me. At this point, it's starting to sink in that I wasn't as bad as I thought, that actually, I did my job, and I did it well.
Dave Bautista fully supports James Gunn taking over DC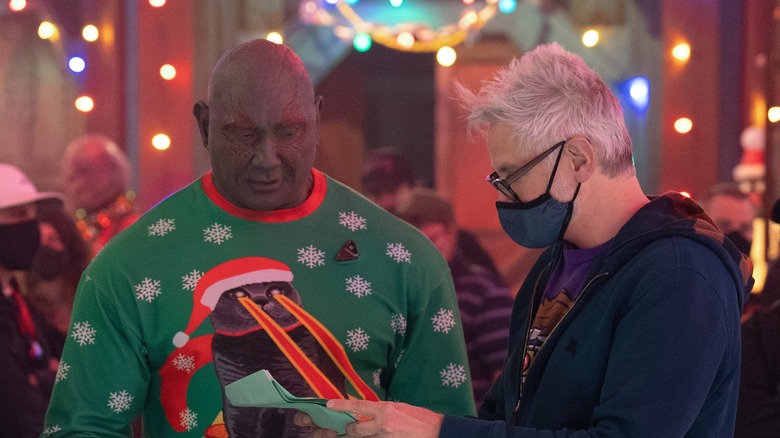 Marvel Studios
What do you think of James Gunn taking control of the DC universe? I know you just hung up your superhero cape in the MCU, but if he gave you a call about something, would you be interested in talking about it?
Yeah, for sure. Anything that James Gunn comes to me with, I'm going to be interested in talking about it with, for one, because I love him, and secondly, because he's brilliant. He's so creative. He's where he belongs. Speaking as a fan, DC was taking turns that I wasn't crazy about. He's going to be perfect for them, especially him and Peter as a pair, as a duo. They're going to balance each other out, and they're going to put together and build a whole new DC universe. 
It's such a smart move. I know a lot of people are mad at him and don't like the direction he's taken because he's wiped out a lot of what they're comfortable with, what they've known over the past 10 years plus. For him to completely reboot the DC Universe is such a smart way to go. You have to start from scratch and you have to build it again. It's absolutely brilliant and it's the right way, and I support him completely. If he gave me the call, I'd be the first guy on the phone to pick up, and most likely would accept whatever he threw my way.
"Knock at the Cabin" opens in theaters on Friday, February 3.
This interview has been edited for clarity.