The Knock At The Cabin Cast Had A Great Influence On Director M. Night Shyamalan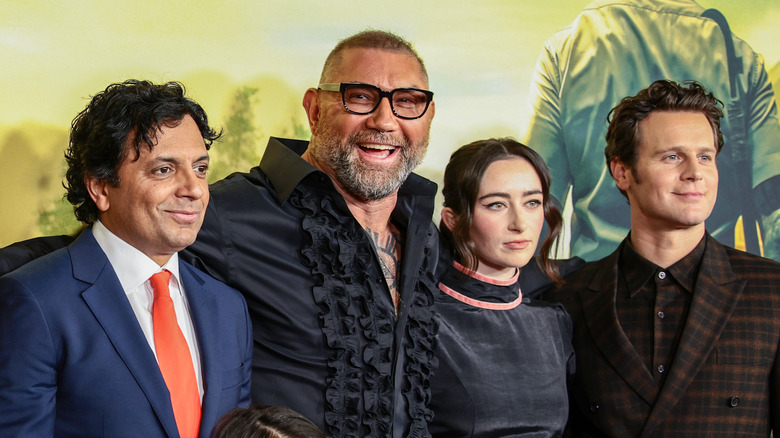 Dimitrios Kambouris/Getty Images
M. Night Shyamalan's most recent film "The Knock at the Cabin" is quickly approaching its release date of February 3, 2023. Written by Shyamalan, Steve Desmond, and Michael Sherman (and based on Paul G. Tremblay's 2018 novel "The Cabin at the End of the World), the film centers on a couple, Eric (Jonathan Groff) and Andrew (Ben Aldridge), along with their young daughter Wen (Kristen Cui), as they find themselves held hostage by four strangers — Leonard (Dave Bautista), Sabrina (Nikki Amuka-Bird), Adriane (Abby Quinn) and Redmond (Rupert Grint) — while vacationing at a remote cabin. According to the strangers, one of the three family members must sacrifice themselves in order to prevent the apocalypse.
The subject matter of the film is intense, to say the very least. However, that doesn't mean that the filming experience for the actors was all bad. In fact, Shyamalan says the cast contributed heavily to a joyous and exciting on-set atmosphere — despite the life-or-death scenario that the actors had to play out in front of the cameras. More than that, he found them to be inspirational and influential as well. Here's what the director has to say about what the actors were like off-camera.
Shyamalan has nothing but praise for the seven stars of the film
In a recent interview with Variety, M. Night Shyamalan discussed all things "The Knock at the Cabin" — including the major respect that he has for the seven actors who lead the film. Most importantly, the actors acted as a source of inspiration on what was a very tense set, given the serious content of the film.
Shyamalan said, "I cherish when I come across human beings that are giving and balanced and give light. All seven actors in this movie are beautiful human beings that gave light and help me be the best version of myself. I don't shut down when I'm with those individuals. I'm inspired."
The director also called out Grint, who he has worked with previously on the Apple TV+ series "Servant," saying, "Rupert has reinvented himself. I can't wait for people to see him in a new light." He also brought attention to the movie's youngest star, Cui, who plays eight-year-old Wen. Shyamalan said, "She's already so savvy that it was about her learning delicacy and vulnerability and not letting her intellect protect her. So it was about putting that sharpness and wit and all those weapons away and getting back to Wen. So we kept talking about what Wen was thinking, what Wen was feeling."
"The Knock at the Cabin" premieres in theaters on February 3, 2023.