Rian Johnson Rocks The Hierarchy Of Power By Crowning Dave Bautista The Best Wrestler-Turned-Actor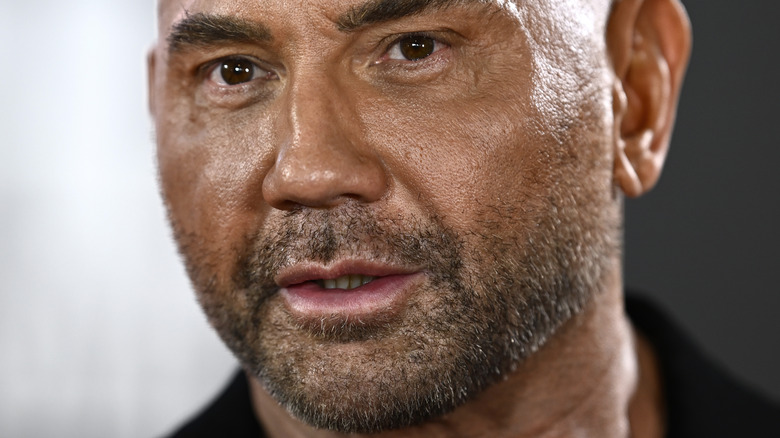 Gareth Cattermole/Getty Images
There's always been a solid pipeline between the worlds of professional wrestling and Hollywood. It makes sense; something like the WWE basically functions as a high-intensity soap opera, so when wrestlers are ready to move on, they already have plenty of experience playing characters. 
Some of the biggest movie stars in the world right now got their start in wrestling. The most obvious example of this is Dwayne Johnson, who's been part of some of the biggest franchises around, from the "Fast and Furious" movies to joining the DC universe in "Black Adam." John Cena has also gone down the action movie route, most notably stealing the show in James Gunn's "The Suicide Squad" before getting his own spinoff with HBO Max's "Peacemaker."
However, one of the most exciting filmmakers working today weighed in on the conversation and may just have the ideal pick for the best wrestler-turned-actor. Granted, Rian Johnson may be a bit biased, seeing how he recently worked with Dave Bautista in "Glass Onion: A Knives Out Mystery," but he makes a compelling case.  
Rian Johnson initially didn't envision a wrestler as Glass Onion's Duke Cody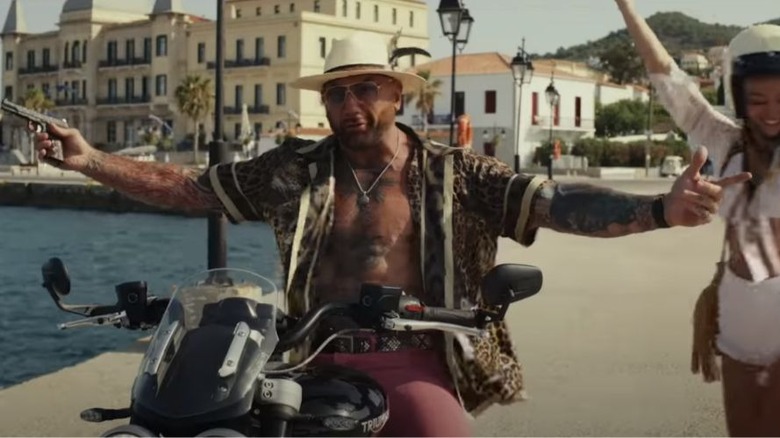 Netflix
Dave Bautista has certainly made a name for himself in Hollywood over the last decade since he quit the wrestling circuit. He broke out in a big way by playing Drax in 2014's "Guardians of the Galaxy" before reprising the character multiple times in several Marvel Cinematic Universe films. He's starred in other high-profile projects, including "Dune: Part One" and "Blade Runner 2049." However, he shows off a different side of his persona in "Glass Onion," playing a controversy-prone Twitch streamer. 
When speaking with The Atlantic, writer/director Rian Johnson talked about the inspiration for casting Bautista in his murder mystery, stating, "When I was writing [his character], I was picturing a scrawny dude who's trying to overcompensate. When Bautista was brought up, I was instantly so smitten by the idea. I've been a very big fan of his dramatic chops as an actor" (via ComicBook.com). Johnson went on to praise the actor, going so far as to say, "I absolutely 100 percent agree (that he's the greatest wrestler-turned-actor). And I think somebody like [Paul Thomas Anderson] is going to give him a real part and is gonna look like a genius."
So what specifically makes Johnson believe Bautista is superior acting-wise to his contemporaries? He says it largely has to do with the vulnerability he brings to roles. While people may assume he's this large, tough guy, he brings genuine sensitivity to parts, which is readily on display in films like "Blade Runner 2049" and "Glass Onion." 2023 will be an even bigger year for the actor with parts in "Knock at the Cabin," "Guardians of the Galaxy Vol. 3," and "Dune: Part Two," so audiences will get to see his range like never before.