Ozzy Osbourne Might Be Done Touring, But You'll See Him In A Super Bowl Commerical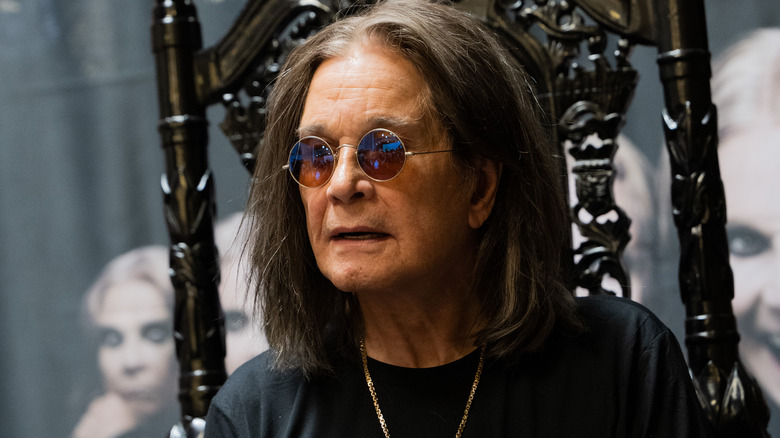 Scott Dudelson/Getty Images
The curtain has finally come down on Ozzy Osbourne's legendary touring career — with him announcing on February 1, 2023 that he will no longer be traveling and performing concerts anymore, at least not in the way that he has done for more than 50 years (via Yahoo! News). The iconic Prince of Darkness, however, isn't going away entirely. 
On February 12, Osbourne will show up on football fans' television screens in a Super Bowl commercial for the software company Workday. The former Black Sabbath frontman has previously starred in at least two ads for the big game — one for Pepsi in 2003 alongside the Osmonds and another with Justin Bieber in 2011 for Best Buy. 
"Workday knows that it takes a 'rock star' to drive transformation, keep employees engaged, and run businesses efficiently," said Pete Schlampp, Chief Marketing and Strategy Officer at Workday, in a statement. "If you high-five your co-workers as a rock star after seeing our ad in the Big Game, that's a win in our book," Schlampp added. 
As usual, Osbourne is one of countless celebrities participating in Super Bowl commercials this year, with big names like Paul Rudd, Maya Rudolph, and even the "Breaking Bad" cast set to appear. For the most part, the famous faces are all sticking to what they usually do for a living. Not Osbourne, though.
Ozzy plays a new office employee in Workday's commercial
Shown in a preview clip for Workday's upcoming ad, Ozzy Osbourne can be seen donning a button-down shirt and tie as he portrays a new office employee for some sort of corporate job. "Who's the new guy?" a worker asks their desk neighbor, while staring at the "Crazy Train" crooner. "I don't know," the other person replies. "But he's supposed to be some kind of rock star." Moments later, Osbourne turns around and says to the duo: "Which one of you wants a piercing?"
The Osbourne cameo will surely serve as a much-needed public shot in the arm for Workday, which recently had to cut about 525 jobs — or 3% of its workforce — in the latest tech industry downsizing, according to CNBC. 
‍"This ad reflects the evolution of our brand over the past 17 years to where we are today, and supports the next stage of our growth," said Workday exec Pete Schlampp in his previous statement. "We see being part of the Big Game as an immense opportunity to show up for and entertain new and diverse audiences."
According to reports, Workday plans to use the Osbourne Super Bowl ad to help boost its status with consumers and potential hires, with the company intending to keep hiring and growing through the fiscal year 2024. It's ultimately unclear if Workday plans to keep deploying celebrity ads in the future as a way to stimulate its growth.