The Last Of Us' Craig Mazin Still Cries Over Bill And Frank's Love Story After Seeing It 200 Times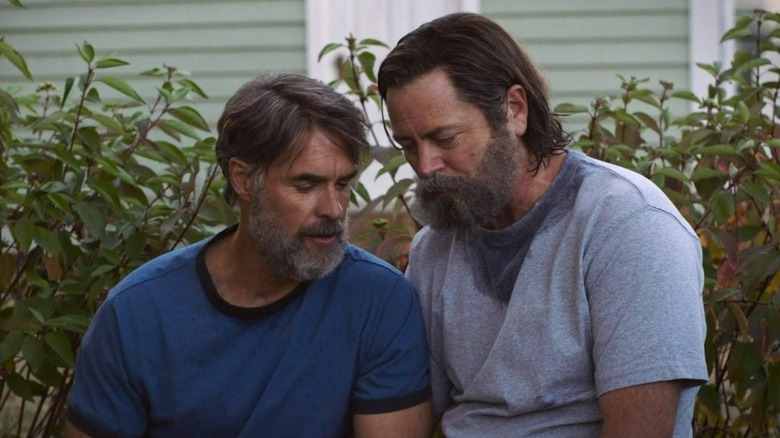 HBO
The latest love story to hold the internet's attention doesn't have anything to do with Pete Davidson. All of this week's buzz has been exclusively reserved for Episode 3 of "The Last of Us," a stunning and meditative look at the enduring power of love. In the episode — which has pundits already predicting Emmy nominations for Nick Offerman and Murray Bartlett (via GoldDerby) — two men named Bill (Offerman) and Frank (Bartlett) meet and fall in love, ultimately saving each other's lives. The heartbreaking episode, titled "Long, Long Time," deviates from the "Last of Us" video games by keeping Frank alive longer.
Fans of "The Last of Us" were drowning in emotions from start to finish while watching the episode. It even caused one fan on Twitter to write, "It was like an hour-long version of the 'Up' scene and I was NOT mentally prepared for it." Reactions have poured in from all sides about both the story's poignance and its potent ability to make people cry.
As it turns out, one of those teary-eyed souls was the writer of the episode himself.
Craig Mazin blames his tears on Bartlett and Offerman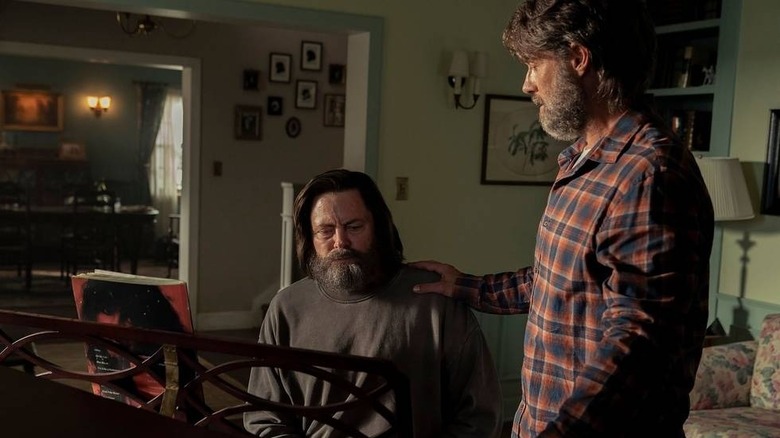 Liane Hentscher/HBO
In an HBO featurette about "Long, Long Time," "The Last of Us" creators discussed their decision to expand upon Bill and Frank's story from the video game. "With each episode, there's a sort of reflection of where love can take you," said co-creator Neil Druckmann. "And this was the pure innocent version, this was the beauty that love can bring us." Star Nick Offerman also appeared, saying of his character, "Bill is a sad character to me when I just envision him in the world before Frank shows up."
Offerman's character, Bill, who closes himself off to love until Frank bursts into his life, is a huge part of why the episode's love story works so well. Bill is also apparently a reason why co-creator Craig Mazin can't watch "Long, Long Time" without crying. "I've seen this thing 200 times, and I still cry," said Mazin. In fact, Mazin wrote the very story that keeps making him cry (via IMDb). "That's those two guys doing it to me, no question," he added, praising Offerman and Murray Bartlett.
Of course, the internet will be quick to agree with Mazin, as many people will no doubt watch this episode 200 times themselves. As one Twitter user put it most succinctly, "I can't stop crying long enough to brush my teeth because I keep thinking about two men eating strawberries during the apocalypse." Emmy voters, consider that food for thought.