The Last Of Us Episode 3 Had Fans Drowning In Emotions From Start To Finish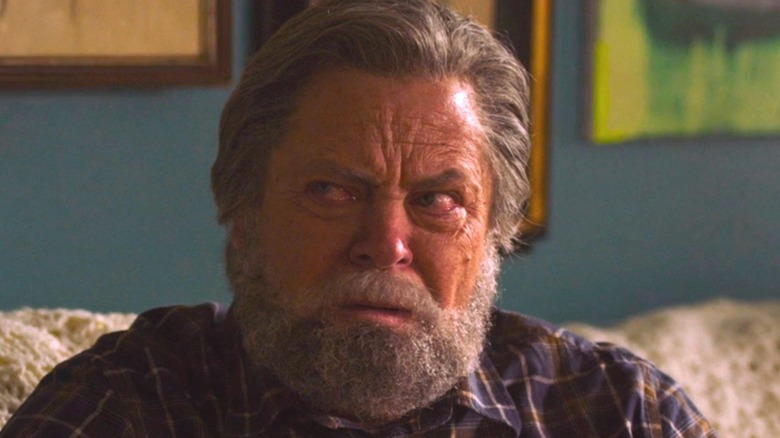 HBO
Contains spoilers for "The Last of Us" Season 1, Episode 3
Episode 3 of "The Last of Us" expands on characters that didn't get all that much screen time in the video game, sending fans into a tailspin of emotion. This week, HBO introduced Nick Offerman ("Parks and Recreation") and Murray Bartlett ("The White Lotus") as Bill and Frank, two partners with a heartbreaking story.
While Joel (Pedro Pascal) and Ellie (Bella Ramsey) appear in Episode 3, the spotlight is entirely on Bill and Frank's love story. Bill, a survivalist who spent his life preparing for an apocalyptic event of this caliber, lives on his own in a small fortified town. Frank, a lone survivor, stumbles into one of Bill's traps and requires rescuing. Frank easily earns Bill's trust, and Bill lets him stay, with the two quickly falling in love.
"The Last of Us" walks audiences through Bill and Frank's story, showing their loving relationship from its beginning until its last minutes. At some point, after years of living with a degenerative illness, Frank eventually asks Bill for the perfect last day on Earth before ending his own life. Meanwhile, Bill decides his own life in the apocalypse isn't worth living without Frank and chooses to die alongside his partner as Max Richter's "On the Nature of Daylight" plays in the background. It's a beautiful but unforgivably indulgent episode that takes time away from the main characters to show a different side of "The Last of Us."
The Last of Us Episode 3 left fans in tears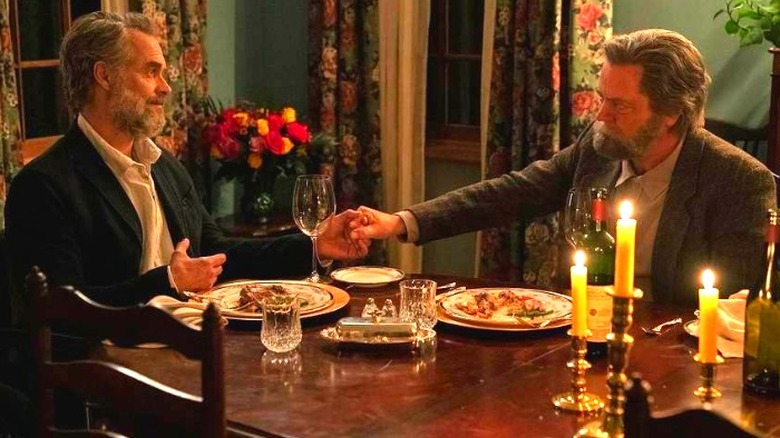 HBO
Co-creators Neil Druckmann and Craig Mazin took fans on an emotional roller coaster with Episode 3 of "The Last of Us," showcasing a relationship that Druckmann didn't have time to explore in the video game. Even with watery eyes, however, viewers managed to make their way to social media to discuss it.
It seems that "The Last of Us" fans were okay with the changes made to the show. On Reddit, u/rp_361 said, "That was one of the best episodes of TV I've see [sic] in a long time. I cried so much, that was a beautiful rendition and change to Bill and Frank's story. Absolute 10/10." Redditor u/VegeLasagna123 praised Murray Bartlett's performance, while u/screwdrivercat thought Nick Offerman was the standout. "I loved the softness and vulnerability Nick Offerman brought to Bill," they said. Another Redditor admired how the gloomy world of "The Last of Us" feels hopeful after Bill and Frank meet, focusing on the line "guys like us have a purpose" and how it'll continue to mean so much throughout the show's run.
The tears don't stop there — the Twitter reactions are equally sad. @Debnamlinzz wrote, "It wasn't on my to[-]do list to cry for 1 hour straight watching #thelastofus. HBO you will have to pay my therapy bills." In fact, Episode 3 left numerous viewers crying way more than expected. @Chachachanel, @Saeheessi, and @_ravencrow were all not prepared to cry as much as they did, saying that Bill and Frank's story made them an emotional mess.
It's clear that Druckmann and Mazin hit the nail on the head with Episode 3, but "The Last of Us" fans need to prepare themselves because even more emotions are on the way.
If you or anyone you know is having suicidal thoughts, please call the National Suicide Prevention Lifeline​ by dialing 988 or by calling 1-800-273-TALK (8255)​.