Yellowstone's Danny Huston Says Creator Taylor Sheridan Knows 'What America Is'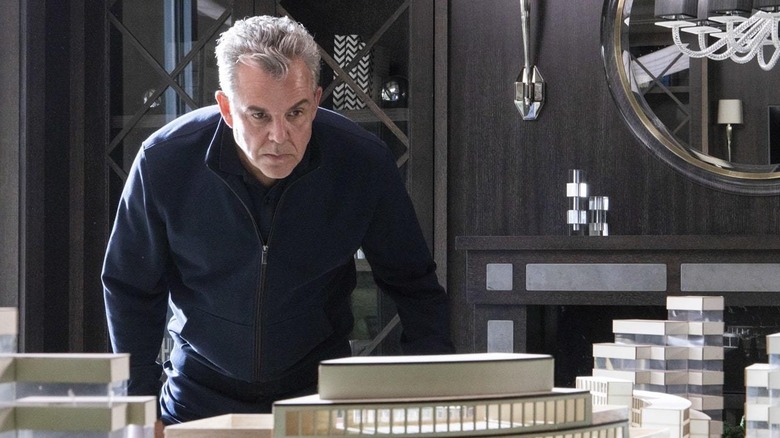 Daniele Venturelli/Getty Images
Taylor Sheridan is single-handedly redefining modern television in a way that few creators this side of Shonda Rhimes have. With an entire shared universe based on his hit series, "Yellowstone," Sheridan has become an incredibly hot commodity for the Paramount Network, also producing shows like "Tulsa King," which take place outside of the "Yellowstone" universe.
Still, even with all of the projects that Sheridan is currently a part of, fans keep tuning in for "Yellowstone" with each passing season. This is likely helped by the fact that Sheridan has an impressive penchant for writing nuanced, layered characters, as seen in films like "Wind River," "Sicario," and "Hell or High Water," which he also wrote (via IMDb).
Danny Huston, who played land developer Dan Jenkins across 19 episodes of "Yellowstone," also sings the praises of the writer-actor-producer. In fact, Huston seems to see Sheridan as something of a vital voice in the industry at the moment in terms of how he tackles the identity of America in his stories.
Danny Huston thinks that Taylor Sheridan understands the culture
Danny Huston joined fellow "Yellowstone" cast members Cole Hauser and Gil Birmingham for a chat with JoBlo, and the actor was fervent in his belief that Taylor Sheridan understands aspects of the past, present, and future of America in a way that few other writers do.
"It's sort of kaleidoscopic, in the sense that it explores so many facets of what America is, and was, and will be," Huston explained. "With Taylor, you really get the sense that he understands the place and people. So you're stepping into a world that is defined," the actor went on. "And that's a treat in itself because as a person, you're able to see things that you wouldn't otherwise."
Huston's respect and admiration for Sheridan's writing is definitely easy to understand as his style in the craft of writing that clearly has taken off with millions of viewers across the creator's many television and film efforts. Luckily for Huston, "Yellowstone" also gave the performer a chance to do more of what he does best, which is portraying villains that are easy to despise because of his own knack for his craft.