Fan Art Of Chris Pratt As Booster Gold Brings Potential Casting Rumors To Life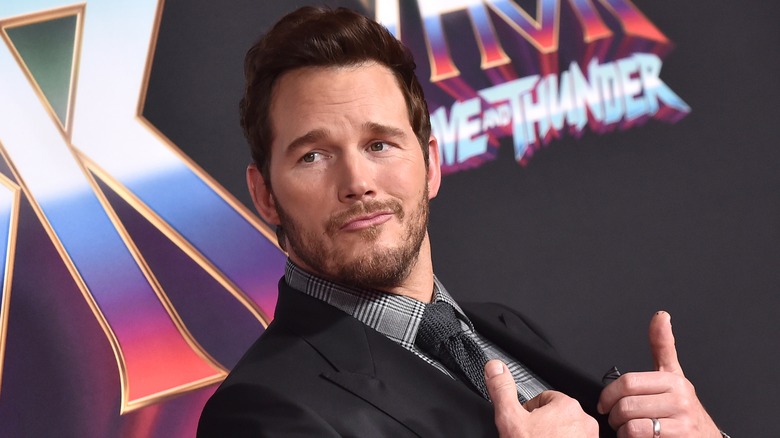 DFree/Shutterstock
Considering the hot-off-the-presses declaration of the brand-new DC film and television universe, it's only appropriate that Booster Gold decided to make a dramatic entrance in the past to get ahead of the game.
Yes, the hierarchy of power in the DC Universe that was about to change is about to change, with James Gunn and Peter Safran finally unveiling the start of their shared onscreen universe –- "finally" here meaning that it took around 12 weeks to suss out the direction of a multibillion-dollar franchise with nearly a century of backstory. While it's amazing that any of us lasted this long, starved of Batmen relative to the last few years, our suffering was not in vain. Booster Gold is coming. Yes, that Booster Gold.
With the announcement of a live-action small-screen adaptation of the just-shy-of-A-list hero comes a necessary tsunami of speculation. At the front of the queue is Chris Pratt, who Gunn turned into an international movie star with 2014's "Guardians of the Galaxy." Gunn has already been respectfully upfront about his intention to slap a "dibs" sticker on the backs of performers that he's previously worked with in the MCU, and that has some fans wondering: Wouldn't it be crazy if Pratt played a futuristic, immature, wisecracking, perpetually down-on-his-luck comic book character? You know, like, again?
Chris Pratt is pure Gold (contextually)
Thanks to Reddit user u/clutchkweku and their contributions to the r/Fancast board, anyone eager to see what Chris Pratt might look like as DC's Booster Gold didn't have long to wait. In fact, they could have done the sci-fi staple proud and shot backward in time a month to experience glory in the past.
On December 18, 2022, the fan artist posted their concept of what the man who played Andy Dwyer on "Parks and Recreation" might look like as DC's fifth or sixth favorite time traveler. Utilizing the AI program Midjourney, this surreal marriage of raptor wrangler and weirdly shiny, unreal superhero clothes somehow simultaneously calms and unsettles, as if the light on an anglerfish's head was made out of the star of "The Tomorrow War." Weird times we're living in.
Reactions to the computer-assisted artwork ran the gamut from "I do hate that this works particularly well" from u/TheReagmaster to "Chris Pratt should be Aquaman" from u/DVRK-WING-DVCK. Meanwhile, outside of this particular comments section, the idea of Pratt making the leap to the DC Universe has become... well, it's become a whole thing.
A quick primer on Booster Gold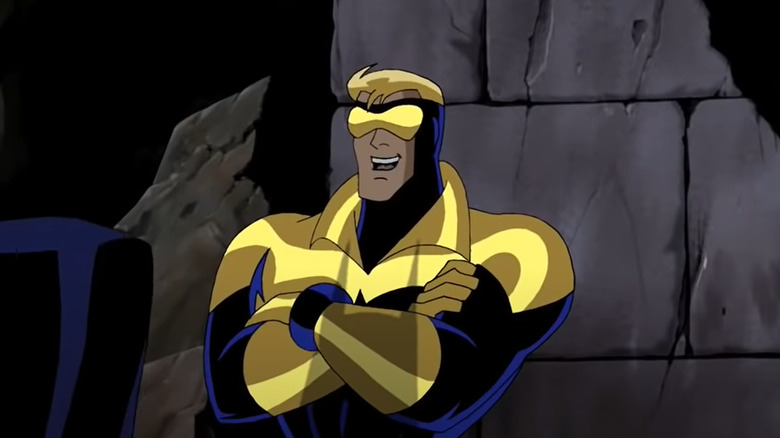 Warner Bros
Booster Gold first appeared in DC Comics back in 1986 in the first issue of his eponymous solo series. The premise was so '80s, it was just shy of a "Weekend at Bernie's" sequel pitch: What if a schlub from the future traveled back to the past, using the advanced technology of tomorrow to find celebrity and fortune today? The answer was a fan-favorite mostly-hero with a multiversal smarmy streak and deep, occasional undertones of being destined for greatness. 
Since his introduction, he's appeared in two live-action incarnations, first played by "Days of Our Lives" actor Eric Martsolf in a Geoff Johns-penned episode of the final season of "Smallville," then by Donald Faison in a Hail Mary pass at renewal during what turned out to be the series finale of the Arrowverse's "Legends of Tomorrow." For a better introduction than we can fit here, check out the "Justice League Unlimited" episode "The Greatest Story Never Told," where he's voiced by Tom Everett Scott of "That Thing You Do!" His robot sidekick, Skeets, is Fry from "Futurama."
This brings us to our next point. While Chris Pratt's casting as Booster Gold is still fan speculation at this point, if we get that and leave out Bradley Cooper voicing Skeets, then what's even the point of anything?