DCU Fans Are Already In A Heated Debate Over Chris Pratt's Potential Booster Gold Casting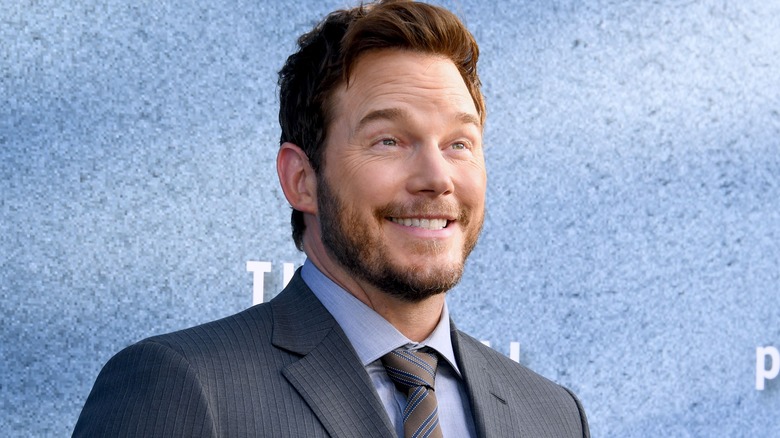 Jon Kopaloff/Getty Images
After letting fans' anticipation steadily grow for several months, James Gunn has finally revealed new details about his and Peter Safran's plans for the future of Warner Bros. Discovery's DC Studios. As fans learned today, the first chapter of Safran and Gunn's rebooted era of the DCU will be known as "Gods & Monsters" and will feature a Gunn-penned Superman movie titled "Superman: Legacy," a Viola Davis-led "Suicide Squad" spin-off show titled "Waller," a Green Lantern TV series titled "Lanterns," and several other, noteworthy TV and film projects.
Gunn's long-awaited DC announcement predictably caused a major stir among comic book fans Tuesday morning, and it's not hard to see why. Not only do Gunn's newly revealed plans finally offer some insight into the future of the DCU, but they also include the forthcoming screen debuts of new versions of both popular and obscure DC comic book characters alike. Indeed, one of the more noteworthy DCU projects that was just announced by Gunn is "Booster Gold," a new HBO Max original series that will focus on a live-action version of its eponymous DC superhero.
Very few details have been revealed about the new TV series, which Gunn says will explore the "superhero story [version] of imposter syndrome." Despite how little is actually known about "Booster Gold" right now, though, DC fans are already engaging in an intense debate online about whether or not one major movie star (and past Gunn collaborator) should play the series' titular hero.
DC fans are split over whether Chris Pratt should play Booster Gold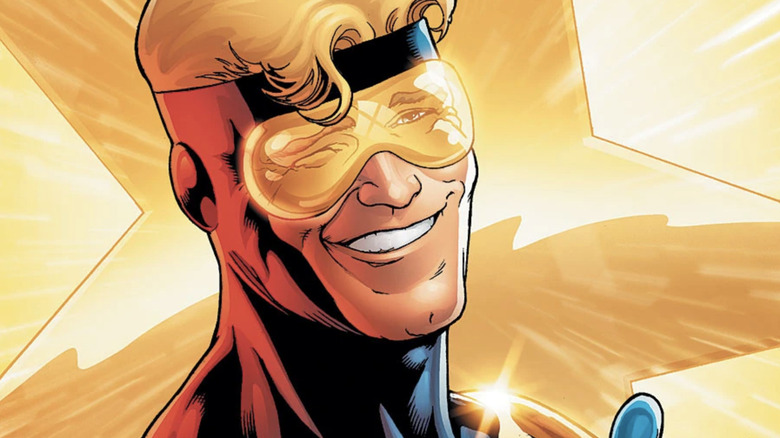 DC Comics
Earlier this month, some DC fans began calling for "Guardians of the Galaxy" star Chris Pratt to be cast as a live-action version of Booster Gold. Over a week before James Gunn announced the comic book character's new HBO Max series, @JoshThomas1994 even tweeted, "Chris Pratt would make an excellent Booster Gold."
In the immediate hours after Gunn's DC slate announcement on Tuesday, several fans began to reiterate their desire to see Pratt play Booster Gold in the DCU, too. On Twitter, @MattCalloway62 tweeted directly at Gunn, writing, "If you're gonna bring over [members of] the 'Guardians' cast, then consider Chris Pratt for Booster Gold. He could pull off the humour, arrogance and charisma of Booster really well." Elsewhere, @melwheezy wrote, "'Booster Gold' intrigues me. I feel like it's [Chris Pratt's] job to lose."
Of course, not every DC fan thinks Pratt is the right actor to play Booster Gold. Following Gunn's recent DC announcement, @shawnmbarnett, for instance, tweeted, "I swear if Warner Bros cast[s] Chris Pratt as Booster Gold I will quit DC forever," while @Josueisinbed wrote, "I really really hope that James Gunn doesn't make Chris Pratt Booster Gold."
All in all, it seems safe to say that DC fans aren't in total agreement right now about whether Pratt should actually be cast as Booster Gold. With that in mind, it's worth noting that James Gunn hasn't suggested yet that he's even considering Pratt for the coveted role. The filmmaker has said that he'll likely end up working with members of his "Guardians of the Galaxy" cast again, though, so there's definitely a chance Pratt could show up at some point in the Gunn-led era of the DCU.
Whether or not he ends up playing Booster Gold, however, is another matter altogether.
Chris Pratt isn't the only actor who could play Booster Gold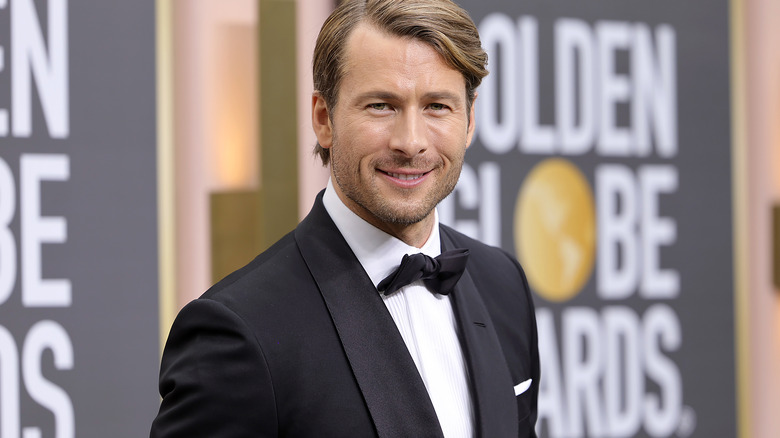 Amy Sussman/Getty Images
It's easy to see why some DC fans have already begun to assume that Chris Pratt will be cast as Booster Gold in the DCU. The actor is not only a movie star with plenty of franchise experience under his belt, but he and James Gunn are also close friends. That said, Pratt is far from the only actor who could be chosen to take on the lead role in "Booster Gold."
As a matter of fact, some DC fans have already begun to list online other actors who they believe would be right for the beloved DC Comics role. On Twitter, one DC fan called for Gunn and Peter Safran to cast "Top Gun: Maverick" breakout star Glen Powell as the DCU's Booster Gold. Alternatively, @BnUncl named "Stranger Things" star Joe Keery as their top choice to play the DC superhero, while @Justjim1979 tweeted, "I'd cast Jensen Ackles as Booster Gold."
In the comics, Booster Gold is a man from the 25th century who uses the era's technology to travel back in time and become a superhero of the past. He isn't, in other words, like many of the other comic book characters that Gunn and Safran plan to focus on in the coming years. Taking that into account, whether it's Pratt, Powell, Keery, Ackles, or someone else entirely, whoever ultimately gets cast as Booster Gold will be given the chance to not only get in on the ground floor of Gunn and Safran's new DCU but also portray one of the franchise's most unique heroes.