Whatever Happened To Sweet Ballz From Shark Tank?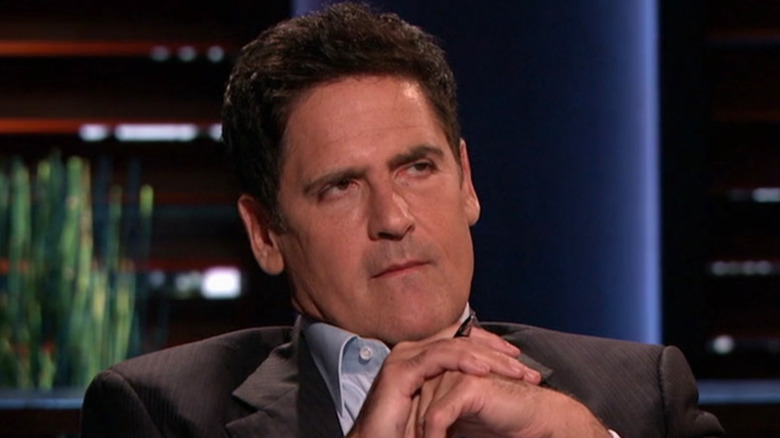 ABC/Hulu
Every year brings new food fads, and plenty of entrepreneurs have tried to capitalize on those trends by appearing on "Shark Tank." In 2015, there were protein-heavy donuts from The Dough Bar. In 2016, there were both the Nomiku sous vide cooker and the Chi'Lantro fusion food truck, just to name three examples. 
And it doesn't get more trendy than cake balls. CNBC credits graphic designer Angie Dudley with inventing them on "The Martha Stewart Show" all the way back in 2008. Five years later, entrepreneurs James McDonald and Cole Egger appeared on the "Shark Tank" Season 5 premiere, which aired in September 2013, to pitch their company, Sweet Ballz.
Sweet Ballz are cake balls that don't come with a stick. At the time, they also came in packs of four and were available in three flavors: red velvet, chocolate, and cookies and cream.
McDonald and Egger's initial ask was for a $250,000 investment in exchange for a 10% equity stake in their company. The sharks were impressed with the cake balls themselves, but even more impressed with the company's prospects. When McDonald and Egger appeared on "Shark Tank," things had been going well. The company had sold $700,000 in the three months prior to their pitch, including a $400,000 order with 7-Eleven.
All five sharks made offers. In the end, McDonald and Egger accepted Mark Cuban and Barbara Corcoran's bid for $250,000 in exchange for a 25% equity stake. McDonald and Egger were happy to score the deal, but the good vibes didn't last.
Shortly after Shark Tank, McDonald and Egger went to court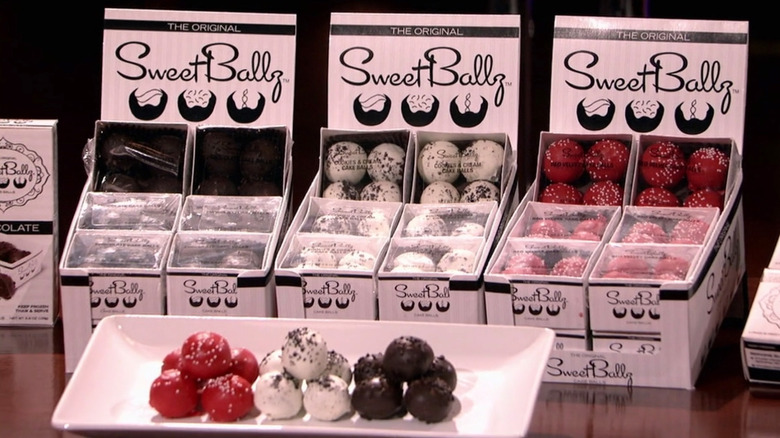 ABC/Hulu
That's right. Just ten days after their "Shark Tank" episode aired, James McDonald sued Cole Egger and their business partners for attempting to start a competing business. But the conflict actually started well before "Shark Tank" got involved.
According to the Dallas Morning News, McDonald made the first batch of cake balls on June 16, 2012. Shortly after, he brought in Eggers and a friend named Matt Landis, all of whom founded the company City View Food Group LLC. Almost immediately the trio disagreed over hiring a new chief financial officer, and the relationship became strained. Despite this, the company landed that massive 7-Eleven purchase order the following April. McDonald went ahead with his "Shark Tank" submission, and McDonald and Eggers went on the show on July 8 despite their disagreements.
Days after the episode was filmed, things got ugly. According to McDonald's lawsuit, Egger made a "non-negotiable" offer to buy out McDonald and Landis. When they refused, Egger went live with a competing website, CakeBallz.com, on August 2. McDonald's subsequent lawsuit accused Egger of breach of contract, and also included both a temporary restraining order as well as a permanent injunction to stop selling cake balls. All of this happened before their episode even aired. 
McDonald won, and Sweet Ballz is still in business today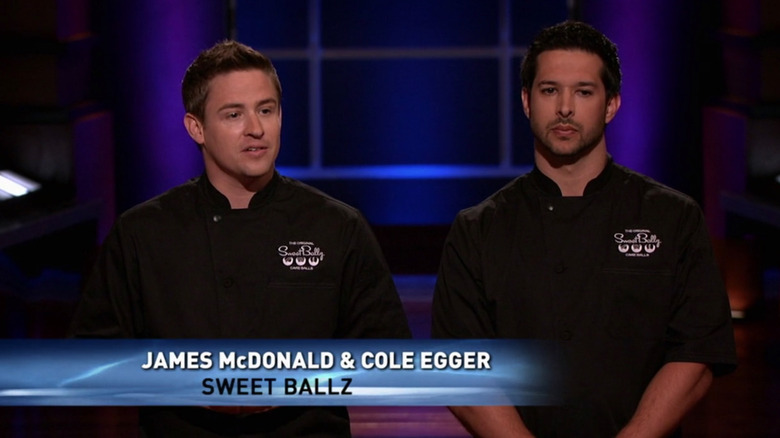 ABC/Hulu
McDonald and Eggers went to court on October 8, and the court ruled in McDonald's favor. Problem was, the legal battle left McDonald too preoccupied to capitalize on the positive momentum from his "Shark Tank" appearance. The loss of website traffic in particular cost Sweet Ballz sales. Because of this, Sweet Ballz is regularly listed among the biggest failures in "Shark Tank" history (per AOL).
That's not quite fair, though, because SweetBallz.com is still in business today, selling cake balls to each of the 48 continental US states. It's also expanded its menu to offer more flavors than the original three, as well as "Sports Ballz," which are sports ball-shaped cake balls.
In the end, the biggest problem for Sweet Ballz wasn't the lawsuit or the loss of internet traffic, it was the passing of the cake pop trend. According to Failory, McDonald now runs Sweet Ballz as a side hustle and not a full-time job. Even so, Sweet Ballz has generated more revenue than most start-up bakeries do.