What Happened To The Dough Bar After Shark Tank?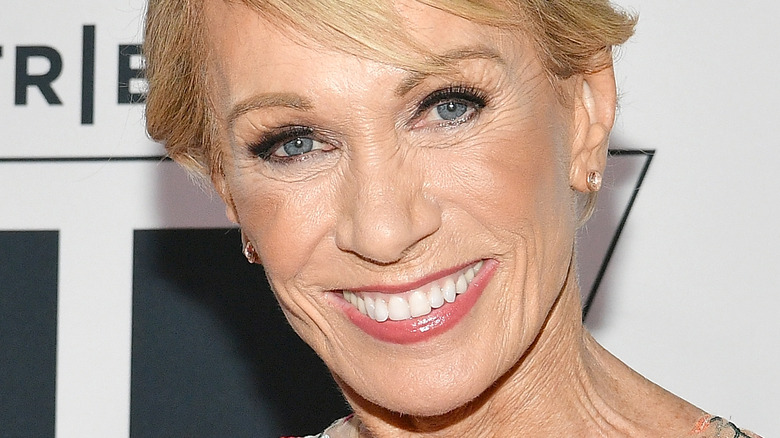 Dia Dipasupil/Getty Images
"When we finally got backstage, we held hands and said a prayer, knowing we came as prepared as we possibly could have been." Ondrea and Marquez Fernandez spoke of the moments before their life-changing appearance on the hit ABC reality series "Shark Tank." The couple, appearing in Season 9, Episode 20 of the series, came to pitch their guilt-free doughnut business, The Dough Bar. Starting out of their apartment in 2015, the Northern California couple, tired of protein snacks that offered little satisfaction, began experimenting with doughnut recipes that were baked, sugar-free, and packed with 11 grams of protein.
Following a failed audition, Ondrea and Marquez would show up on "Shark Tank" a year later, even thought they didn't rank among the best "Shark Tank" episodes ever. With the enticing hook of being able to eat their doughnuts every day while remaining in shape, the couple hoped to get an investment of $300,000 for 15% equity. The company, which had only been in business for two years, earned over $1 million in sales, with much of its business coming from word-of-mouth. Barbara Corcoran went up against fellow sharks Lori Greiner and Alex Rodriguez to try to get a deal, with Barbara winning for $300,000 for 20%. Since then, have things been as sweet?
An unexpected event has put them on hiatus
Season 10, Episode 11 saw an update segment for Ondrea and Marquez Fernandez's doughnut business. Shot nine months after their initial appearance, the couple's business showcased incredible growth. After Barbara Corcoran helped run focus groups, they were able to release new products, including a gluten-free cake doughnut. The new approach paid off, as they reached nearly $2 million in sales (via YouTube).
Sadly, in early May 2022, the couple announced on their Instagram that they would be stepping away from the company while taking care of their newborn daughter, whose health issues require around-the-clock care. They would run a final sale of all their products on their site until May 12. However, this does not mark the end of their business, as they intend to open a new chapter for their company within the next six months. Time will tell, but we hope the best for the lovely family and business.