James Gunn Promises 'Much Harsher' Hero In Newly Announced Supergirl: Woman Of Tomorrow Film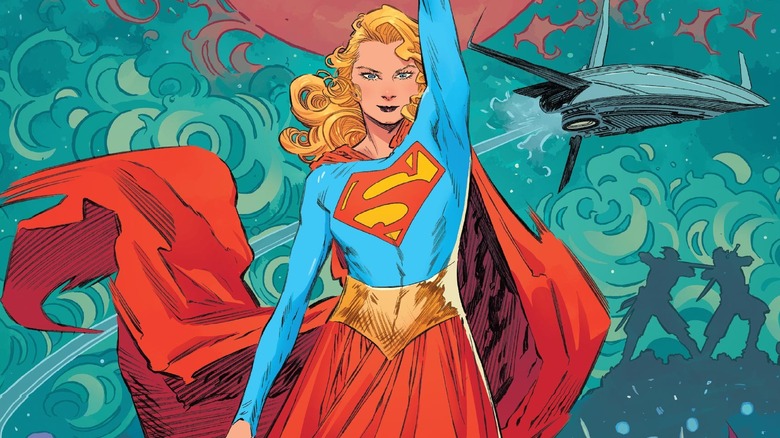 DC Comics/Bilquis Evely
James Gunn and Peter Safran's new DC slate has started to officially come down the Warner Bros. film pipe, with planned movie projects announced at a private event on Monday, January 30, for numerous characters and storylines — including a "much harsher" Supergirl.
Based on Tom King's comics from 2021, Gunn and Safran's "Supergirl: Woman of Tomorrow" promises to be a completely new take on the DC Comics character, who was most recently portrayed by Melissa Benoist in The CW's now-defunct series "Supergirl." For those who don't know, King has been one of the comic book industry's leading creators and is said to be playing a vital role in the new Warner Bros. DC Universe (via /Film). Considered a writing mastermind, King is one of just a few people working on "Supergirl: Woman of Tomorrow" with Gunn and Safran, who are hoping it'll be a catalyst for the rebooted superhero franchise that they're attempting to build.
"I love his take on these characters where he slightly turns them to be something unique," Gunn told reporters at DC's private announcement event on Monday night, which was attended by Jenna Busch from /Film.
Fans have been wondering for months how the "Guardians of the Galaxy" director and his new creative team at Warner Bros. would be handling all the leftover DC characters from the now-scrapped DCEU. Gunn had previously spoken about doing something within the Superman and Batman universes, along with offshoots about underlying heroes and villains. Names like Lobo, Superboy, and Hawkgirl have been tossed around the social media water cooler, along with several others — and the celebrities being attached to them are all Hollywood heavy-hitters like Jason Momoa and Zoe Saldaña. Now, it appears that the Last Daughter of Krypton can be officially added to the list. 
Gunn promises a Supergirl unlike anything we've seen before on screen
James Gunn wants to get one thing straight about his newly announced "Supergirl: Woman of Tomorrow" project: this ain't your momma's Supergirl. "She's a much harsher and more f***ed up Supergirl," Gunn said at Monday night's DC event.
According to DC Comics, "Supergirl: World of Tomorrow" basically explores the possibility of a DC superhero having PTSD and an insanely hard life. Supergirl, aka Kara Zor-El, is forced to watch the destruction of everything she knows for 14 years straight after being stranded on a detached portion of Krypton and, eventually, is left without purpose after finding out her cousin, Superman, is now protecting Earth and perfectly fine. "What was it all for?" a DC description asks. "Wherever she goes, people only see her through the lens of Superman's fame. Just when Supergirl thinks she's had enough, everything changes." 
While the movie's storyline has yet to be confirmed by Gunn, "Supergirl: Woman of Tomorrow" will likely focus on the ensuing relationship between Supergirl and a young alien that enters her life named Ruthye, whom she is tasked with keeping safe. It's basically "Man of Steel" meets "Logan," to sum everything up simply.
'"[Ruthye's] world has been destroyed, and the bad guys responsible are still out there," the DC description reads. "She wants revenge, and if Supergirl doesn't help her, she'll do it herself, whatever the cost." Let's just hope that Gunn's Supergirl will be joined by her comics-accurate companion — aka Krypto. As DC describes the original story, "A Kryptonian, a dog, and an angry, heartbroken child head out into space on a journey that will shake them to their very core."