Is Phoebe Dynevor Really Leaving Bridgerton?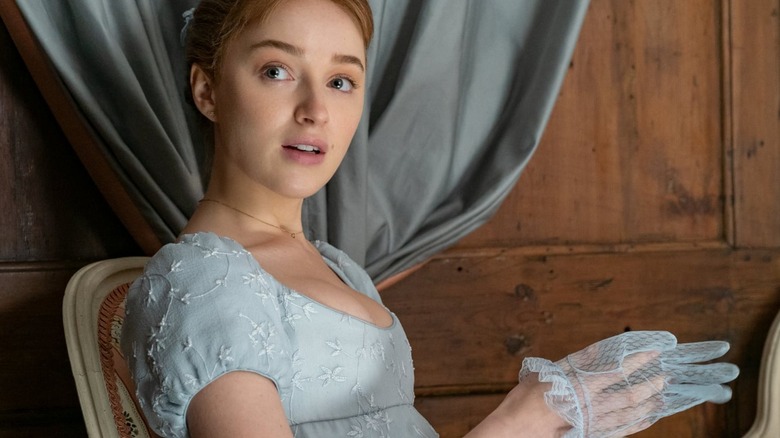 Netflix
The much-anticipated third season of Netflix's "Bridgerton" is set to arrive sometime in 2023, and many fans are now wondering if series star Phoebe Dynevor, aka Daphne, will actually be in it. The source of that doubt is a new interview and career update that the British actor recently gave. 
As viewers saw in Season 2, Dynevor and her "Bridgerton" character took a bit of a backseat to her bachelor brother, Lord Anthony Bridgerton (Jonathan Bailey), and his search for a wife. Daphne wound up ruining a romantically-charged moment between Anthony and Kate (Simone Ashley) and was able to get the spotlight back on her for a little bit, but still only appeared in five episodes. 
Season 3 of "Bridgerton" is expected to explore the Colin Bridgerton (Luke Newton) and Penelope Featherington (Nicola Coughlan) love story from Julia Quinn's book series upon which the show is based (via Variety). Creator Chris Van Dusen will no longer be part of the Netflix program after helming the first two seasons, telling RadioTimes in a March 2022 statement, "At the end of the day ... it was time for me to move on, and hopefully create that magic again in the near future." Now, it appears that "Bridgerton" is possibly losing another huge piece in Dynevor.
Phoebe Dynevor dropped a bomb about Bridgerton Season 3
Speaking to Screen Rant over the weekend at the Sundance Film Festival, Phoebe Dynevor revealed that her time with "Bridgerton" has come to an indefinite end — with Daphne making her very last appearance in Season 2. According to Deadline, Dynevor has fulfilled her contractual obligations and is no longer part of the cast. 
"Sadly not in Season 3," she told Screen Rant. 
Dynevor, who was promoting a role at Sundance for her 2023 erotic drama "Fair Play" starring Alden Ehrenreich, said she could possibly return at some point in later seasons. But for right now, her time as a member of the "Bridgerton" family is up. "Potentially in the future," she said. "But season 3, I'm just excited to watch as a viewer."
Dynevor had previously spoken openly about the awkwardness of her reduced role in Season 2 of "Bridgerton," but it was something she seemed to be handling with ease. "It's definitely different," she told The Wrap in June 2021. "But I think that's honestly the joy of the show in the long-term, getting to see these different love stories play out." 
As for what's next for Dynevor, her IMDb page currently lists two upcoming projects on her schedule: Sony's "I Heart Murder" thriller by director Matt Spicer and Chad Hartigan's new comedy, "The Threesome," starring Logan Lerman (via Deadline).