Bridgerton Season 3 - What We Know So Far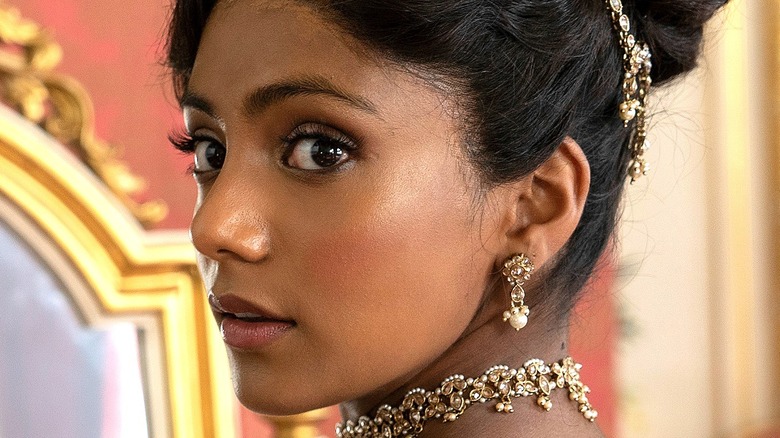 Liam Daniel/Netflix
When "Bridgerton" premiered its first season on Netflix in December of 2020, the Regency-era romantic drama series became an instant hit with viewers. Based on the books by Julia Quinn and developed for television by Chris Van Dusen, Season 1 follows Daphne Bridgerton (Phoebe Dynevor) as she meets and falls in love with the Duke of Hastings, Simon Basset (Regé-Jean Page) — a man who had previously declared he would never marry (via IMDb). After the show's massive success, it came as no surprise that Netflix would move forward with Season 2.
Each season focuses on a different Bridgerton sibling's love story, with Season 2 turning to Daphne's older brother — and the eldest Bridgerton — Anthony (Jonathan Bailey). Following his failed romance with opera singer Siena Rosso (Sabrina Bartlett) in Season 1, Anthony is determined to find a suitable wife who is smart and capable, but who he is not in love with. He sets his sights on Edwina Sharma (Charithra Chandran), declaring her the perfect candidate for a wife — only to find himself falling in love with Edwina's sister Kate (Simone Ashley).
Much to the delight of the show's many fans, "Bridgerton" has already been renewed for not just its 3rd, but also its 4th season (via Deadline). With Season 2 well in our rearview, fans are thinking about the next season of the beloved series and wanting to know everything about the next Bridgerton love story. Here's what we know so far about Season 3.
When will Bridgerton Season 3 be released?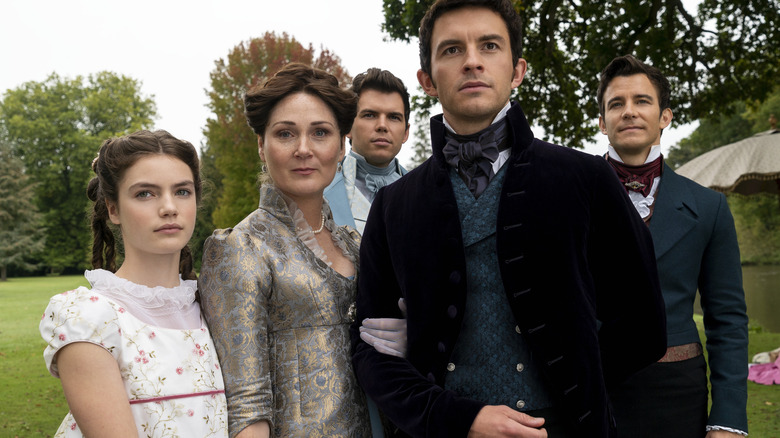 Liam Daniel/Netflix
Unfortunately, there is no release date for "Bridgerton" Season 3 at this time. We know the show is definitely not coming by the end of this year, but it almost certainly has a 2023 release date. Season 3 is currently in production, as Netflix revealed a behind-the-scenes video in July of the cast on set getting ready to film. According to TV Guide, Season 3 is expected to wrap in December, which gives us a decent idea of when new episodes will drop.
Per Collider, Season 2 of "Bridgerton wrapped" on November 21, 2021, and the episodes landed on Netflix on March 25. If we follow the same pattern and Season 3 follows its December schedule, we could get the third installment sometime in April 2023. We should know more when an official trailer drops, which we assume will arrive in February or March.
What is the plot of Bridgerton Season 3?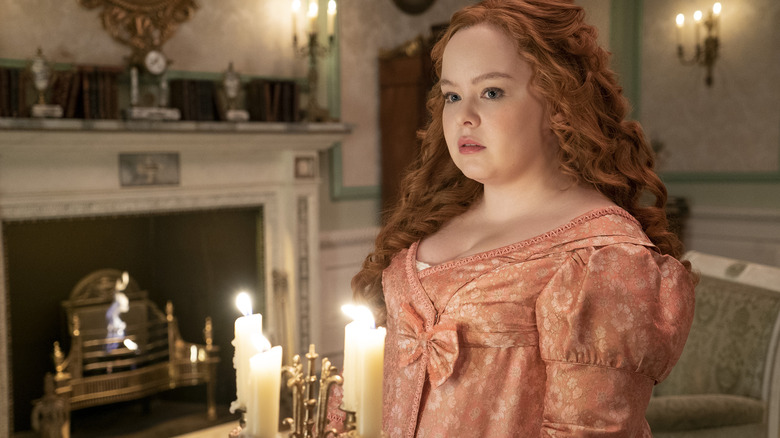 Liam Daniel/Netflix
We are moving on from the Bridgerton family (somewhat) in Season 3, as the new installment will be all about Penelope Featherington (Nicola Coughlan). Netflix's official synopsis (per Variety) says Penelope will move on from Colin Bridgerton (Luke Newton) in the new season after hearing what he had to say about her in Season 2. "She has, however, decided it's time to take a husband, preferably one who will provide her with enough independence to continue her double life as Lady Whistledown, far away from her mother and sisters. But lacking in confidence, Penelope's attempts on the marriage mart fail spectacularly," the synopsis reads.
But Colin won't go away so easily. He's somewhat upset to see that Penelope is no longer interested in him, prompting him to try and wiggle back into her life. Once this happens, the relationship between Colin and Penelope will be as confusing as ever as the pair, and the viewers will be wondering where they go from here. The synopsis also offers that "Complicating matters for Penelope is her rift with Eloise, who has found a new friend in a very unlikely place, while Penelope's growing presence in the ton makes it all the more difficult to keep her Lady Whistledown alter ego a secret."
Who is starring in Bridgerton Season 3?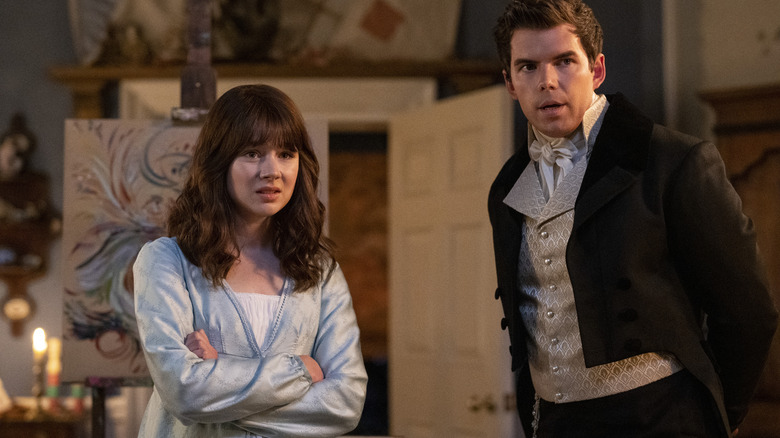 Liam Daniel/Netflix
Leading the story in "Bridgerton" Season 3 is Nicola Coughlan as Penelope Featherington and Luke Newton as Colin Bridgerton. Claudia Jessie will also return as Eloise, who is still being kept more than an arm's length from Penelope after Season 2. There will be an actor swap in Season 3, as Hannah Dodd is set to replace Ruby Stokes as Hannah Bridgerton.
Simone Ashely will also return as Kate Sharma alongside her on-screen husband, Jonathan Bailey, as Anthony Bridgerton. "Yes, there will be a post-marriage Kanthony story for sure," she told E! News. "And I'm super excited for the world to see Nicola and Luke rock it, but also to just play with the Anthony and Kate story now that they're loved up, and they've kind of sorted themselves out."
According to The Hollywood Reporter, Daniel Francis, Sam Phillips, and James Phoon all joined "Bridgerton" for Season 3 as potential suitors. Hannah New also joins the cast as Lady Tilley Arnold (per Deadline). We also fully expect Julie Andrews back as the narrator of the series.
Who is showrunning Bridgerton Season 3?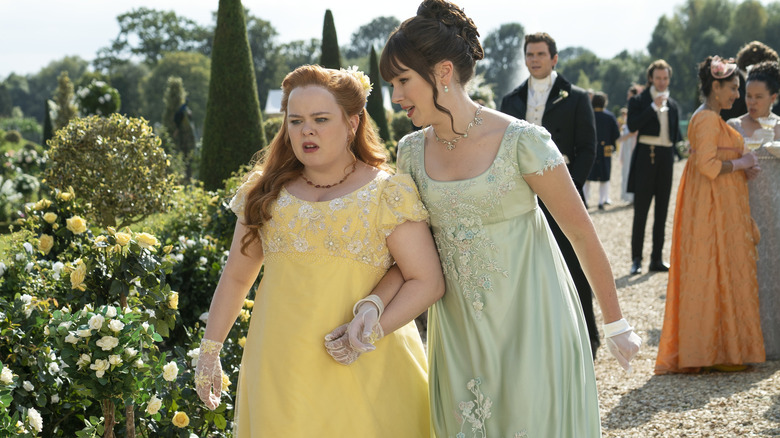 Liam Daniel/Netflix
According to Variety, "Bridgerton" will have a new showrunner going into Season 3 as Jess Brownell replaces Chris Van Dusen, who oversaw the series for its first two seasons. Brownell has been with "Bridgerton" since the beginning, so fear not. Originally a writer and executive story editor, Brownell knows the characters and story well going into Season 3.
The showrunner elaborated on Season 3, telling Variety that while it focuses on Penelope, the story will have a character heavily featured in the third book. "I think all the people you would expect to see — Benedict, who is book three, he will be a vital part of Season 3," she said. Brownell also mentioned creator Shonda Rhimes wanting to go for eight seasons, saying, "We hope to get to tell every sibling's love story and they will always be in each season."
Brownell also explained what it was like to move up in the ranks at "Bridgerton." "I mean, it's definitely been a learning curve. It's my first time doing it, but it's been the best possible environment to do it in. I've been at Shondaland for 13 or 14 years. Chris Van Dusen and I came up together and have worked together for over a decade and he's been enormously supportive, which has been wonderful," she told Variety.
Where to watch previous seasons of Bridgerton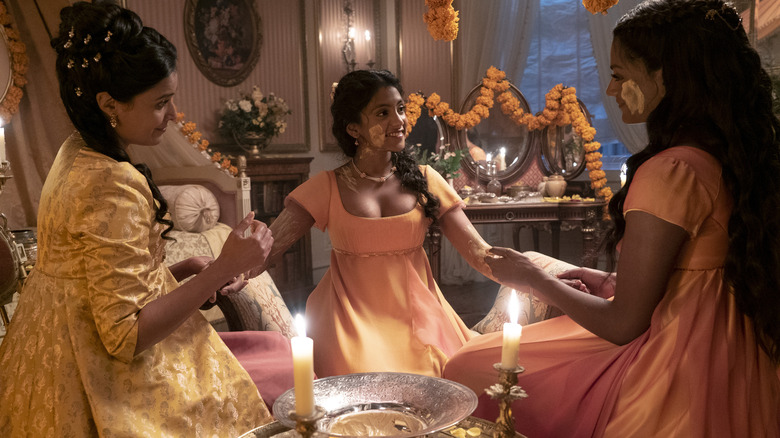 Liam Daniel/Netflix
"Bridgerton" is a Netflix original series, so the show will live forever on the platform. Catching up on Seasons 1 and 2 is easy as pie, with all 16 episodes available for your viewing pleasure. "Bridgerton" has been one of Netflix's biggest successes, smashing records in both Season 1 and 2. According to IndieWire, the period series broke its own record when Season 2 debuted to become the most-watched English-language show, with 627.11 million hours viewed in the first 28 days.
The series could not beat "Squid Game," the most-watched Netflix series ever, with over 1.8 billion hours viewed in its first 28 days of availability. "Bridgerton" might be one of the best series on Netflix, but we'd be shocked to find out Season 3 could topple the South Korean series whenever it debuts.  
What will Bridgerton Season 3 be rated?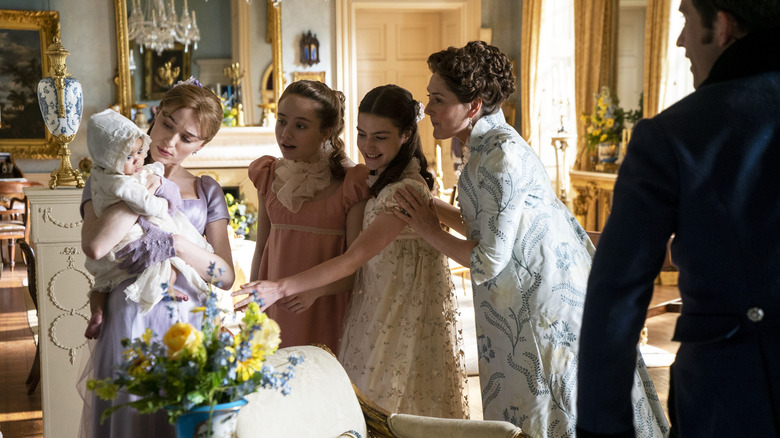 Liam Daniel/Netflix
For Netflix shows, the entire series is given a rating instead of just a season, so Season 3 will fall under the TV-MA umbrella. "Bridgerton" is given this rating for substances, language, sex, nudity, sexual violence, and smoking. The streamer advises that "Bridgerton" may not be suitable for children and teenagers under 17. 
If you've never seen the series before, "Bridgerton" is pretty light on the language but heavy on sexual scenarios, which contain a fair amount of nudity. There are sex scenes in the "Bridgerton" novels, but the show does make them much more explicit. We don't know what will happen in Season 3, but prior seasons feature full-frontal female nudity and partial male nudity. Season 1 of the series certainly deserves the TV-MA rating more than Season 2, so it's possible Season 3 might follow the pattern and be a little tamer.