Night Court's New Theme Is All In The Family For John Larroquette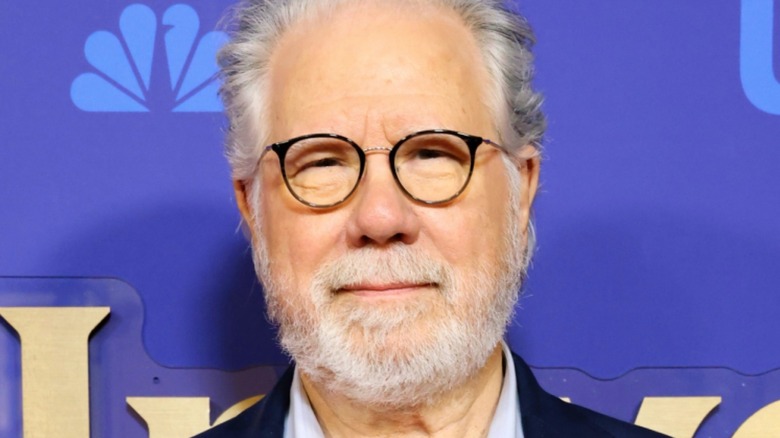 Rodin Eckenroth/Getty Images
With every great television revival — typically — comes a unique new theme song. And for NBC's "Night Court," the music is apparently all in the family for legacy star John Larroquette. 
Premiering on January 17, Dan Rubin's "Night Court" revival sees Larroquette back in his old Dan Fielding role, but as a public defender this time. Abby Stone, the daughter of Harry Anderson's Judge Harold "Harry" T. Stone from the original "Night Court," is now the main focus of the show, with producer and star Melissa Rauch portraying the character. Fans have been torn over the series as a whole, with many feeling it started out slow before finally hitting the ground running and seeing significant improvements in Episode 3, which aired January 24. 
"I'll definitely keep watching," said Redditor u/bceagle91. "There's potential here, I think."
One of the biggest praises for "Night Court" since its premiere has been Larroquette's role on the show, with social media users loving his performances as Dan Fielding so far. Twitter user @tleffler32, on January 24, said: "John Larroquette's back must be broken by now trying to carry this #NightCourt revival. Talk about diamond in the (very) rough." User @jwal79 wrote: "He might be funnier in this than the original." Now, to everyone's amazement, we have learned that there's another Larroquette who apparently has a hand in making "Night Court" extra special now through his music.
John Larroquette's son, Ben, did the revamped theme song for Night Court and is the show's composer
John Larroquette's son, Benjamin, is ultimately responsible for NBC's updated theme song for "Night Court," along with the rest of the show's music. Larroquette told Seth Meyers during a "Late Night" appearance in mid-January about how he nailed down the job.
"My youngest son was born during the heyday of Night Court in 1987," Larroquette said. "Benjamin is an excellent musician, graduate of the Berkeley College of Music...Ben called me one day and said, 'Listen. Listen to what I did, I just did it.' He did it from memory...and just recorded it himself." The theme was an altered and more electronic-sounding version of the funky original from Reinhold Weege's "Night Court," which aired from 1984 to 1992. Larroquette had showrunners Melissa Rauch and Dan Rubin listen to it and let them decide for themselves. 
"I thought, 'That's a nice new take on that,'" the actor remembered. "So I showed it to Melissa [Rauch] and Dan Rubin...And they went, 'Oh my God, this is fantastic. It's perfect.' And so, [Benjamin] wound up being the composer and he does all the interstitial music within the [show]. So he's the composer of the new 'Night Court.'" Rauch, who previously starred in "The Big Bang Theory," told TV Insider that she and Rubin couldn't believe what they were hearing. "Our minds were blown," she said. "It was just so, so exciting to think that if we make this show, this is what we could use." And that's exactly what they did.