Night Court Fans Notice Significant Improvements In Episode 3 Of The Revival
Reboots and revivals can be tricky things to land. Rebooting or resurrecting a beloved show from the past often carries a significant amount of weight, both seen and unseen. On one hand, a show needs to have enough reverence for its source material to ensnare fans of the original show, and on the opposite side of the equation, a rebooted show needs to be able to stand on its own accord and be able to bring in new audiences. In other words, revivals and reboots are a precarious balancing act that few shows can manage.
Speaking with Decider, "Night Court" star and producer Melissa Rauch explained this very concept, saying, "Fans of the original — there's so much for them here. There's easter eggs, it's all an homage to the original. But then at the same time, viewers who are coming in never having seen the original, they don't necessarily need to know anything and have any prior knowledge." According to IMDb, the original "Night Court" ran from 1984 to 1992, and the popular sitcom managed to win 12 awards during this time, including seven Emmys. This means that the new "Night Court" has some rather big shoes to fill, and it seems like some fans believe that this new "Night Court" iteration has finally found its footing.
Twitter fans agree that Episode 3 of Night Court is much better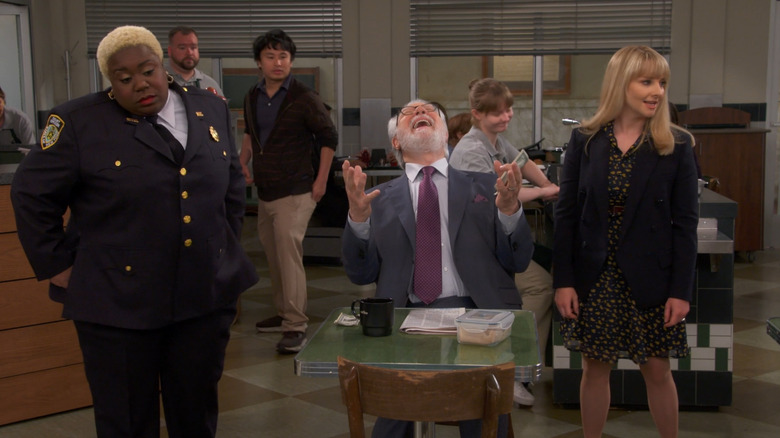 NBC
Though the first few episodes of the new "Night Court" engage in bringing together a cast of characters and establishing some basic history and dynamics, most new shows usually take a little bit of time to get off the ground. So far, audiences have seen Judge Abby Stone (Melissa Rauch), the daughter of the judge from the original "Night Court," ease into her role. In the most recent episode, she takes a bit of a different approach than what viewers have seen, which results in a temporarily more serious version of Judge Abby. However, as mentioned earlier, it seems as if viewers of this new show are starting to really warm up to this revival.
Some "Night Court" fans converged on Twitter, with @BuffaloDan1 tweeting, "#NightCourt is getting even better. Better pacing. Letting things breathe more. Characters can shine more, and interact more. Bring on the rest of the season!" @Captainstark_2 agreed with this sentiment, writing, "Episode 3 was better than Episodes 1 and 2! #NightCourt gets better with each episode. Please give it a chance!" @ChaoticSoul5 also had a similar thought as these comments, and said, "Episode 3 of the new #NightCourt is already ten times better than the first two." @MerlinMarshall1 wondered if the laugh track was turned down, and stated that Episode 3 of "Night Court" is a significant improvement over the first two episodes. Over on Reddit, "Night Court" watchers were also heaping praise on this brand-new episode.
Fans of Night Court on Reddit are starting to see echoes of the original show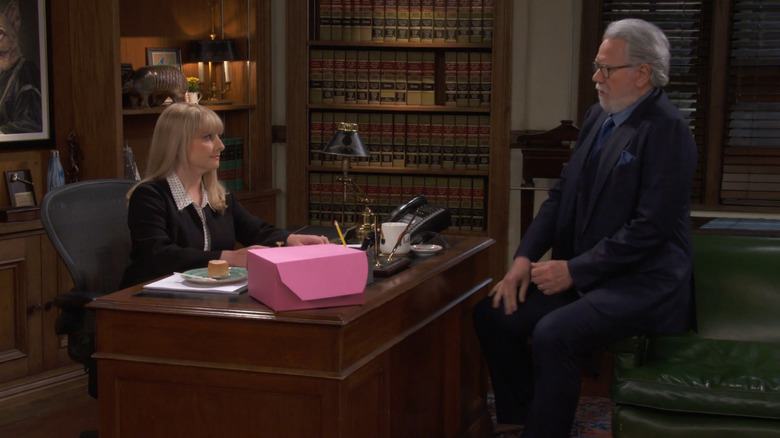 NBC
While discussing Episode 3 on Reddit, u/Stabstone wrote, "MUCH better episode! I get it the first episode usually they are still feeling out the characters, the second episode did not give me much hope. However, this episode has me on board and if the next episode is just as good I am looking forward to the rest of the series." u/darth_henning replied and expressed their similar thoughts, saying that the entire show felt like it was smoother and had a better balance between characters. They added that they thought that Episode 3 definitely felt much closer to the tone of the original series.
Others also were on board with the development of Episode 3, with u/PowerHour1990 saying that Episode 3 was much better than the first two, and that they had a few laugh-out moments. They also said that they are really appreciating the character development, but that the cast could probably use one more major player. u/bceagle91 also shared their thoughts, saying that the new episode seems to have placed the show on better footing. "I'll definitely keep watching – there's potential here, I think," the Redditor said.
Between all of these comments, a trend seems to have emerged that audiences are starting to really enjoy this fresh take on "Night Court."