What Yellowstone's Kelly Reilly Thought When She Saw The Younger Versions Of Beth And Rip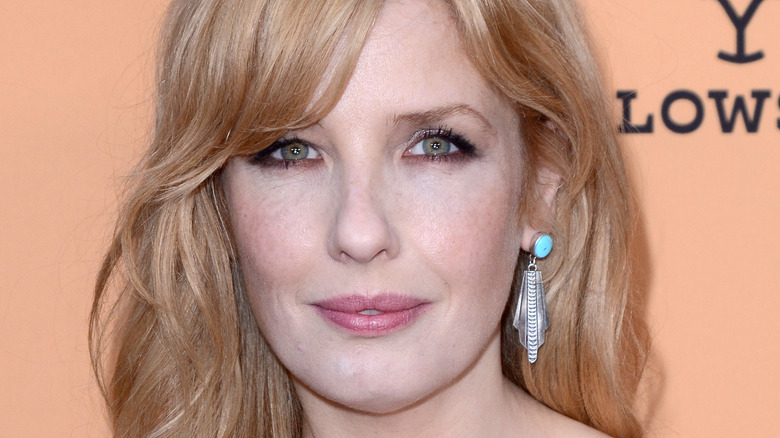 Kathy Hutchins/Shutterstock
"Yellowstone" has attracted a loyal following because of its commitment to showing a way of life that is rarely seen on TV these days: the life of the cowboy. Creator Taylor Sheridan remarked to The New York Times that he does not care if "Yellowstone" is a hit with critics because he is making the show for the people who appreciate Westerns. "I'm not making it for [the critics]; I'm making it for people who live that life. The audience has expanded beyond that because, you know, a lot of people love westerns," he said.
And while ranch life is certainly the focus, Sheridan has also created compelling relationships that can hook any viewer. One such example is the star-crossed romance between Beth Dutton (Kelly Reilly) and Rip Wheeler (Cole Hauser), which represents so much of what draws people to the show. Beth, the daughter of rich ranch owner John Dutton (Kevin Costner), begins a dalliance with young runaway Rip when they are just teenagers and he is working as a ranch hand for her father. Their marriage was seasons in the making, and while fans love the characters separately, they love them even more together.
One way that Sheridan gives nuance to this relationship is through flashbacks to their characters when they were teenagers. One recent flashback in the Season 5 premiere even shows them on their first date. Reilly has also opened up about her thoughts on these flashbacks of her and Hauser's characters.
Kelly Reilly did not want the actress playing young Beth Dutton to impersonate her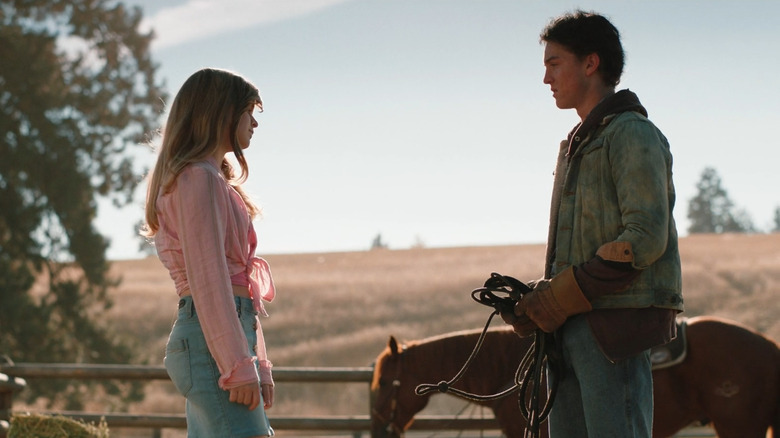 Peacock
Speaking in a behind-the-scenes featurette for the show (via The Express), Kelly Reilly talked about the Beth and Rip flashback scenes and what it's like to see that relationship in its earliest stages. Kylie Rogers plays the younger Beth Dutton, and Reilly, in her discussions with the younger actress, told Rogers not to base her performance on adult Beth. "Kylie, who plays young Beth, is so talented. She really embodies the spirit pre-me," Reilly said. "I remember I would talk to her and say, 'Yes, you've seen Season 1, but she's not formed yet. When you play her, don't do an impersonation of what I'm doing.'"
Reilly also noted how much she loves seeing the beginnings of the Beth and Rip love story. "Somehow on a soul level, they connect," Reilly said. "And it's an odd meeting of souls but it works. I mean, you start to see where the hardness has kicked in because last time we saw her, she was crying and she's lost, and she's terrified — and then you start to see the beginnings of the monster!"
Cole Hauser also had good things to say about the Beth and Rip flashbacks. In a recent interview with Screen Rant, he said, "The idea of going back in their past and seeing what made them get to where they are and the comfortableness that they have together ... I love that Taylor [Sheridan] wrote it."