Kelly Reilly Was A Big Fan Of American Dramas Before Yellowstone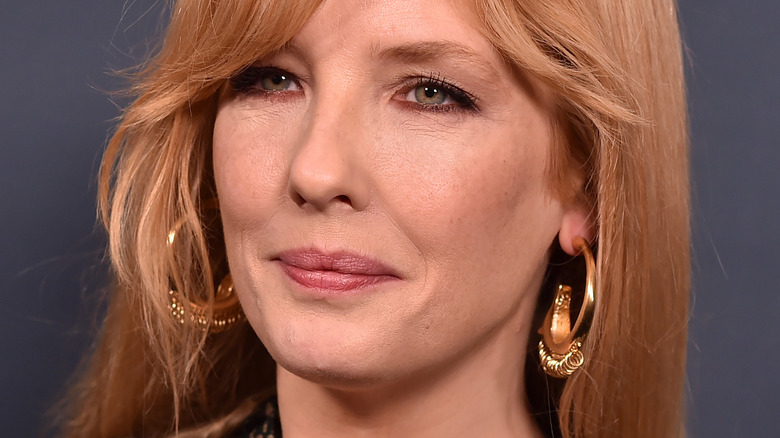 DFree/Shutterstock
For the first two years of filming Paramount Network's "Yellowstone," few people on set knew that Kelly Reilly is a United Kingdom native who speaks with a heavy accent. In an interview with Entertainment Tonight, the actress reflected on her fear that if they found out, it would break the illusion of her tough-as-nails character, Beth Dutton. To avoid this, she refrained from speaking to anyone when the cameras weren't rolling.
Reilly eventually revealed her secret during the creation of Season 3, but her fears were for naught. Nobody cared that she doesn't have deep American roots like her on-screen persona, especially "Yellowstone" star Cole Hauser, who plays Beth's love interest Rip Wheeler. "It's every once in a while, whether it's an actor or an actress, that you have that opportunity to really let the walls down and have that freedom to play I guess, and I couldn't ask for a better partner," he told Entertainment Tonight in another interview. "She has been such a blessing and I just hope that we get to continue to do this for a very long time."
With an impressive 55 credits on IMDB, including 2009's "Sherlock Holmes," Reilly is no stranger to the industry. However, the role of Beth and the Western drama as a whole is unlike anything she's previously done. Reilly praised the writing of show creator Taylor Sheridan and described Beth as a "beast."
Still, this genre of television wasn't a completely foreign concept to Reilly, who revealed which American dramas she was a fan of before joining the "Yellowstone" cast.
Kelly Reilly watched Dynasty and Dallas with her mom growing up
In a "Yellowstone" cast interview, Kelly Reilly shared details on her early years in the entertainment industry. At first, she didn't have her sights set on television or film. Rather, her initial love was theater, which was her career for 15 years. But when she wasn't on stage, Reilly participated in her favorite pastime – getting her fill of popular American dramas.
"I did watch 'Dallas' and 'Dynasty' every Friday night with my mom in south London in our house," said Reilly. "And this far away world of Americana, of course the culture of American movies and storytelling, I was always in love with it."
Reilly thought enjoying the trials of these fictional families from the comfort of her couch was the closest she'd get to experience such American dramas. According to Reilly, her 11-year-old self would be incredibly proud to see what she's doing now.
Over the course of the show's five seasons, Beth goes through the wringer. In fact, Reilly didn't think Taylor Sheridan had the right woman for the job. She told Entertainment Tonight, "It's a tremendously complicated role." It's possible that she learned a thing or two from her favorite childhood dramas because Beth is resonating with the masses. From her unforgettable one-liners ("You are the trailer park, I am the tornado") to her ability to survive literally anything, "Yellowstone" viewers see Beth as an inspiration. 
On Reddit, u/50million said, "She's smart. She's been through a lot. She's been blown up and almost killed (twice). She knows what she wants ... Sure she has major flaws ... but she's a badass and I love her character."