Harrison Ford Is Quick To Say 1923's Jacob Dutton Is Not A Cowboy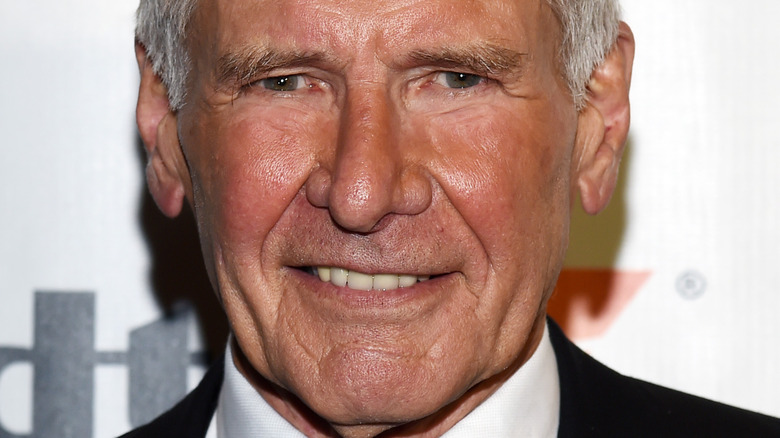 Amanda Edwards/Getty Images
Taylor Sheridan's new Western series "1923"  may look, feel, and sound like a typical cowboy story, but don't tell Harrison Ford that. 
"Cowboy...I don't know what a 'cowboy' is," Ford deadpanned to UPROXX back in December 2022. "The guys who work on ranches are 'cowboys.' They work with cows," said the legendary actor in the most Harrison Ford way possible. "And many of them are boys!"
Recently, fans learned how Sheridan's infamous "Yellowstone" cowboy camp took its toll on the "1923" cast, with some actors having to ride horses for up to eight hours a day. "I think my groin just wanted to walk off and quit the gig," said Darren Mann, who plays Jack Dutton, in an interview with Fox News. 
At first glance, Ford's character Jacob Dutton does wear a cowboy hat and ride around on a horse all season long which makes him look like a cowboy. But the "Indiana Jones" star insists — the role he has in "1923" is something else entirely. "He's a rancher," explained Ford. "A rancher is financially responsible as well as everything else for the outcomes." And boy, have the responsibilities mounted for the "1923" Dutton patriarch.
Ford says that Jacob Dutton has rancher problems, not cowboy problems
For Harrison Ford, the biggest difference between being a rancher and a cowboy are the responsibilities and problems you are faced with. As he said before, cowboys deal with "cow" things, while ranchers basically deal with everything else — like the overhead, as Ford points out.
"The pressures on Jacob Dutton at this point are considerable," he told UPROXX. "The economic pressures. Banks are not loaning to cattle ranchers, having suffered losses. The business has not become as efficient as it needs to be just to generate consistent profits. The railhead is not close enough, so cattle still have to be driven. They lose weight, and they suffer casualties on the way to the market." And that's just the stuff that we all know about. 
"There are a lot of things coming that are unknown," Ford explained. "There's electrification. There's cars in the street instead of horses. Jacob Dutton looks around and he's seeing the threat to his way of life, to the simplicity. He's challenged by all of it. All of it becomes his responsibility to extend the opportunities he's had to his family for generations to come."
Just four episodes in, it appears that Jacob — who recently suffered a gunshot wound — and the Dutton empire will be dealing with a lot of stress and strife during the remainder of the "1923" season. "My concern is survival," says Jacob in a mid-season trailer tease, which shows his rivalry with Banner Creighton's (Jerome Flynn) sheepherders and Donald Whitfield (Timothy Dalton) reaching a boiling point. The show, which is currently on a short hiatus, is scheduled to return on February 5 with Episode 5.