Yellowstone's Infamous Cowboy Camp Took Its Toll On 1923's Cast Members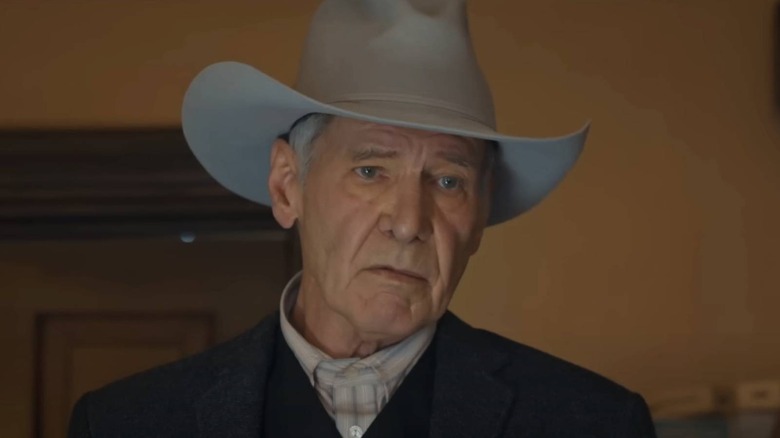 Paramount+
"Yellowstone" has become one of the most popular franchises in the world, proving that there's still a market for modern Westerns. What began as a contemporary series set in the modern day about a family trying to hold onto their ranch quickly spun off into various sub-stories about that same family. From "Yellowstone" came "1883," and now, Paramount+ has gifted us with "1923," following a whole new generation of Duttons as they face a myriad of threats. 
The "Yellowstone" franchise has managed to secure some of the biggest names in Hollywood to roll around in the dirt. With "1923," creator Taylor Sheridan roped Harrison Ford, Helen Mirren, and Timothy Dalton into the series, making for some must-watch TV. However, "1923" and others of its ilk aren't like most shows where actors pretend to be people in the city or office buildings. They have to ride horses and make a life out on the ranch look easy, and in order to accomplish that, they must all go through what's known as "cowboy camp," which is every bit as grueling as it sounds. 
The cast had to ride for eight hours a day
To be part of the "Yellowstone" family, an actor needs to know how to rough it out in the wilderness and how to ride a horse. That's why Taylor Sheridan insists every actor goes through a two-week cowboy camp to learn everything from roping to cattle wrangling (via Fox News). And naturally, it took its toll on the participants, as Darren Mann, who plays Jack Dutton on "1923," told the outlet, "Riding eight hours a day ain't easy. I think my groin just wanted to walk off and quit the gig, but you know everybody else was handling it, so I had to too." 
To cope with the tough training, Mann actually purchased a horse trough he filled with ice and water so that he and his co-stars could cool off after a hard day and prepare for the next one. Mann definitely wasn't alone in his thoughts that cowboy camp was difficult. His co-star, Michelle Randolph, who plays Elizabeth Strafford, agreed that cowboy camp was difficult, but there were certainly parts to enjoy about it, stating, "You get to really soar when you learn how to ride a horse."
The impact of cowboy camp speaks for itself on the screen, as the actors all look like seasoned professionals on horseback. Sheridan has made his fair share of Westerns at this point, so if he thinks the cast would benefit from additional training, it'd be best to listen to him.