Drew Barrymore Impresses Allison Williams By Recreating Some Of M3GAN's Famous Moves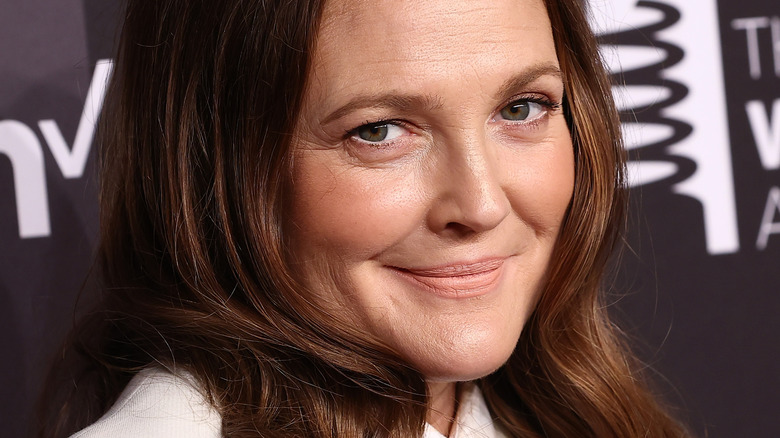 Arturo Holmes/Getty Images
Like, oh, several dozen other murder-bot mimics around the world, Drew Barrymore took a turn cosplaying as the killer-droid from "M3GAN" and replicating the deadly doll's viral dance moves during a recent episode of "The Drew Barrymore Show." Witnessing Barrymore's eerily robotic display was none other than Allison Williams, who plays Gemma in the meme-turned-box office hit that recently rocketed past the $100 million mark at the box office (via Box Office Mojo).
From director Gerard Johnston, the film is based on a story by Akela Cooper and James Wan (via IMDb). Fans might know Wan's work from his previous writing credits in"Saw" and "Insidious." As for Williams' part in the film, she co-stars as the aunt of Violet McGraw's young Cady, who loses her parents in an accident, thus prompting the arrival of the dead-eyed M3GAN companion doll. The horror begins, and the body count rises, when it turns out M3GAN is just a tad overprotective of Cady. So, how did Drew Barrymore end up showing off her "M3GAN" dance schtick to an admiring Allison Williams?
Barrymore couldn't resist impressing Williams with her robot-dance chops
Drew Barrymore's "M3GAN" dance floor choreography turned up both on her Instagram feed and during an episode of the actor's eponymous "Drew Barrymore Show." In the clip, Barrymore's co-host Ross Mathews watches in concerned confusion as Drew goes into her death-droid steps. In the film, the dance eventually ends with M3GAN carrying out one of her grisly killings.
In the run-up to her move-for-move imitation of the now-famous "M3GAN" dance on her show, Barrymore, totally in character as the killer doll, interviewed guest Allison Williams about her role in the flick and the movie's spectacular performance at the box office. At one point, Bot-Barrymore asked Williams "How did you know that this movie would be such a hit? It just broke $100 million at the box office." Responding to the host as if she was, in fact, the robotic M3GAN, Williams patiently explained, "Obviously, M3GAN, we never know how these things are gonna go, but you can hope for a certain outcome."
While the interview marked the end of Barrymore's dance moves this go around, it is possible we will see Barrymore — and other talk show hosts — break out their "M3GAN" moves again, as the "M3GAN" sequel has already landed a January 2025 release date.